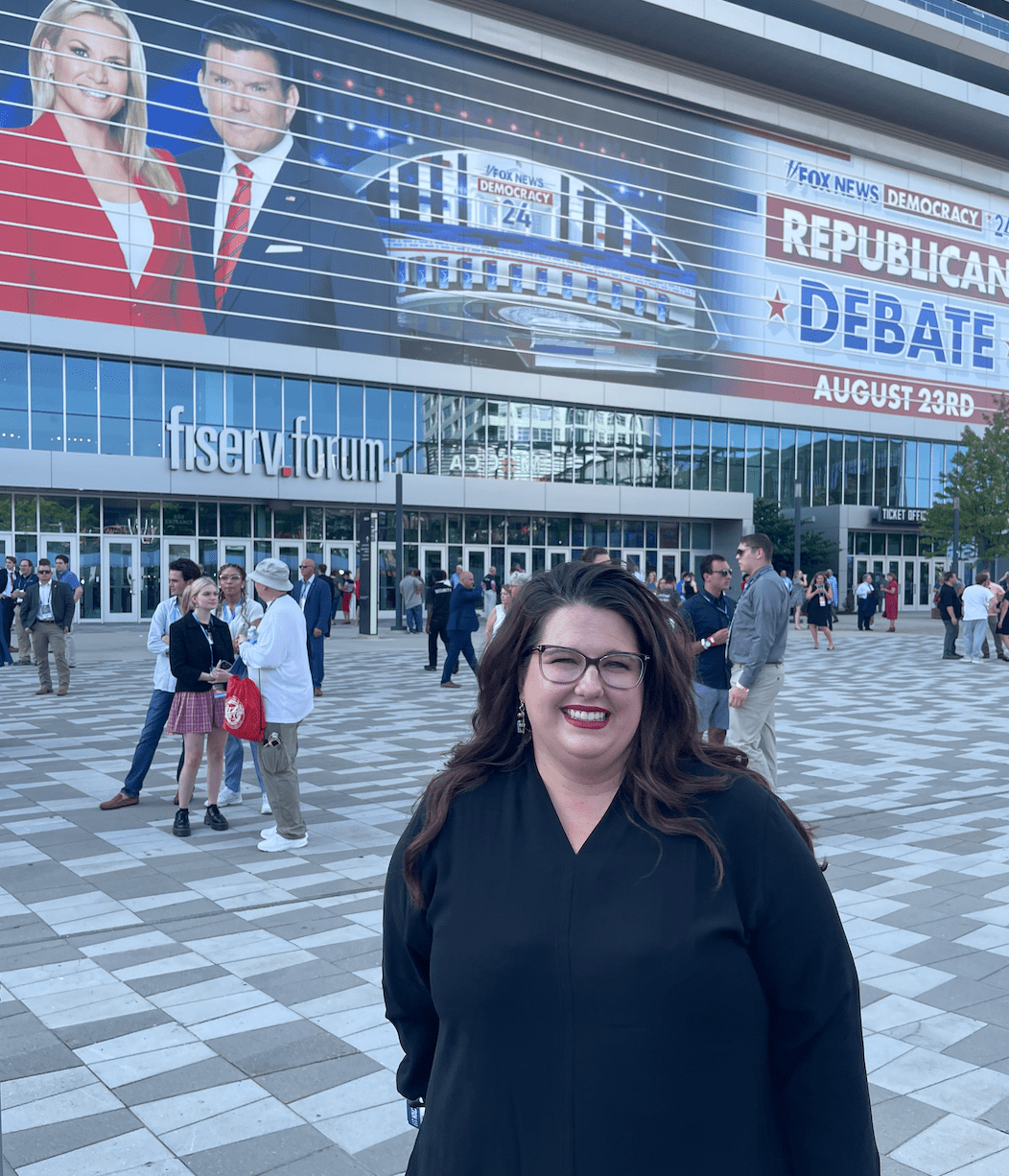 August 25, 2023
SFLAction FIRSTHAND ACCOUNT: Rowdy Republican Debate Officially Launches the Race for President & a Debate on LIFE
Republicans put on a raucous and rowdy romp through politics as the first official debate in this Presidential cycle took place in Milwaukee, Wisconsin, where the GOP will eventually crown their ultimate pick. Students for Life Action President Kristan Hawkins was invited to join the exclusive event, where the issue of LIFE was front and center, unlike some past failed attempts to connect with voters.
SFLA skills in getting a crowd going came in handy as unlike many such political events, cheers and boos punctuated the answer. (When I say Former Governor of New Jersey Chris Christie, You Say Boo. CHRISTIE, BOO. CHRISTIE, BOOOOOO)
During an event that had the energy somewhere between a child's first little league game, with all the chaos of shouting parents and eager participants, and a road rage collision, eight of the top GOP candidates weighed in during a two-hour debate that covered a lot of policy ground while opening up some real differences, including on the human rights issue of our day, abortion.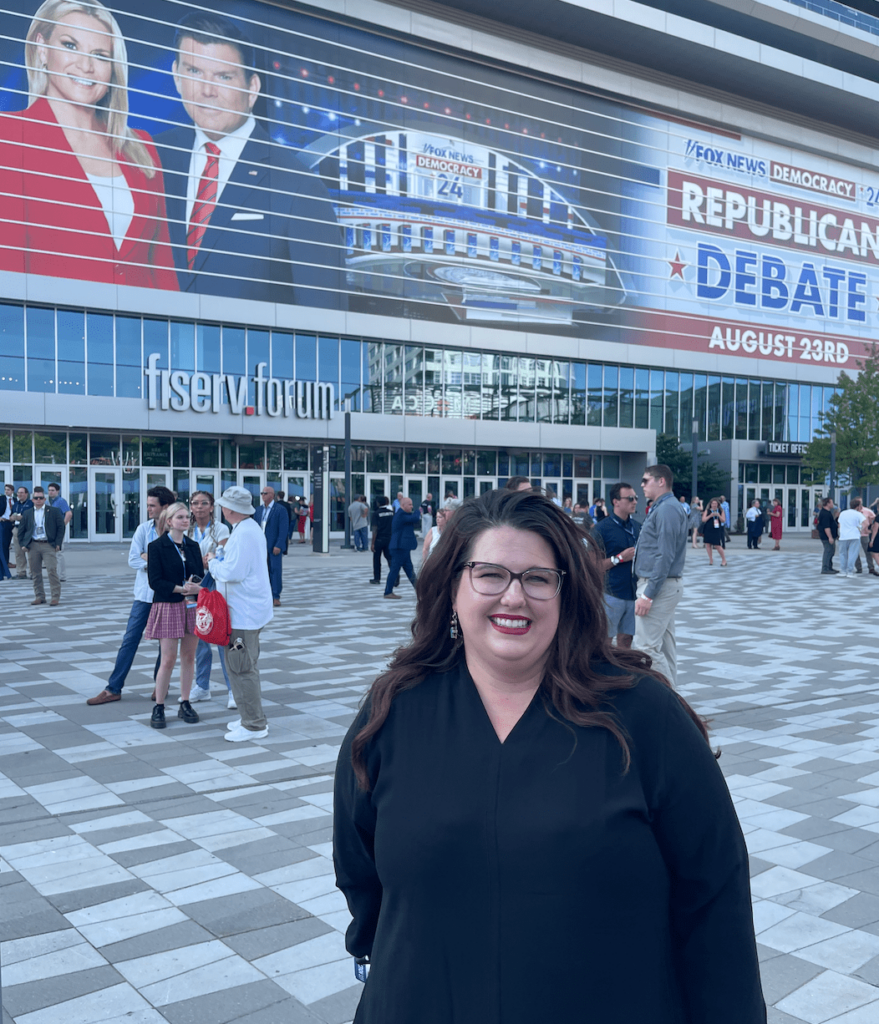 Former President Trump decided not to join, and instead had a competing event online with Tucker Carlson, during which the issue of abortion, which has ended the lives of more than 64 million preborn infants, never got a mention. Swing and a miss.
But in Milwaukee and for once, abortion was treated liked the serious and important issue that it is, with some notable stand outs, and some noticeably silent.
Former Vice President Mike Pence, Florida Gov. Ron DeSantis, and Sen. Tim Scott made the strongest cases for helping the preborn at risk, while former United Nations ambassador Nikki Haley tried to score points by saying that without a veto proof majority in the U.S. Senate (60 votes) nothing can really be done, so the GOP should try for something more people agree on.
(Hey Nikki, you could make the same case about EVERY ISSUE.)
Pence came out strong for the preborn.  "After I gave my life to Jesus Christ as my Lord and Savior, I opened up the book and I read, 'Before I formed you in the womb, I knew you. And I knew from that moment on the cause of life had to be my cause," he said, continuing, "To be honest with you, Nikki — you're my friend, but consensus is the opposite of leadership."
"I will stand on the side of life," DeSantis said at one point. "I understand Wisconsin will do it different than Texas. I understand Iowa and New Hampshire will do it different. But I will support the cause of life as governor and as president."
DeSantis talked about this support for Heartbeat legislation in Florida, which Students for Life Action championed, while Scott highlighted the kind of abortion radicalism in states like California, New York, and Illinois where abortion is celebrated through all 9 months.
While entrepreneur Vivek Ramaswamy scored some debating points on other issues, when it came to the life issue, he stayed silent. And the FOX hosts never asked. For a man who had a lot to say on things from foreign policy to schools to his views on former President Trump, he took a knee on life, missing a great chance to connect.
While most of the candidates shared their pro-life convictions and desire to do SOMETHING, North Dakota Doug Burgum who had signed Heartbeat legislation in his state was the only one to say he did not support any federal limits, saying that the issue belonged with the state.
CLICK HERE to read Hawkins' Letter to the GOP candidates on what can be done to defend life.
During the commercial breaks, the atmosphere in the hall was subdued excitement with a side of celebrity watching, with Hawkins a star as well, talking with political players while many stopped her for a selfie. Hawkins fame for her skill in debating abortion-supporters on college campuses brought fans of the pro-life movement from all walks of life.
Outside, Students for Life Action volunteers and staff took advantage of the free speech available in public spaces, hold up a banner reading: Stop Biden's Abortion Extremism.
Going after President Joe Biden's record on life and all of the above was a unifying theme for every potential candidate. Clearly, it's going to be a wild ride through the caucuses and primaries to come. And Students for Life Action will continue to be there, making the case that without LIFE, all other rights lose their meaning.
As Hawkins wrote just this week: "Any politician running for federal office who does not have a federal plan for addressing abortion is disqualified to serve. Any politician whose statements on the abortion issue begin with reasons that they can do nothing and end with why they will do nothing may expect nothing from pro-life voters."