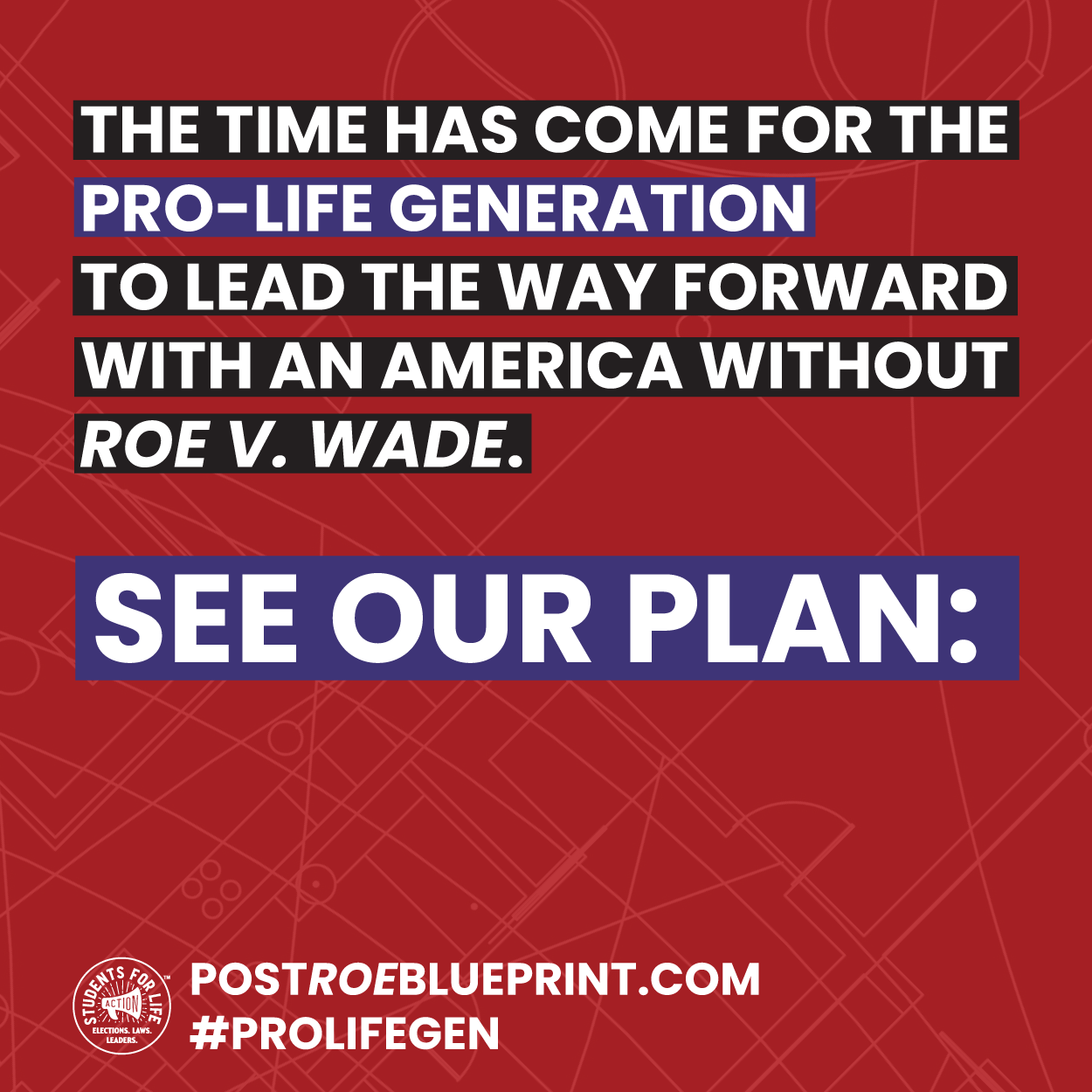 September 15, 2020
SFLAction's 'Blueprint for a Post-Roe America' is a History-Making Document
Did you see what we released earlier this month?
Earlier this month, Students for Life Action released our Blueprint for a Post-Roe America – signed by a slew of pro-life leaders from across the country!
Pro-Life champions like Charlotte Pence, Michael Knowles, Lila Rose, and many others have signed onto our strategy for pursuing legislation that will usher in a post-Roe nation.
The Blueprint lays out a six-step plan for ushering in a post-Roe America.
Reverse Roe v. Wade.
Support legislation that will curtail the expansion of the abortion industry.
Promote adoption and reform the foster care system.
Support pregnant and parenting women on campus.
Encourage family-friendly, work-friendly employment.
Defund Planned Parenthood and the abortion industry.
Our Blueprint for a Post-Roe America is the first pro-life strategy of its kind, as it aims to both 1) curb the influence of the abortion industry and the prevalence of abortion, and 2) build a culture of life by promoting adoption, foster care reform, and dignified family leave policies. This is an approach we'll take to Capitol Hill that is totally unique to the Pro-Life Generation.
We want YOU to join us in this critical endeavor by signing onto our Blueprint!
To sign onto the Blueprint for a Post-Roe America, click here.
To listen to our president, Kristan Hawkins, talk about the Blueprint in a special edition podcast episode, feat. Vice President Mike Pence's daughter, Charlotte Pence, Secular Pro-Life's Kelsey Hazzard, Joshua Edmonds of Georgia Life Alliance, and member of the National Black Pro-Life Coalition Christina Bennett, click here.
The Pro-Life Generation is ushering in the future – starting with this Blueprint.
Will you join us?
Sign on here!