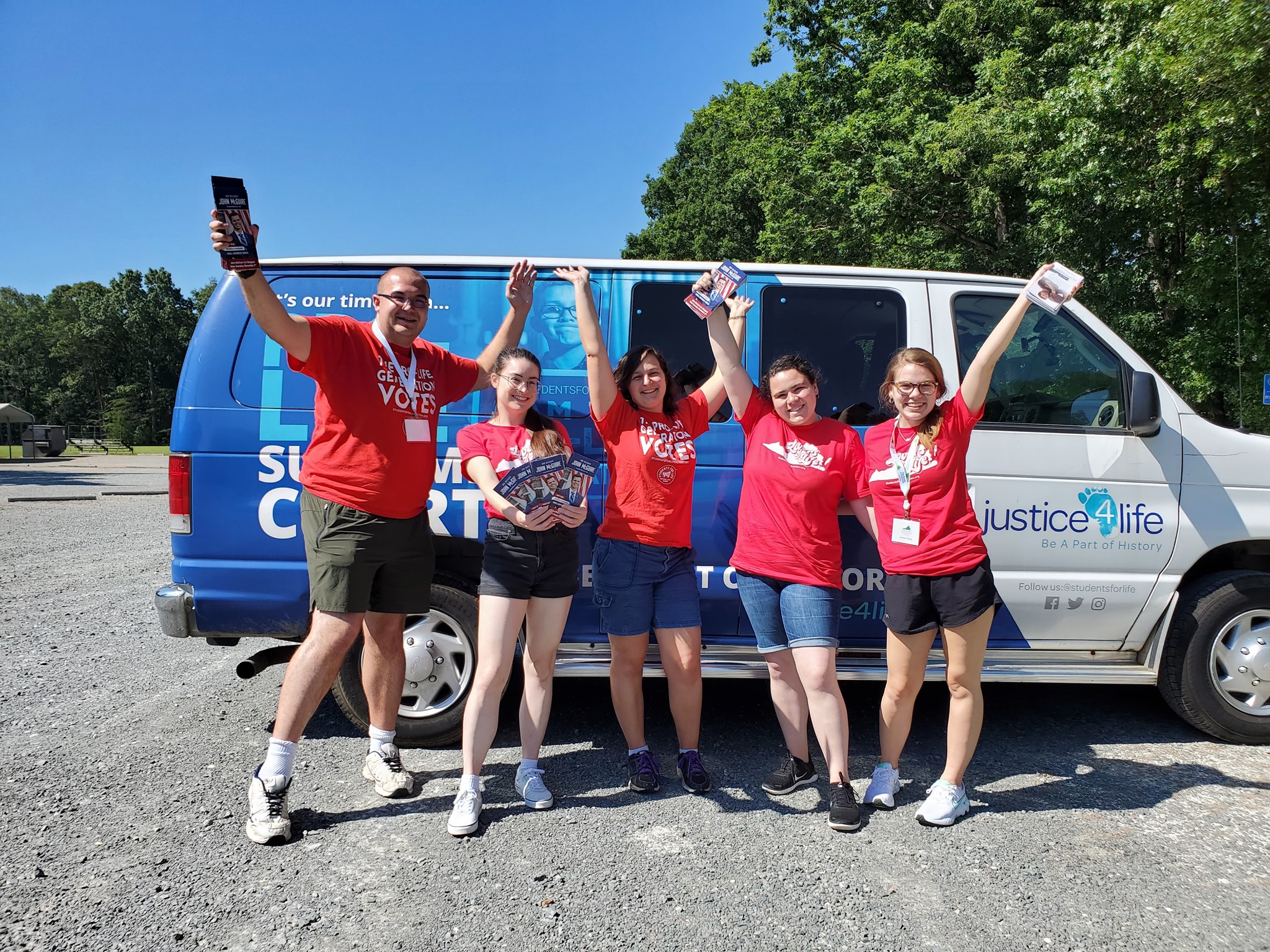 September 17, 2021
Students for Life Action Mobilizes in Virginia, Attending State's Annual Pro-Life March & Urging Residents to Vote Pro-Life First
"We're hitting the sidewalks in Virginia once again this month to encourage residents to Vote Pro-Life First," said SFLAction Grassroots Political Coordinator, Titus Folks. "Abortion extremists currently fill the most powerful seats in Virginia's government, including maintaining a slim majority in the House of Delegates. But by speaking with thousands of voters one-on-one over the course of our canvassing deployments, we know hearts and minds will be changed. The Pro-Life Generation is more equipped than EVER to reverse Roe v. Wade and protect life in law in every state."
RICHMOND, V.A., and WASHINGTON, D.C. (09-17-2021) – Today, Students for Life Action will kick off the second of 3 deployments ahead of the Virginia elections, urging residents to vote pro-life first.
Members of the Pro-Life Generation will begin the September Virginia deployment weekend by making their voices heard and their signs seen at Virginia's annual pro-life march. The young activists will then spend the weekend training and knocking on doors to engage voters in conversation about voting pro-life in the upcoming election. SFLAction is working alongside The Family Foundation Action (TFFA) to carry out this weekend's pro-life deployment.
In October, SFLAction will launch its third 2021 Virginia deployment which will continue through election day on November 2, with many activities planned.
"Virginia's competitive off-year elections for Governor, Lieutenant Governor, Attorney General and the Virginia House of Delegates narrowly favor pro-abortion candidates," said Titus Folks, Grassroots Political Coordinator for Students for Life of America, in June. "Only a few pro-abortion officials need to be unseated to achieve a pro-life majority state senate, and a pro-life governor would mean veto power against pro-abortion legislation. Through our deployments, we intend to tip Virginia's scales in favor of LIFE."
The pro-abortion gubernatorial candidate Terry McAuliffe is on record supporting taxpayer funding of abortion, which is largely unpopular with Millennial and Gen Z voters, and late-term abortion — also unpopular among Americans nationwide. McAuliffe has also received almost $2 million in donations from Planned Parenthood and affiliated organizations. "The Virginia gubernatorial election is within the polling margin of error," said Folks, "meaning that pro-life voters have a true shot at replacing a long line of abortion radicals with a candidate who will respect the youngest Virginians. A pro-life gubernatorial win in Virginia would also bode well for the 2022 state and national election cycles."
The Virginia pro-life march is TODAY at 1 pm ET
Location: Virginia State Capitol Building 
A rally will precede the march at 12 pm ET
SFLAction canvassers will be present holding signs 
For more on SFLAction's Virginia deployments, visit StudentsforLifeAction.org/VA2021
For interviews, contact Lauren Enriquez at [email protected]
–30– 
Students for Life Action (SFLAction), a 501c4, along with its 501c3 sister organization, Students for Life of America (SFLA), make up the nation's largest pro-life youth organization and a political and policy operation engaging people of all ages. Together they work to end abortion — the human rights issue of our day — and provide political, legal, and community support for women and their children, born and preborn. Headquartered in Fredericksburg, VA, SFLA has more than 1,250 groups on middle, high school, college, university, medical, and law school campuses in all 50 states. SFLA creates strategy, policy, and programming to connect those most targeted for abortion with people ready to help and builds a framework for political engagement on their behalf. SFLA and SFLAction have more conversations with those most targeted by the abortion industry than any other pro-life outreach in the world, reaching more than 2 million people across social media platforms each week and engaging in approximately 100,000 digital conversations per month. Over the last 15 years, President Kristan Hawkins has grown SFLA into a $15 million organization preparing for a Post-Roe America.