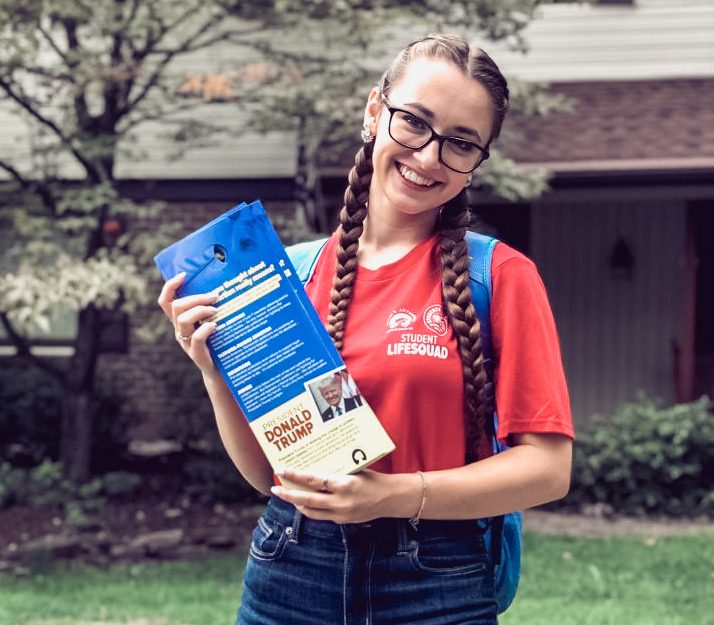 June 20, 2022
Students for Life Action Organizes in Oklahoma to Highlight Pro-Life Champions Senators James Lankford and Nathan Dahm
"The pro-life movement has always owned its goal of abolishing abortion in our lifetime," said Students for Life Action President Kristan Hawkins. "And by that we don't just mean stopping late-term abortions, abortions after viability, or the infanticide of children who survive abortion attempts; we mean protecting ALL children from the moment of conception."
OKLAHOMA CITY, O.K., and WASHINGTON, D.C. (06-20-2022) – Students for Life Action (SFLAction) will hold an activism trip in Oklahoma from June 19-21, 2022, with the goal of knocking on 1,600 doors to inform voters on U.S. Senator James Lankford and State Senator Nathan Dahm's pro-life records.
SFLAction's activism trip comes ahead of the June 28 primary election and strives to highlight the accomplishments for the preborn made in Oklahoma thanks to pro-life champions such as Senators Lankford and Dahm.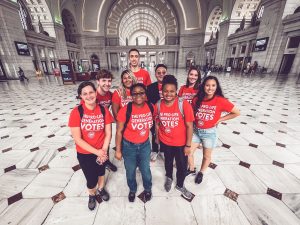 "Roe v. Wade eroded the law, stripping human rights from human beings when they are in the womb," said SFLAction President Kristan Hawkins. "The Pro-Life Generation congratulated Oklahoma for showing that we can restore sanity and common sense to our legal codes, which should protect the innocent rather than protecting an industry that causes their deaths."
In April, SFLAction attended the signing of Oklahoma's Life at Conception Act. The SFLAction-inspired bill was sponsored by Senator Dahm as Senate Bill 612 and protects Oklahoma children from abortion violence from the moment their humanity begins—conception.
SFLAction worked directly with legislators such as Dahm to introduce and push the bill through the finish line. "We are so grateful to Senator Dahm for sponsoring the bill—without pro-life champions in the legislature, none of this would have been possible. Oklahoma is truly protecting ALL life in law, both born and preborn," said SFLAction's Public Relations and Policy Coordinator Savanna Deretich.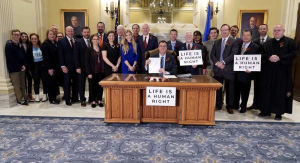 This will not be the first time SFLAction takes to the ground in Oklahoma. The group has previously organized literature drops and collected petitions for pro-life laws in the state. SFLAction will continue to be active in the primaries to highlight policies that protect the preborn in law and service.
Media Advisory: For information on how to cover SFLAction's Oklahoma deployment, capture video and b-roll, or interview canvassers, contact [email protected].
To learn more about the Post-Roe Blueprint from Students for Life Action, read Hawkins' op-ed at Fox titled America needs to get ready for a world after Roe or her op-ed at Newsweek titled  Forget the Kids' Menu: The Pro-Life Movement Wants Real Policy Engagement.
For interviews email [email protected]
–30–
Students for Life Action (SFLAction), a 501c4, along with its 501c3 sister organization, Students for Life of America (SFLA), make up the nation's largest pro-life youth organization and a political and policy operation engaging people of all ages. Together they work to end abortion — the human rights issue of our day — and provide political, legal, and community support for women and their children, born and preborn. Headquartered in Fredericksburg, VA, SFLA has more than 1,250 groups on middle, high school, college, university, medical, and law school campuses in all 50 states. SFLA creates strategy, policy, and programming to connect those most targeted for abortion with people ready to help and builds a framework for political engagement on their behalf. SFLA and SFLAction have more conversations with those most targeted by the abortion industry than any other pro-life outreach in the world, reaching more than 2 million people across social media platforms each week and engaging in approximately 100,000 digital conversations per month. Over more than 15 years, President Kristan Hawkins has grown SFLAction/SFLA into an $18 million organization preparing for a Post-Roe America.