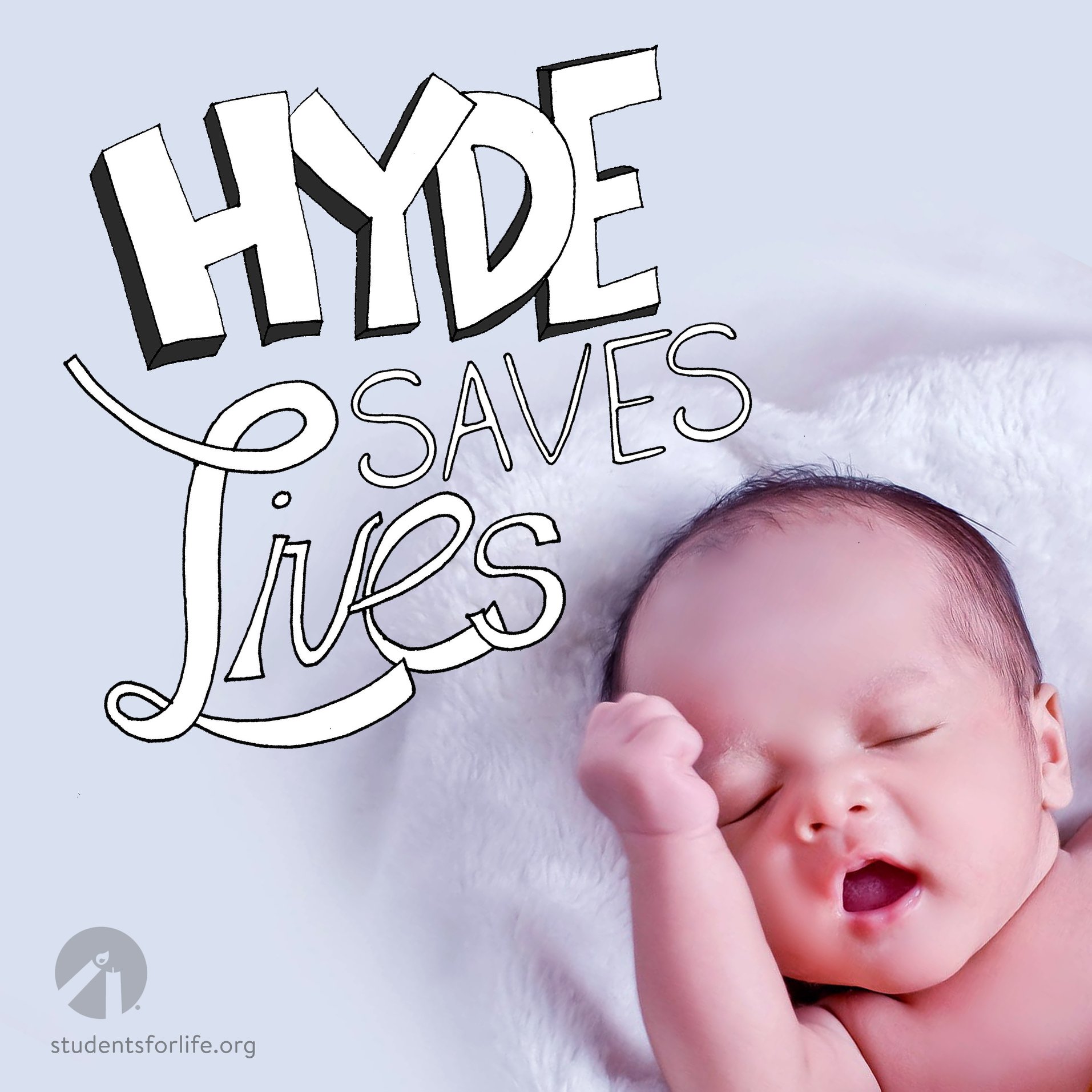 April 9, 2021
STUDENTS FOR LIFE OF AMERICA'S TONI MCFADDEN TO DELIVER REMARKS IN SUPPORT OF HYDE AMENDMENT
"If the Hyde Amendment is gutted after more than 40 years of bipartisan support, I can guarantee that the result will NOT be improved lives for women and families of color. The result will be more dead Black children," said Toni McFadden. "I think it's ironic that the left is obsessed with talking about racism and discrimination but wants us all to be completely silent about abortion, the leading cause of death in the Black community."
WASHINGTON, DC (04-09-2021)– TODAY, Toni McFadden, Minority Outreach and Healthy Relationships Director for Students for Life Action (SFLAction) and Students for Life of America (SFLA), will deliver remarks in support of the federal Hyde Amendment at the National Press Club. The event is organized by Terrisa Bukovinac of Pro-Life San Francisco, who is spearheading efforts to protect the Hyde Amendment. The Amendment, a budget provision that has been adopted with bipartisan support since the 1970s, prohibits federal taxpayer funding of most abortions.
Toni McFadden's remarks will be delivered this morning at the National Press Club:
"It is an honor to speak in support of the longstanding Hyde Amendment that has protected 2.4 million lives since 1976. I keep hearing from the Democrats that women of color, poor women and minorities are the main reason the Hyde Amendment needs to be eradicated. They say that the Hyde Amendment is racist and discriminatory. Last time I checked, there was not a lack of access to abortion for women of color.
"Black women are 5 times more likely to have an abortion than white women. Maybe that is because the majority of Planned Parenthood's abortion facilities are located within walking distance to minority and low-income areas. As a black woman, I adamantly disagree that the Hyde amendment is rooted in racism. In fact, it is racial injustice to try to gut this life-saving amendment.
"I have been on both sides of this issue. I had a chemical abortion my senior year of high school. Two months later I ended up severely hemorrhaging. By the grace of God I didn't lose my life along with my preborn child like the 24 other women (that we know of) who have lost their lives taking those very same pills.
"Those seeking to expand abortion and force taxpayers to fund it argue that publicly funded abortions bring women success, liberty, and freedom. I don't know if these people have ever actually met the women they're talking about. I have never seen a poor woman's financial circumstance change because she ended the life of her child. My circumstances certainly didn't improve after the abortion industry sold me my abortion.
"I know many post abortive women that for years suffered in silence and shame like I did, until I entered one of the nation's thousands of Pregnancy Resource Centers and received counseling. That's when I experienced freedom.
"Black women, poor women, minorities: when are we going to wake up and see that the left is only using us to push their political agenda? And that the abortion industry is using us and killing our children to increase their profit margins?
"Make no mistake: This is a crisis. The number of Black Americans is rapidly declining. And this is not primarily because of heart disease or cancer, but because the leading cause of death in our community is abortion.
"Even with the Hyde Amendment protecting babies of color from taxpayer-funded abortions, more than 800 innocent black babies die of abortion violence in the womb every single day. Yet the left still says we do not have "access" to abortion. How many more black babies do they want dead? If the Hyde Amendment is gutted after more than 40 years of bipartisan support, I can guarantee that the result will NOT be improved lives for women and families of color. The result will be more dead Black children.
"I think it's ironic that the left is obsessed with talking about racism and discrimination but wants us all to be completely silent about the leading cause of death in the Black community, which is 100% preventable. Anyone who really cared about our community would be working to combat the violent efforts to control our population by killing our children. Working to strike down Hyde Amendment protections is the exact opposite of racial justice. It is pure racial injustice.
"Planned Parenthood's founder, Margaret Sanger, infamously said: "We do not want word to get out that we want to eliminate the negro population." Well, I DO want that word to get out. I will not be silent as long as women like me are targeted by the violent and discriminatory lies of the abortion industry and its political allies. It is not enough to disavow Sanger or take her name off buildings.
"The only remedy is to end Sanger's deadly legacy by stopping the predatory abortion industry. As a minimum starting point, that means continuing to protect taxpayers from subsidizing that attack on women and children of color. Voices like mine are rising up and we will not be silent!"
Read Toni McFadden's latest op-ed, addressing the racism of abortion with SFLA/SFLAction President Kristan Hawkins, at Newsweek.
For interviews, contact Kristi Hamrick at [email protected]. 
-30-
Students for Life Action (SFLAction) is the 501c4 sister organization of Students for Life of America (SFLA), the nation's largest, pro-life, student organization with more than 1,240 groups on middle, high school, and university campuses in all 50 states. Students for Life has more conversations with those most targeted by the abortion industry every day, week, and year than any other pro-life outreach in the world and mobilizes the Pro-Life Generation to confront abortion at the local, state and national levels daily. Every week, Students for Life entities reach more than 2 million people across social media platforms to have nearly 200,000 digital conversations with the most engaged pro-life online audience in the world. 
Students for Life of America (SFLA) is the nation's largest, pro-life, youth organization. Headquartered in Fredericksburg, VA, SFLA serves more than 1,240 groups on college and university, middle and high school, medical and law school campuses in all 50 states. Student pro-life organizations work to confront policies on their campuses to support pregnant and parenting students, to end Planned Parenthood's relationships with schools and communities, and to change minds of their peers about abortion. SFLA has more conversations with those most targeted by the abortion industry every day, week, and year than any other pro-life organization.