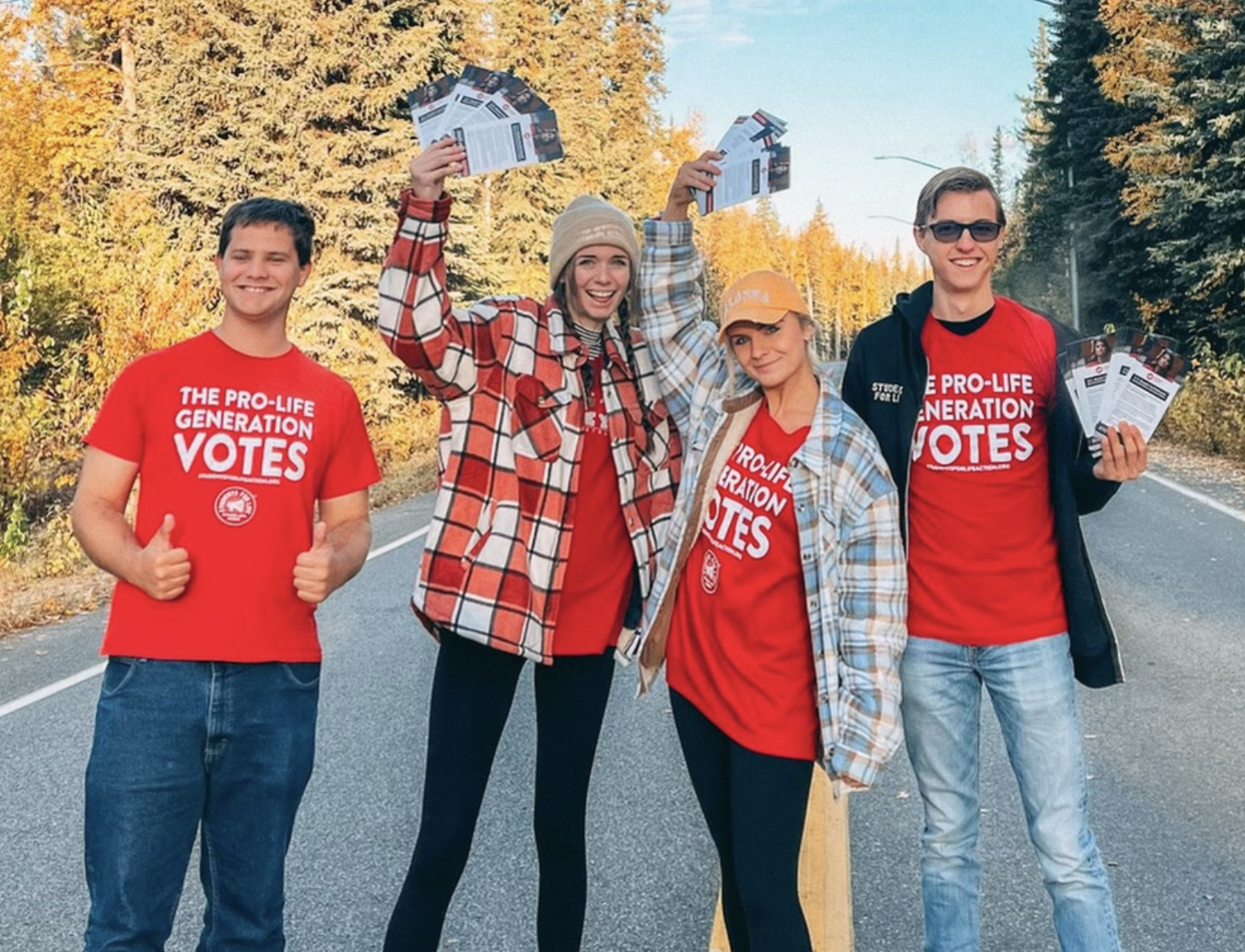 September 27, 2022
Abortion is on the Ballot in These 5 States, and We Will Educate Voters on How to #VoteProLifeFirst
"Our base is energized and ready to get out the vote for the preborn this fall. We are utilizing these ballot initiatives as an opportunity to educate residents across the nation on the women and children they could defend by participating in ballot referendums. SFLAction is equipping many on how they can #VoteProLifeFirst this November," said Dustin Curtis, SFLAction Executive Director.  
WASHINGTON, D.C. (09-27-2022) – Students for Life Action (SFLAction) announced involvement in the FIVE ballot initiatives at play in the November's elections. The organization will utilize its strong grassroots base to educate voters in California, Kentucky, Montana, Vermont and Michigan on abortion-related ballot initiatives.
"Too many state and national leaders are not responsive to what voters really want, so the rise in ballot initiatives as a trend comes from people taking advantage of the course open to them," SFLAction Chief Media & Policy Strategist Kristi Hamrick told Politico.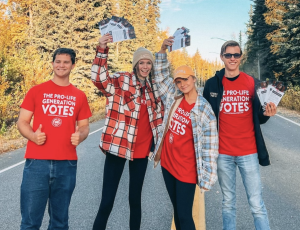 Oftentimes, ballot initiatives are a key way for voters to directly engage in policy. In addition to running digital advertising, SFLAction will inform residents how to #VoteProLifeFirst:
California Proposition 1 – Proposition 1 would enshrine 'abortion rights' in the state constitution. A NO vote on amending the state constitution means elective abortions are NOT a 'fundamental right' and the current state laws would remain.
Kentucky Amendment 2 – Amendment 2 would be an additional measure to protect the preborn from the abortion lobby's attack on life-saving laws that went into effect in Kentucky after Roe was reversed. The constitutional amendment would read, "To protect human life, nothing in this Constitution shall be construed to secure or protect a right to abortion or require the funding of abortion."
Montana Legislative Referendum 131 – A YES vote on Montana's legislative referendum 131 would adopt the Born Alive Infant Protection Act meaning a physician who does not provide life-saving care to an infant born alive in an abortion would face criminal penalties including a felony and up to 20 years in prison and/or a fine of up to $50,000.
Vermont Article 22 – A NO vote on the article 22 initiative would block a state constitutional amendment from taking effect that would protect elective abortions, not the preborn.
Michigan Reproductive Freedom for All – Disapproving this ballot initiative would reject enshrining elective abortion rights in the state. A NO vote on this measure means preborn babies cannot be electively aborted and Michigan's 1931 law should be upheld.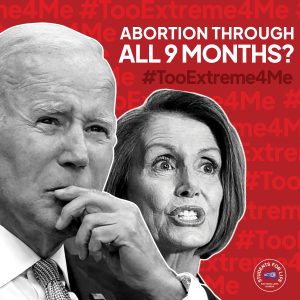 In Kansas, SFLAction battled for the Value Them Both amendment. Garnering the attention of dozens of local and national outlets, SFLAction made 173,806 calls, sent 266,608 personal text messages, and targeted 50,000 doors in the district.
As SFLAction President Kristan Hawkins noted in her op-ed reflecting on the Kansasdefeat, the Pro-Life Generation is digging its heels in harder and getting back to work. We are starting in these five states where abortion is on the ballot and working across the nation.
SFLAction will be tapping into its 1,300 student groups in all 50 states who want to see elective abortions abolished in their lifetime to equip voters in these states to #VoteProLifeFirst.
To learn more about the Post-Roe Blueprint from Students for Life Action, read Hawkins' op-ed at Fox titled America needs to get ready for a world after Roe or her op-ed at Newsweek titled  Forget the Kids' Menu: The Pro-Life Movement Wants Real Policy Engagement.
For interviews email [email protected]
–30–
Students for Life Action (SFLAction), a 501c4, along with its 501c3 sister organization, Students for Life of America (SFLA), make up the nation's largest pro-life youth organization and a political and policy operation engaging people of all ages. Together they work to end abortion — the human rights issue of our day — and provide political, legal, and community support for women and their children, born and preborn. Headquartered in Fredericksburg, VA, SFLA has more than 1,300 groups on middle, high school, college, university, medical, and law school campuses in all 50 states. SFLA creates strategy, policy, and programming to connect those most targeted for abortion with people ready to help and builds a framework for political engagement on their behalf. SFLA and SFLAction have more conversations with those most targeted by the abortion industry than any other pro-life outreach in the world, reaching more than 2 million people across social media platforms each week and engaging in approximately 100,000 digital conversations per month. Over more than 16 years, President Kristan Hawkins has grown SFLAction/SFLA into an $18 million organization preparing for a Post-Roe America.