Life is Winning & Better Protected in a Post-
Roe
America 
The Atlantic: The New Pro-life Movement Has a Plan to End Abortion  
OVERVIEW: In the approximately 365 days since the reversal of Roe v. Wade, pro-life legislation has moved through legislatures becoming the law of the land, one state at a time. The 50-year Supreme Court roadblock has been torn down, and life is better in a Post-Roe America. Not only does a Post-Roe America offer better protections for many preborn, but families in states that value life are flourishing economically and doing better than those in places that feed the corporate abortion lobby.   
As a result, HALF OF ALL STATES now protect preborn life and their mothers, starting at conception all the way to 12 weeks (three months). One year ago, almost no one thought that was possible – not with Roe in the way. The historic Dobbs case revolved around a limit at 15 weeks, which today, few consider at the state level. Momentum is on the side of earlier limits.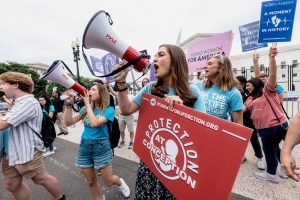 Students for Life Action (SFLAction) has consistently championed the scientifically backed #ProtectionAtConception model, Heartbeat Protections, and Chemical Abortion Pill prevention acts, prioritizing the earliest protections for the preborn.   
Students for Life Action's goal is to protect life as soon and as early as possible in every state – working in each state's unique legislative environment with our teams on the ground.  
While abortion protection at 12-weeks (three months into pregnancy) isn't the end goal of the movement, SFLAction recognizes the steppingstones these laws sometimes create and celebrates the pro-life laws that have been enacted thus far. Continue reading to explore the ways in which SFLAction, founded in 2019 by President Kristan Hawkins, has charted a course forward in a Post-Roe America and how popular early protections improve life inside and outside of the womb.    
The Washington Post:

"Students for Life Action, one of the largest antiabortion organizations in the country, is aiming to reach 1 million potential voters between the ages of 18 and 35 before the election." 

 

Where LIFE is being Protected, Students for Life Action is at Work
Since inception, SFLAction has Engaged in Pro-life Legislative Battles in 42 States. 
Rising to the Challenge:
From National Review
: "
In 2019, researchers from Middlebury College, the Guttmacher Institute, and the Bixby Center for Global Reproductive Health estimated that the end of
Roe
could save
100,000 lives per year
." 
GRASSROOTS METHOD: As noted by The Washington Post, SFLAction is "one of the largest antiabortion organizations in the country," and has long been preparing legislatively for a Post-Roe America. Fox News recognizes SFLAction "has already been pushing state legislatures" and our growing influence has even reached pro-abortion lead researcher Mary Ziegler who noted the power of our mobilization in The Atlantic.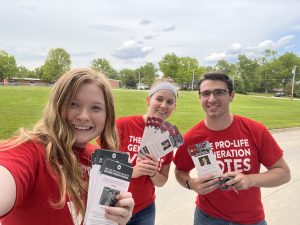 Recognizing the power of the youth vote, SFLAction has consistently worked with and on behalf of Millennials and Gen Z, now the largest voting bloc at 31% of the electorate. With this grassroots-oriented approach in all 50 states, SFLAction has already established its influence at both the state and national level.    
SFLAction empowers Student Captains through a semester-long program to become spokespersons for the Pro-Life Generation and lead various local initiatives. Some have gone on to run for office and introduce pro-life pieces of legislation in their own communities.   
Working with elected officials to pass meaningful laws requires principled, unapologetically pro-life leadership; SFLAction doesn't seek to work with any politicians who 'claim' to be pro-life or simply have an 'R' by their name. In a Post-Roe America, SFLAction is finding more courageous legislators to partner with and create innovative ways to prevent abortion.   
In fact, after the November 2022 election cycle SFLAction reported that virtually every state legislator who championed SFLAction-inspired pro-life bills that would end dangerous Chemical Abortions or prevent abortions when a heartbeat is detected was reelected. We saw sweeping victories for the legislators who stood their ground and made their opponents admit their abortion extremism. Those who ran away from the issue of abortion or tried to play to both sides continue to be unsuccessful.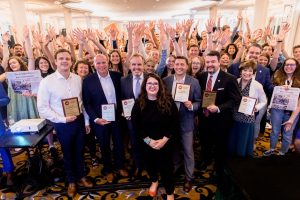 Fox News:

"Students for Life Action, a grassroots organization active in all 50 states, has already been pushing state legislatures and intends to bring measures reigning in chemical abortions." 

 
State Legislative Session Activism by the Numbers 
SFLAction's Election Engagement Continues to Position  States to Pass Pro-Life Laws. 
This legislative session (August 2022 – May 2023), SFLAction has:   
Tracked and monitored more than 1,100 abortion-related bills   

 

Sent nearly 2 million personal text messages in support of pro-life bills   

 

Made more than 717,000 phone calls to pro-life constituents   

 

Generated nearly 300,300 emails and nearly 31,000 calls from pro-life constituents to their legislators

Organized more than 45 in-person lobby days

Collected more than 82,000 petitions from voters

Inspired or helped introduce 11 bills at both the state and federal level 

 
Since launching in 2019 SFLAction has:   
Supported hundreds of pro-life bills & opposed amendments to weaken them

Helped pass dozens of life-saving pieces of legislation

Opposed & helped kill dozens of abortion expansion bills

Engaged in pro-life legislative battles in 42 states 

 
2022 Primary Engagement: SFLAction personally educated more than 250,000 voters while engaging in key primary and general elections. SFLAction's Vote Pro-Life First digital campaign supplemented by our door-to-door student activism trips made a significant impact. The pro-life movement is benefiting from the results.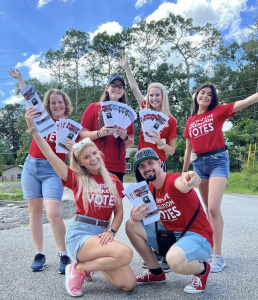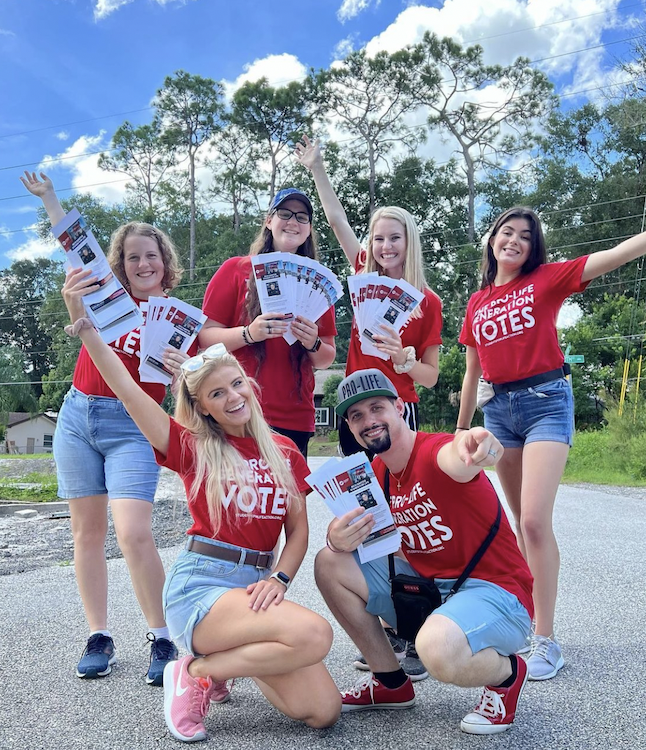 Personally texted nearly 3,110,252 voters exposing the abortion lobby's propaganda

 

Made 2,051,680 phone calls to pro-life voters

Launched cutting-edge

Vote Pro-Life First

digital ads, focusing on the youth vote that were viewed over 8,988,106 times

Exposed nearly a dozen pro-abortion candidates who are #TooExtreme4Me through

Overpass Outreach

 
At the end of the fall elections, more than 540 SFLAction student leaders had engaged in the races of 230 State House seats, 66 State Senate seats, 10 U.S. Senate seats, 14 U.S. House seats, as well as a handful of Attorneys General, Governor, and ballot initiatives. Additionally, this was the first time engaging in the elections in any sort of capacity for 55% of our students while more than 83% of all activists who volunteered with SFLAction this election cycle said they were "very likely" to continue to volunteer in future elections.  
POLITICO:

"One message we've found that works is that you don't have to love the candidate you're voting for — you just have to hate abortion," said Students for Life Action President Kristan Hawkins. "That really resonates with people." 

 
Top States
SFLAction Inspired & Helped
Introduce/Pass Live-Saving Legislation
Early Protections for the Preborn and Combatting Chemical Abortion Weigh in Popularity: Moving the Goal Post from 15-Weeks to Heartbeat or Better.   
MOST RECENT POLICY VICTORIES: Emails rolled in by the minute and calls accrued quickly from the press the moment SFLAction's Kristan Hawkins announced Roe was reversed on the steps of the Supreme Court. Everyone wanted to know: What's next?   
SFLAction was preparing for this moment and released a Post-Roe Blueprint with coalition members with Roe's reversal being step one of the process. Then, we got to work and put pro-abortion legislators on the defense:   

CNN

:

"In the six months after the Supreme Court ruling that ended the federal right to an abortion, there were about 32,000 fewer abortions than expected in the United States … There were about 5,000 fewer legal abortions each month, on average, than there were in the months before the ruling – a drop of about 6%." 

 
Wyoming:

SFLAction's cutting-edge legislation to combat the distribution of deadly Chemical Abortion Pills was signed into law making it the first of its kind in the nation. The pills that are negatively impacting the preborn, women, and environment are directly addressed through our bill with State Senator Tim Salazar.

SF 109, "prohibiting Chemical Abortions,"

will be a deterrent for Wyoming physicians to prescribe the deadly pills as it imposes a heavy $9,000 fine or up to six months of jail time for violators. Made only possible after SFLAction's engagement in the primaries that saw RINO's who voted against the bill in 2021, lose their primaries just weeks after

Roe's

reversal the following year. Our staff spent nearly 20 days during a blizzard in the state to see this vote through. 




 

South Carolina:

In addition to door-to-door canvassing and multiple lobby days,

SFLAction activists personally delivered spines to key Senate offices

, exposing faux pro-life legislators who were stonewalling pro-life legislation to end abortion. In the end, SFLAction's efforts led to the

Heartbeat Abortion Prevention Bill

being signed into law. SFLAction will continue to pursue legislation to fully abolish abortion in the Palmetto State. 




 
Florida:

SFLAction was active in Florida for many

primary races

and improved the state's previous 15-week limit by targeting leaders such as

Senate President Kathleen Passidomo

who previously indicated a desire to no pass any pro-life legislation this session. SFLAction's program was successful again as Governor DeSantis signed the

Heartbeat Abortion Prevention Bill

into law. 

North Carolina:

The likelihood of pro-life laws sticking increased thanks to SFLAction's efforts that saw pro-life leaders winning seats in North Carolina. SFLAction engaged heavily in the state with counter protests to the abortion lobby's efforts to derail pro-life momentum and saw

12-Week Abortion Prevention Bill

take effect while also getting a

Life at Conception Act

introduced. 




 

Iowa:

State Representative Jeff Shipley (HD-87) worked with SFLAction to combat the deadly distribution of Chemical Abortion Pills with the re-introduction of the

SFLAction-inspired Chemical Abortion prevention

, HF 146. Now, Iowa is one step closer to following the lead set in Wyoming to limit access to drugs that lead to

injury, infertility, death, and misuse from abusers

. SFLAction has been

collecting signatures

in support of this bill while

lobbying and dropping educational literature

in the committee members' districts. In addition, SFLAction has engaged in ongoing efforts with newly elected Iowa Representative Luana Stoltenberg who is working on a

Life at Conception Act

that has garnered over 20 cosponsors yet has been stalled by legislative leadership lacking a backbone. 

 
"No other organization is better at mobilizing the grassroots to pass pro-life legislation in the states than Students for Life Action," Senator Jason Rapert (AR-35).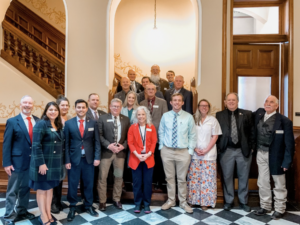 Nebraska:

With the help of SFLAction's testimony, lobbying, and petitions, Nebraska was able to sign a

12-Week Abortion Prevention Bill

into law. It was an uphill battle that SFLAction persisted through, calling out legislators without a spine when necessary. Because of the group's relentless efforts, the 12-week Abortion Prevention Act passed thanks to the deciding vote of a legislator who won their election by a mere 373 votes, showing just how important of a role grassroots engagement play.




 
"I call SFLA the Ground Troops for life," Rep. Mary Miller (IL-15), said during a July press conference.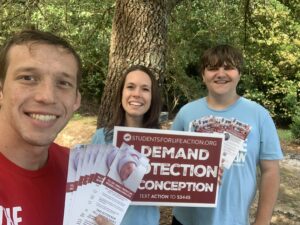 Ohio:

This Spring, SFLAction hosted a

Political Leadership Workshop in Ohio

to gear up a dozen Gen Z and Millennial activists in the upcoming ballot referendum fight.

(

CLICK HERE

to read more about our overpass rally in Cincinnati, Ohio where Rep. Landsman's late-term abortion vote was exposed to his constituents.)




 

Montana:

Montana's Governor signed a cohort of pro-life bills into law including late-term bans, tracking complications linked to Chemical Abortion, medical conscience rights, challenges to the privacy argument, and a Born-Alive Protection Act. Some have said this is, "the most pro-life legislative session in the history of the state of Montana" and SFLAction Captain Kaitlyn Ruch, former candidate for state office, has been busy at the State House this year testifying and tracking many of these bills.




 

North Dakota:

North Dakota Governor Doug Burgum recently

signed legislation

limiting abortion up to 6-weeks of pregnancy, typically right around the time a baby's heartbeat can first be detected.




 
Missouri:

SFLAction is tracking

House Bill 163 in Missouri

which aims to further clarify that the intentional trafficking and administration of abortion-inducing drugs, such as Chemical Abortion Pills, is a class B felony. It also holds pharmacists accountable for breaking the law by directly delivering abortion-inducing substances to a resident of the state of Missouri.     

 
Compared to the millions spent by the abortion lobby, SFLAction's budget went much further with proven legislative results in a real David vs. Goliath battle. With 25 states now protecting the preborn with 12-week bills or better, SFLAction's grassroots work in most of these states enacting laws Post-Roe has made a significant contribution.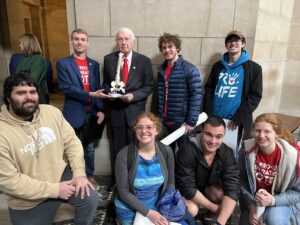 USA Today:

"Students for Life Action, which

takes credit

for helping pass 18 different state laws limiting abortion aside from Mississippi's 15-week abortion ban that is now in front of the Supreme Court, saw more money come in and announced a transition to a 50-state plan."

 
What does all of the State Activism Lead up to?
A Better Life in Nearly Half of America.
Americans are ditching blue states where they are only sold abortion. 
The New York Times recently reported that, "Between 2010 and 2020, the fastest-growing states were mostly red — places like Texas, Georgia, Florida, Tennessee and South Carolina." With this trend only acerbated by the COVID pandemic, Republican (and largely pro-life) Governors who run these states took action for the preborn when Roe was reversed. Considering policies of states like New York with extreme abortion views and increased access to deadly Chemical Abortion Pills, there is now a 5.3% lower population prior to the pandemic.  
In addition to enacting pro-life protections south of the Mason–Dixon line with the fall of Roe, the NYTimes adds that these states Americans are flocking to as they are also more pro-business. As found in American Enterprise Institute's study, people want the freedom to live and congregate in places that have created a free culture of life.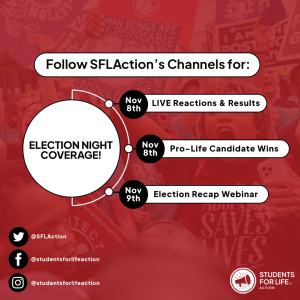 This includes lower taxes that allow citizens to flourish economically, remove regulations on housing construction, greater job opportunities, and a variety of other factors that could free up more income for couples who want to start their own businesses or family. Not only are many of these places safer for the preborn, but, when looked at even closer, the Republican areas within these states are far better off them some northern counterparts.   
Also noted by the Charlotte Lozier Institute, states protecting life in the womb are safer for expecting moms. Pregnant women's lives are protected in all states with the clear understanding that miscarriage and ectopic pregnancy treatment are available through doctor assessment thus eliminating life-threatening risks to women.   
It is clear that states who welcome life, children, families, and businesses are more prosperous than states who only offer taxpayer funded abortion – shortchanging the vote of residents. It is safer and more possible to thrive in places that respect the value of life.   
This information on economic prosperity is vital as United States Conference of Catholic Bishops (USCCB) reported the correlation between poverty and increased abortions. USCCB reported:  
"In a 2005 study, 73% of women undergoing an abortion said not being able to afford a baby now was a reason for the abortion. That number rose to 81% for women below the federal poverty line. And while the abortion rate for American women declined by 8% between 2000 and 2008, among poor American women it increased by 18%.2.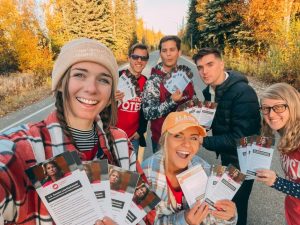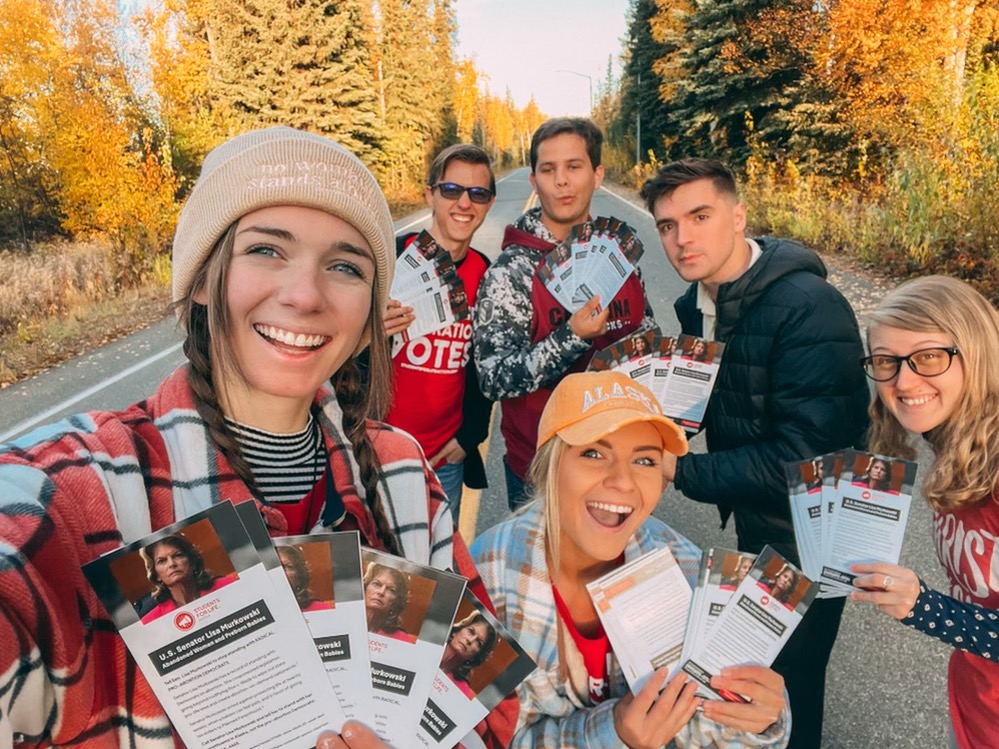 "Economic pressure and government abortion policy can combine to make things worse. One study found that poor women on Medicaid had twice the abortion rate of other women in their state. If the state's Medicaid program paid for elective abortions, their abortion rate was more than four times that of other women. By offering "free" abortions, the government effectively places its thumb on the scale to favor death for the unborn child. By contrast, if these programs continue funding care for mothers and babies but stop funding abortion, abortions among women."   
By empowering citizens to prosper with life-affirming resources and a higher quality of life, more Americans will have the freedom to choose life and reject the shallow promises of abortion.    
THE ATLANTIC:
"Organizations such as Students for Life will, in all likelihood, "be the ones running the movement going forward." 
Rolling Back Pro-Life Laws Proves to be a Misstep 
Rejecting the return of "bastard" laws. 
Weakening legislation with exceptions that deem a certain class of people less valuable is a political misstep and ethical liability. With Roe removed so is a roadblock that stopped meaningful conversation where difficult realities of rape and incest took place.   
As SFLAction President Kristan Hawkins wrote in Newsweek: 
"As we look at policy and its impact on real people, we need to at least discuss so called "exceptions" for rape and incest leading to automatically ending lives based on how they came to be. A separate category, protecting the life of the mother represents a tragedy and is not an act of abortion, which involves the intent to end life, not save it. In abortion, intent matters.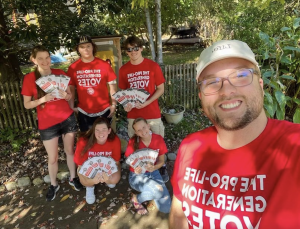 Conception-based prejudice once led to laws blocking the legal rights and opportunities of people born out of wedlock — now, not an issue at all. Does American society, having once rejected second-class citizenship based on conception by married or un-married parents, really want to regress?"     
SFLAction, even when standing alone, took on these difficult conversations and fought for the sanctity of life for those conceived through unfavorable circumstances. SFLAction was successful in defeating attempts by "pro-life" legislators who wanted to revisit life-saving laws on the books in Oklahoma and Louisiana and weaken them to include exceptions.   
CONCLUSION: Life is Winning
Strategic Underdogs Working to Make the Maximum Impact
in Key State & Federal Battles 
SFLAction continues to be the premier, pro-life, grassroots activator in the nation, able to mobilize activists in virtually any location nationwide thanks in large part to the 17 years of work its sister organization, Students for Life of America (SFLA), which invested in growing and cultivating the on-the-ground pro-life army ready to protect life in law in all 50 states.  
A flame was ignited in the hearts of the Pro-Life Generation across the nation when Roe fell into the ash heap of history. In that moment, SFLAction was prepared to enact life-saving laws throughout more than a dozen states. The uphill battle that we face to save innocent babies from an untimely death motivates our cause and our legislative priorities have been outweighing attempts by the greedy abortion industry far and wide.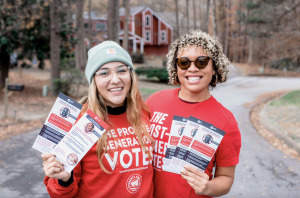 To engage with Students for Life Action, follow us on Twitter, @SFLAction.