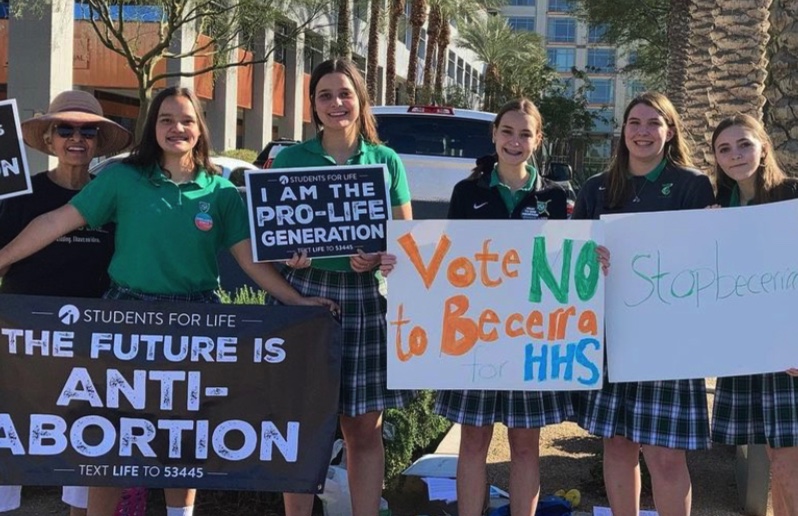 February 25, 2021
Lobbying in Protest Against the Nomination of Xavier Becerra to the Department of Health & Human Services in Arizona
Guest post by Students for Life of America's Pacific Southwest Regional Coordinator, Jordan Brittain.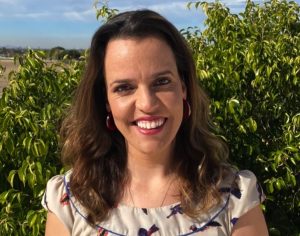 Lobbying in protest of the Xavier Becerra HHS nomination this week was both surprising and exciting for me.  This being the first lobbying event that I have ever led on my own, I didn't quite know what to expect and was unsure of whether it would actually come together, but thanks to amazing friends, students, and teachers who were willing to lobby with me on very short notice, it turned out to be a great success!
I started out in my lobbying this week by spreading the word to friends and family, as well as on social media, about the stopbecerra.com petition that Students for Life Action set up. This quorum allows for people to email and call their senators encouraging them to vote NO on the nomination of Xavier Becerra, an ill-qualified abortion extremist, to Secretary of Health and Human Services under the Biden administration. I also emailed many of my Arizona schools and asked them to join me in a lobby day outside Senator Sinema's office to peacefully chalk pro-life messages and hold signs on the sidewalk.
I knew that I wanted to deliver letters to each of the senator offices as well, so I sent them to my schools to be printed, signed, and picked up. I also contacted a few teachers that I know personally and asked if I could come to their schools to gather signatures from students on their campuses. A friend of mine from Ville de Marie Academy graciously offered to help me out, and so I drove to the school and went class to class with him introducing myself to the students and explaining why I was there collecting signatures. I was beyond delighted by their eagerness to join the cause so readily, and I was grateful for the kindness and support I received from the teachers and staff as well.
Motivated and energized by the success of my first lobbying attempt, I did the same at St. Mary's High School and over the course of two days, I was able to collect almost 300 signed letters from these schools, which I delivered to each of the senator offices yesterday afternoon. Not only that, but I was able to have two lobby days: one at Senator Sinema's office on Tuesday and one at Senator Kelly's office on Wednesday. We chalked messages, held signs, people honked as they passed, and even stopped to thank us! It was such a gift to see that many people were grateful for what we were doing and agreed wholeheartedly with our cause.
While at Senator Kelly's office, I was nervous that the security guard there would ask us to leave, but he only indicated that we had to move our cars across the street. We did so and continued on with our protest. I was so impressed with the students from St. Mary's as they stood boldly together and held signs while people passed by on the road.  My grandparents came that day as well and prayed quietly and led by example. It was a great blessing for me to have them there with us. Friends of mine from Thomas Aquinas College, as well as my brother and his wife, were able to join me on the first lobby day and while we were there in front of Senator Sinema's office, a lady who I knew from grade school happened to see us and pulled over to say hi and to thank us.  She and her husband even held signs with us for a while and took pictures to share on social media. It was so unexpected, and such a nice surprise, that it only gave me more confidence and peace in the good of what we were doing.
Rallying people together this week to speak out in defense of life and freedom made me ever more aware of how important it is to stand up for what you believe in and to strive to make a difference no matter the odds or time constraints. Every single signature counted, and every effort, great or small, is truly significant. One simple act can change a life and one life can change the whole world. I hope the lobbying efforts of Students for Life this week have been seen and heard by many and have given others the courage to stand up for the truth. I hope that our senators across the nation will heed our petitions to block the nomination of Xavier Becerra to HHS, for he is not a man of democracy and is determined to force American citizens to do what they believe in their hearts to be wrong. But most of all, I hope that we never stop fighting for life and liberty, which are the defining rights of this beautiful and blessed country.
If you haven't already done so, please join us in our efforts by going to stopbecerra.com to encourage your senators to vote NO to the Becerra nomination and to stand up in defense of ALL life, from conception to natural death, and of true equality and freedom.  Thank you so much for your support and God bless you!