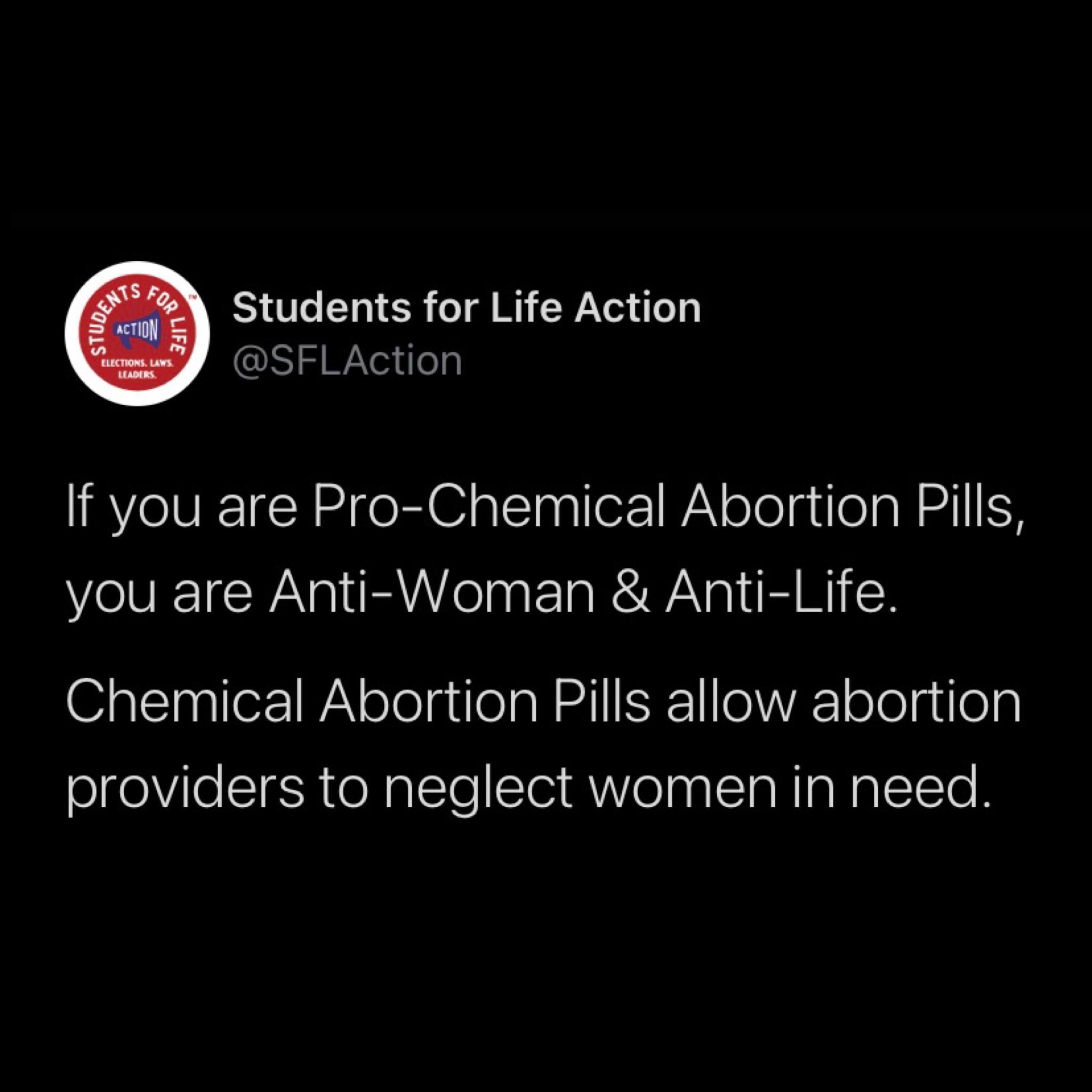 January 3, 2023
BREAKING: Students for Life Responds to President Biden's Pill-Pushing FDA
"The Biden Administration is making dangerous Chemical Abortion Pills attainable at every corner as it lowers the medical standards for protecting women," said Kristan Hawkins, SFLAction and SFLA President. "Making Chemical Abortion Pills accessible at your local pharmacy is certainly not the product of the 'safe, legal, and rare' lie we were fed as we fought for the reversal of Roe. The objective of this Administration has always been increased access to dangerous drugs which is why Students for Life has launched a multi-layered campaign to demand transparency and real tests into the impact of these pills on women and the environment."
To learn more about SFLAction/SFLA's campaign, visit ThisIsChemicalAbortion.com
WASHINGTON, D.C. (01-03-2023) – Students for Life Action (SFLAction) and Students for Life of America (SFLA) President Kristan Hawkins responded to breaking news made by President Biden's Food and Drug Administration (FDA) that it will be furthering Chemical Abortion Pill distribution by allowing local pharmacies to sell the life-ending pills. "While this news is unsurprising, we are appalled by the priorities of the FDA that seek to risk women's lives and expose them to infertility, injury, and even death while discarding of the preborn."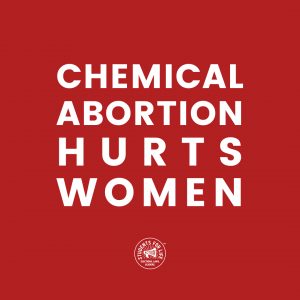 Last month, SFLAction and SFLA filed two citizen petitions to the FDA demanding answers on the distribution of Chemical Abortion Pills that now end more than half of all preborn life lost to deliberate abortion. "Americans deserve answers before we expose women to pills known to kill," Hawkins added.
Under this new guidance, any pharmacy can now opt-in to this deadly distribution and doctors can sign up to be certified to prescribe Chemical Abortion Pills. The combination of the drugs, mifepristone and misoprostol, kill a preborn child and cause a woman to have contractions and pass the deceased child. Already ranking as the leading method of direct abortion, Hawkins added that fast-tracking pharmacies to sell these drugs is a "win for the abortion lobby who profits off the death of the preborn and a loss for women who will suffer physically, mentally, and emotionally."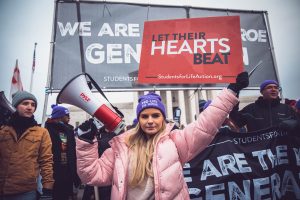 Instead of addressing issues before his Administration like raising inflation prices on eggs and milk and the still shortage of baby formula, President Biden is increasing the number of entities willing to risk women's lives. Biden's no test, online distribution of Chemical Abortion Pills exposes women to a myriad of risks but expanding to local drugstores and pharmacies will only increase the danger women face when self-administering the life-threatening pills.
Given studies at NIH showing Chemical Abortion Pills and other endocrine disruptors in our water supply are harming aquatic and animal life, SFLAction and SFLA called for a pause of the reckless campaign of the Biden Administration to fast-track death by Chemical Abortion Pills. This is a time for a real environmental assessment, and for the Biden Administration to come clean on their claims of "studies" supporting their proposals.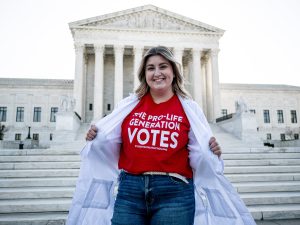 The Biden Administration is pushing a reckless plan without regarding studies and transparency on how these drugs can harm the least of these. SFLAction and SFLA continue to educate the Pro-Life Generation about this issue while garnering thousands of signatures in its citizen's petitions as it calls for the restoration of the Risk Evaluation and Mitigation Strategies (REMS) that at minimum protected women from the most dangerous outcomes of a Chemical Abortion.
To learn more about SFLAction/SFLA's campaign, visit ThisIsChemicalAbortion.com
To learn more about the Post-Roe Blueprint from Students for Life Action, read Hawkins' recent op-ed at Fox titled RIP Roe: Supreme Court abortion ruling sets stage for what pro-life groups do next.
 For interviews email [email protected] 
–30–
Students for Life Action (SFLAction), a 501c4, along with its 501c3 sister organization, Students for Life of America (SFLA), make up the nation's largest pro-life youth organization and a political and policy operation engaging people of all ages. Together they work to end abortion — the human rights issue of our day — and provide political, legal, and community support for women and their children, born and preborn. Headquartered in Fredericksburg, VA, SFLA has more than 1,300 groups on middle, high school, college, university, medical, and law school campuses in all 50 states. SFLA creates strategy, policy, and programming to connect those most targeted for abortion with people ready to help and builds a framework for political engagement on their behalf. SFLA and SFLAction have more conversations with those most targeted by the abortion industry than any other pro-life outreach in the world, reaching more than 2 million people across social media platforms each week and engaging in approximately 100,000 digital conversations per month. Over more than 16 years, President Kristan Hawkins has grown SFLAction/SFLA into an $18 million organization preparing for a Post-Roe America.