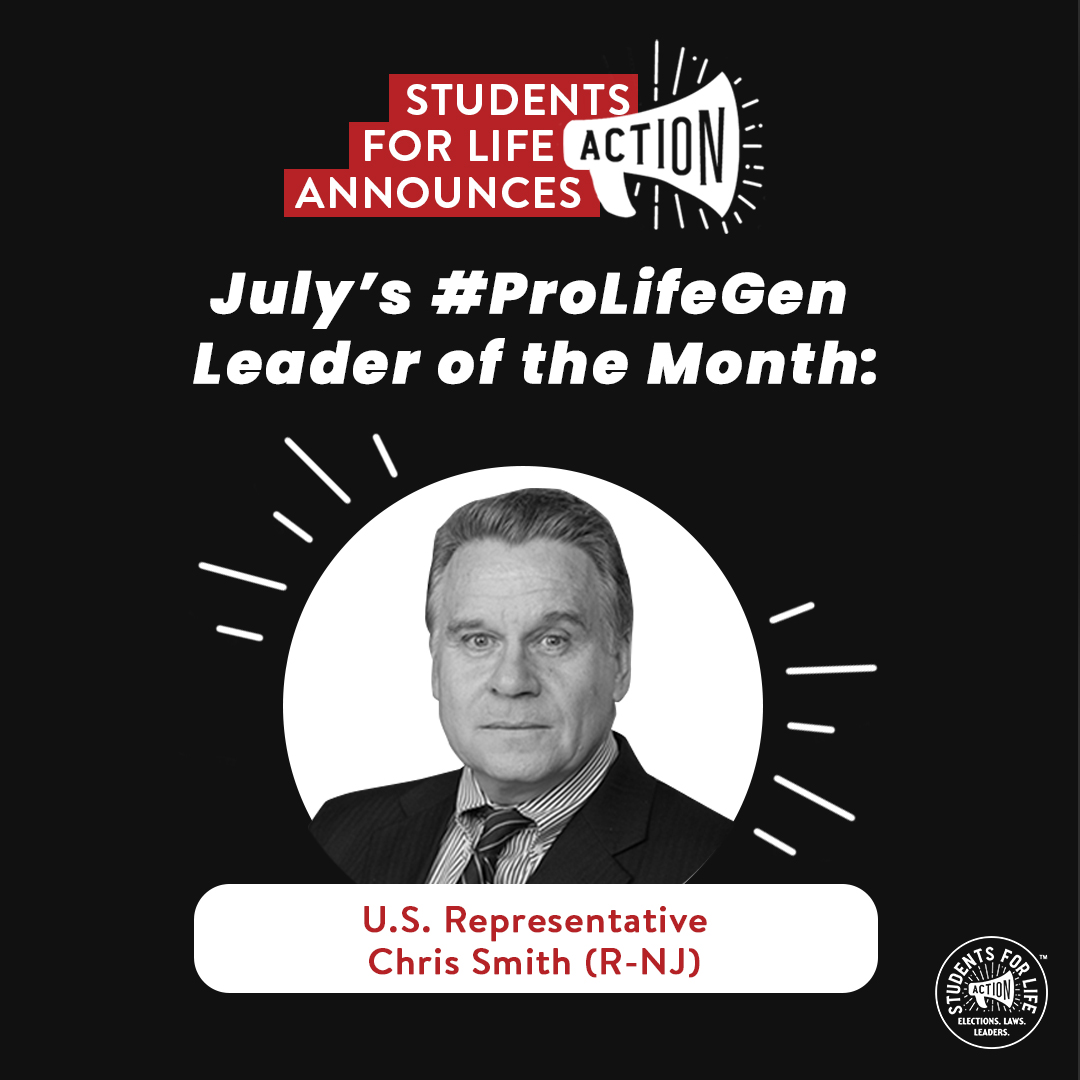 July 14, 2021
Congratulations to SFLAction's July Pro-Life Gen Leader of the Month, U.S. Representative Chris Smith!
Today, we are recognizing U.S. Representative Chris Smith from New Jersey as our Pro-Life Gen Leader of the Month to highlight his efforts to defend the Hyde Amendment and protect the preborn on Capitol Hill. 
Please join us in thanking Representative Smith, our Pro-Life Gen Leader of the Month, for being a pro-life champion in the U.S. Capitol! Message him here. 
Representative Smith has dedicated much of his political career to advocating for pro-life values and supporting various related bills. He's even served as the House Pro-Life Caucus Chair for nearly four decades. 
Recently, Representative Smith has led the charge on defending the Hyde Amendment, one of the most important pro-life provisions in the federal government. 
The Hyde Amendment has been applied to countless bills throughout the last four decades to prevent taxpayer dollars from funding abortions except in the cases of rape, incest, or when the mother's life is in danger. Hyde has enjoyed consistent bipartisan support since 1976 and is estimated to have saved over 2 million lives. 
When President Biden was a Senator, he publicly claimed support for the Hyde Amendment. However, President Biden completely reversed his decades-long position on Hyde during the 2020 election cycle to secure the Democratic Party's nomination and even excluded Hyde from his Budget Request of the U.S. Government for the Fiscal Year of 2022. 
Without the Hyde Amendment, taxpayers would be complicit in domestic abortions by being forced to pay for them. 
In response, pro-life leaders in the U.S. House of Representatives launched the "Eighteen Days for H.R. 18" initiative to build support for codifying Hyde. A major focus of this effort is Representative Smith's bill, H.R. 18, the No Taxpayer Funding for Abortion and Abortion Insurance Full Disclosure Act of 2021. 
H.R. 18 would automatically apply the Hyde Amendment government-wide, permanently preventing the federal taxpayer dollars from funding abortion. 
Representative Smith reported that H.R. 18 would: 
Make the Hyde Amendment permanent, banning federal funding of abortions through programs like Medicaid.

 

Codify the Smith Amendment, which prohibits federal employee health care plans from funding abortion, and prohibit federal funding of abortion in several other federal programs throughout government agencies.

 

Ensure that the 

Affordable Care Act 

conforms to the Hyde Amendment.

 

Until a new health insurance plan year begins, ensure full disclosure, transparency, and the prominent display of the extent to which any health insurance plan on the exchange funds abortion.

 
More than 30 members of the U.S. House of Representatives have requested consideration of Representative Smith's bill on the House floor, publicly emphasizing the importance of codifying Hyde, which is supported by nearly 60% of Americans. This effort began on June 22nd and will continue every legislative day until August recess. Furthermore, the Republican Study Committee and House Pro-Life Caucus drafted a joint letter to President Biden demanding he include the Hyde Amendment in his $6 trillion budget request. 
In addition to fighting for the Hyde Amendment, Representative Smith has introduced and/or supported the following bills that take various approaches to promoting pro-life values. 
Sponsored: 
Cosponsored: 
Representative Chris Smith is a reliable advocate for Life, supporting legislation to protect preborn babies in the womb, restricting various types of violent abortion procedures, ensuring women are informed about the risks of abortion, prohibiting government-sponsored research on aborted baby bodies, and withholding taxpayer dollars from further funding the predatory abortion industry. 
Please join us in thanking Representative Smith, our Pro-Life Gen Leader of the Month, for being a pro-life champion in the U.S. Capitol! Message him here.