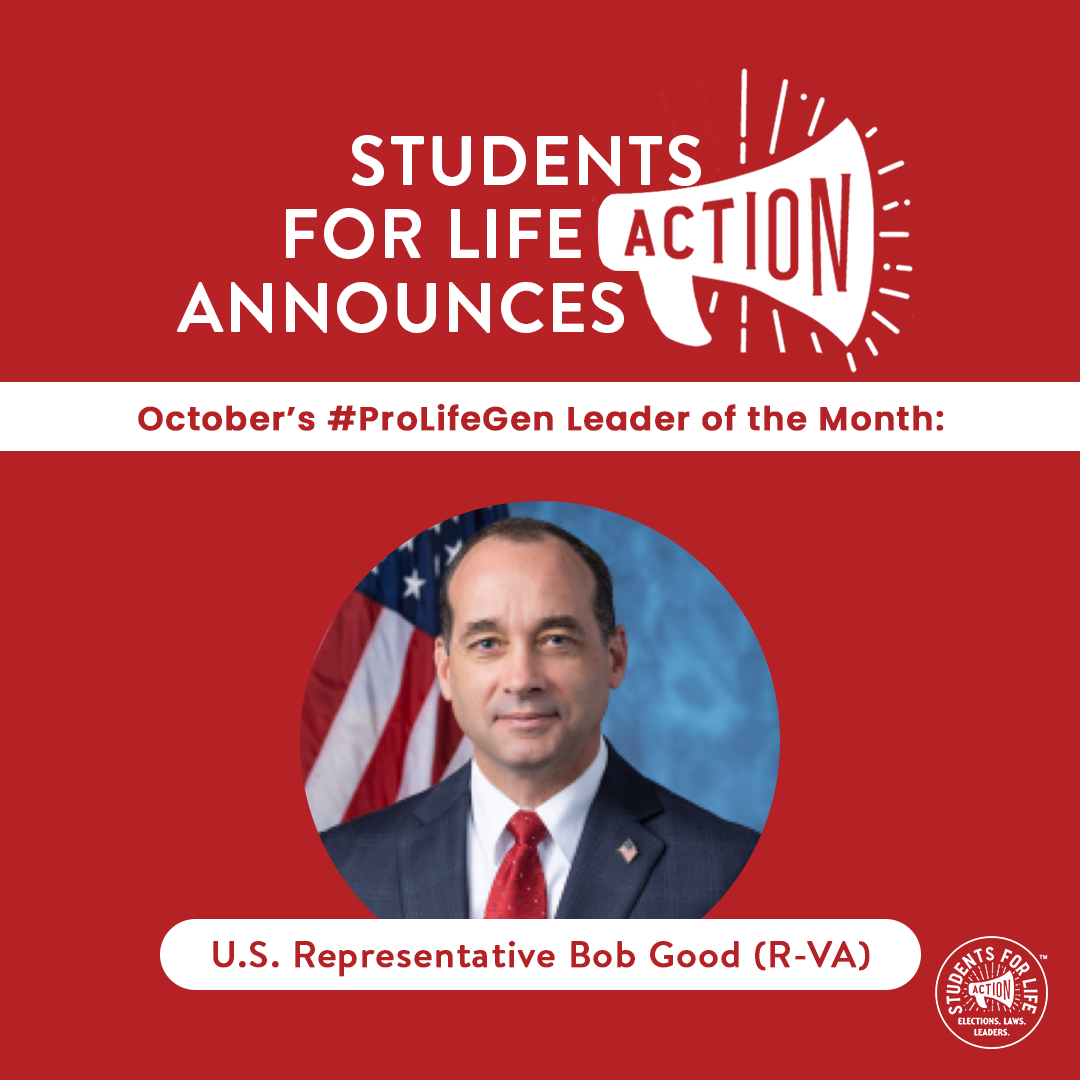 October 19, 2021
Congratulations to SFLAction's October Pro-Life Gen Leader of the Month, U.S. Representative Bob Good!
Today we are recognizing U.S. Representative Bob Good (R-VA-05) as our #ProLifeGen Leader of the Month to applaud his commendable efforts to limit dangerous Chemical Abortion distribution and promote the life-saving work of pro-life pregnancy centers.
Congressman Good took office in 2021 after defeating Rep. Denver Riggleman, a one-term Republican legislator known to be weak on the issue of Life. In contrast, Rep. Good affirms that he is 100% pro-life from conception to natural death, and it's his #1 issue. In choosing Mr. Good to represent Virginia, voters shifted the 5th congressional district in a much better direction, especially for the innocent preborn.
In his first term, Rep. Good has already spearheaded two important pro-life initiatives: the Teleabortion Prevention Act and a National Pregnancy Center Week resolution.
Recently, Rep. Good introduced H.R. 5136, the Teleabortion Prevention Act of 2021. If passed, this bill would require abortionists physically examine a mother prior to selling her Chemical Abortion Pills, remain present while the Chemical Abortion is taking place, and provide a follow-up appointment after the abortion. This piece of legislation not only creates a means of accountability for the abortion industry but promotes awareness of the dangers of Chemical Abortion.
The Teleabortion Prevention Act is especially timely and relevant because the FDA recently used the COVID-19 pandemic as an excuse to remove the REMS (risk evaluation and mitigation strategies), "a drug safety program that… can require for certain medications with serious safety concerns to help ensure the benefits of the medication outweigh its risks." Now, the Biden Administration is quietly moving to ensure these basic health and safety standards are PERMANENTLY eradicated, putting countless women and their babies at significant risk of harm and even death.
Chemical Abortion intentionally kills a preborn child in the first trimester of pregnancy through a two-drug regimen. The first pill, mifepristone, cuts off progesterone to the baby's body, essentially starving the preborn child. The second pill, misoprostol, induces labor, causing a mother to give birth to her child, who may or may not be dead.
Women can experience a variety of physical repercussions after taking Chemical Abortion pills including heavy vaginal bleeding, severe uterine and stomach cramps, fever, chills, nausea and vomiting, dizziness, immune system inhibition, future fertility issues, infection, septic shock, and even death. More than 20 women that we know of have died from Chemical Abortion, and without abortion reporting laws, there could be countless more without the public's knowledge. Furthermore, women have reported terrible mental and emotional side effects after taking Chemical Abortion pills, including grief and regret, isolation, substance abuse, insomnia or nightmares, relationship issues, depression, anxiety, and even suicide.
Nearly 40% of abortions are committed with the Chemical Abortion Pills, and without essential in-person requirements to safeguard women, that number will likely expand significantly. Corporate Abortion loves the idea of delivering death by mail without pre-screening for potentially life-threatening health complications because it saves them time, money, and liability. Women should not be DIYing their own abortions without medical oversight and the information needed to make a well-informed decision.
In commenting on the bill, Rep. Good said, "Abortion is morally wrong under any circumstance, and it is disturbing that the remote healthcare movement has allowed abortion to take place without an initial physical examination of the patient. The Teleabortion Prevention Act protects pregnant women by holding doctors accountable to make sure they are not circumventing patient care. I am deeply saddened by how far the radical left has gone in their efforts to permit the killing of the unborn. I will always fight to protect innocent life."
Students for Life Action President Kristan Hawkins added, "The Biden Administration's recent attempts to provide Chemical Abortion pills without basic health and safety standards does American women a disservice, allowing mothers to act as their own amateur abortionist, DIY-ing their abortion without medical oversight… "Death by mail" is both convenient and cost effective for the predatory abortion industry, leaving countless women and preborn babies to pay the ultimate price. Anyone supporting no-test abortions clearly doesn't care about women."
In support of life-affirming options for women experiencing unplanned pregnancies, Rep. Good also introduced H.Res. 369 in May of this year. This resolution that would designate the week of November 8th as National Pregnancy Center Week. "Pregnancy centers provide mothers a safe place to turn to as they look for help, hope, and healing during challenging times," said Rep. Good of the resolution. "These centers and the individuals who work and volunteer at them deserve to be supported and recognized for the vital role they play in helping mothers and their families."
When faced with an unexpected pregnancy, women often choose abortion because they feel ill-prepared. However, when women are connected with life-affirming clinics and centers for compassionate care, they often choose life instead. This care may include medical services, parenting classes, tangible resources, emotional support, counseling, and referrals to other organizations that specialize in maternity housing, adoption, etc.
Pregnancy centers are a vital resource within the pro-life movement, providing the educational, medical, emotional, and material services that have been credited with saving countless preborn lives. In contrast, Planned Parenthood and other abortion facilities have deceived and forced women into having abortions, in addition to harming mothers, aiding sexual predators, failing to uphold basic health standards, and utilizing unqualified staff to perform medical services.
Women deserve to be treated with the highest level of care and compassion, especially when faced with an unplanned pregnancy. Mothers should always be given comprehensive information and the full breadth of her options instead of being manipulated to kill her child. The resources families need to thrive are readily available, and this resolution helps spread awareness of those life-saving options.
Representative Good is a devoted champion for the preborn, taking a strong and proactive stance against the most pro-abortion Administration in American history. He not only consistently votes pro-life, but actively introduces legislation to combat the predatory abortion industry.
Please join us in thanking Congressman Good, our #ProLifeGen Leader of the Month, for his commitment to stand for Life on Capitol Hill! Tweet him @RepBobGood