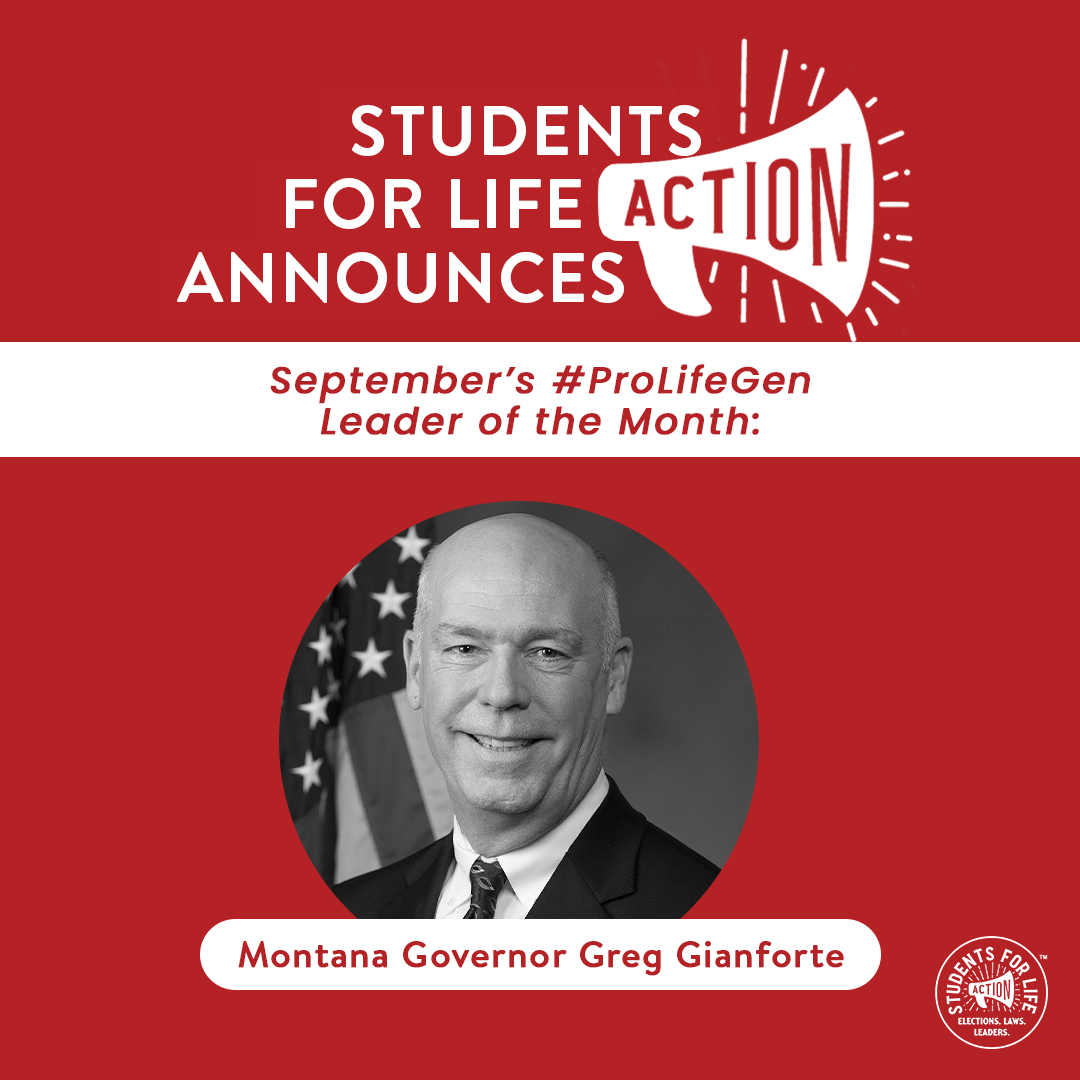 September 20, 2021
Congratulations to SFLAction's September Pro-Life Gen Leader of the Month, Governor Greg Gianforte! 
This month, we're recognizing Montana Governor Greg Gianforte as our Pro-Life Gen Leader of September for his momentous efforts to stand for life in Montana! 
In order to create a post-Roe America that recognizes and respects the humanity of the preborn, our country needs strong state governments that stand for life and work to protect their preborn citizens from the violence of abortion. 
Governor Gianforte only recently became the Governor of Montana in January 2021, but he has a long record which showcases the way he champions the rights of the preborn. 
Before his time as Governor, Greg Gianforte was a member of the United States House of Representatives. There, he voted against the Equal Rights Amendment (or as we like to call it the "Everything Related to Abortion" Act) and DC Statehood (read our top 5 reasons to oppose DC Statehood here). Additionally, he voted in favor of the Born-Alive Abortion Survivors Protection Act and attempted to cut Planned Parenthood funding. These are only a few of Governor Gianforte's notable votes to defend life across the country! 
Since taking office in January, Governor Gianforte signed onto a brief with eleven other governors imploring the U.S. Supreme Court to reverse their decision on the 1973 Roe v. Wade case, which wrongly legalized abortion through all nine months of pregnancy. This is especially relevant as the U.S. Supreme Court will hear Dobbs v. Jackson Women's Health Organization in the coming months. This case will consider the constitutionality of Mississippi's law limiting abortions after 15 weeks, except in the case of a medical emergency or severe fetal abnormality. 
The brief states:  
"The Court should take this opportunity to correct the mistakes in its abortion jurisprudence and recognize that the text and original understanding of the Fourteenth Amendment have nothing to do with abortion. Rather than creating a federal constitutional right, the Court should leave regulating abortion to the States, where the people may act through the democratic process".  
Additionally, Governor Gianforte signed onto three unique approaches to protect life during this legislative session, which Students for Life Action leaders testified in favor of:   
Unsurprisingly, Planned Parenthood of Montana filed a lawsuit against these life-saving measures. Reporting on this news, the Montana Free Press said,  "At issue are four bills that mostly sailed through the Republican-held Legislature this winter and spring: HB 136 largely bans abortions after 20 weeks; HB 140 requires providers to offer patients an ultrasound before their procedure; HB 171 adds new restrictions on abortions early in pregnancy and prohibits the use of telemedicine and mail-delivered abortion medication; and HB 299 prohibits state health insurance plans sold through the federal exchange from including abortion coverage." 
Stopping the spread of Chemical Abortion is a top legislative priority for SFLAction. This legislative session, we helped lead a coalition effort along with other Pro-Life Legislative experts including SBA List to develop legislation that prevents dangerous on-line distribution of the life-ending drugs.  
As SFLAction President Kristan Hawkins wrote in USA Today, Chemical Abortion Pills "have four times the complications of surgical abortion, can cause dangerous complications later in pregnancy and in ectopic pregnancies, and can harm women's future fertility if handed out without proper screening and treatment for blood type. They also pose a risk to women if abusers get hold of the drugs to force on women, sometimes without their knowledge or consent." 
 In a poll released earlier this year assessing the views of Millennials and Gen Z, a population that is typically considered the most pro-abortion, Students for Life of America found that efforts to protect women from abusers had majority support. By a margin of 55% to 23%, Millennials and Gen Z are in favor of in-person purchase of abortion drugs to prevent abuse. The poll also found that most Millennials and Gen Z support health and safety standards for Chemical Abortion Pills, which are known to have deadly side effects. 
While these laws are being challenged by Corporate Abortion, which is more interested in profits than patients, Students for Life Action would like to sincerely thank Governor Gianforte for his commitment to protect preborn Montanans and women from the violence of abortion despite the attacks he receives for doing what's right.  
Governor Gianforte is a bold advocate for the Pro-Life Generation, and we know his work to save lives in Montana and across the U.S. is not done yet! We excitedly await Governor Gianforte's next steps to further pro-life values. 
Please join us in thanking Governor Greg Gianforte, our Pro-Life Gen Leader of the Month, for his dedication to protecting mothers and babies through pro-life legislation! Tweet him @GovGianforte