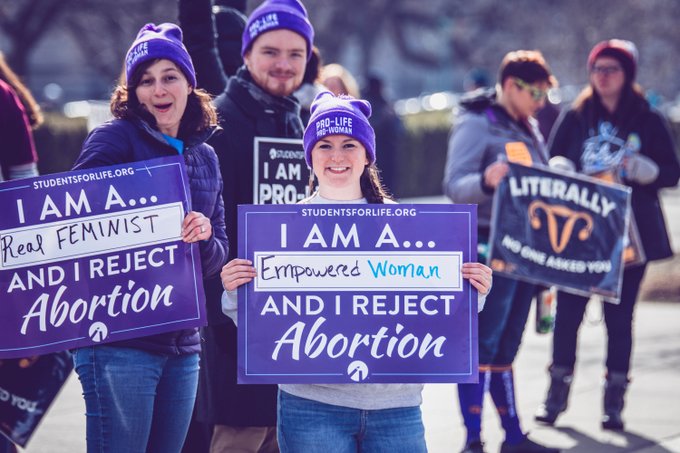 April 29, 2020
Good News: Students for Life Action Has Trained Over 1200 Students To Abolish Abortion
Students for Life Action started about a year ago, in February 2020, and already, it has trained over 1,200 students to abolish abortion. Because Students for Life Action is a 501(c)4, it can engage more in elections and legislation, meaning many of these students have been trained in lobbying, canvassing, and election organizing. It's so important that Millennials and Gen Z are pro-life and are skilled in politics, as we know that we need to make abortion both illegal and unthinkable!
In 2019, Students for Life Action mobilized hundreds of students to make phone calls and knock on doors in Virginia. But after the election in November, they did not slow down, moving right away into preparing students to push for pro-life legislation in their state and to push back against pro-choice legislation in their state.
For example, in January, Students for Life Action brought over 50 students to Richmond, Virginia over several months to push back against the pro-abortion Equal Rights Amendment. Students were also mobilized to be advocates for life in states like West Virginia, Kansas, New Mexico, and Georgia.
SFL Action also has been working to stop or shut down abortion facilities, including in Florida and Kansas. Katie Lodjic, the National Field Director for Students for Life Action, has worked to train students in organizing tactics, research, and public speaking, to ensure that the pro-life generation is being proudly and effectively pro-life. For example, Kansas students have spoken at city council meetings in Kansas City, voicing their opposition to a pending Planned Parenthood abortion facility.
Continuing into 2020, Students for Life Action continues to take on one-on-one mentoring and education with SFL Action Captains and continues to train and mobilize students for the #VoteProLifeFirst initiative.
Lodjic commented on the training and education by Students for Life Action, saying, "Millennials and Gen Z are often portrayed by the media as being pro-choice and leaning one way politically. But the number of students trained and the energy among pro-life students shows that this generation IS the pro-life generation and is ready to abolish abortion."
You can support Students for Life Action by donating here.