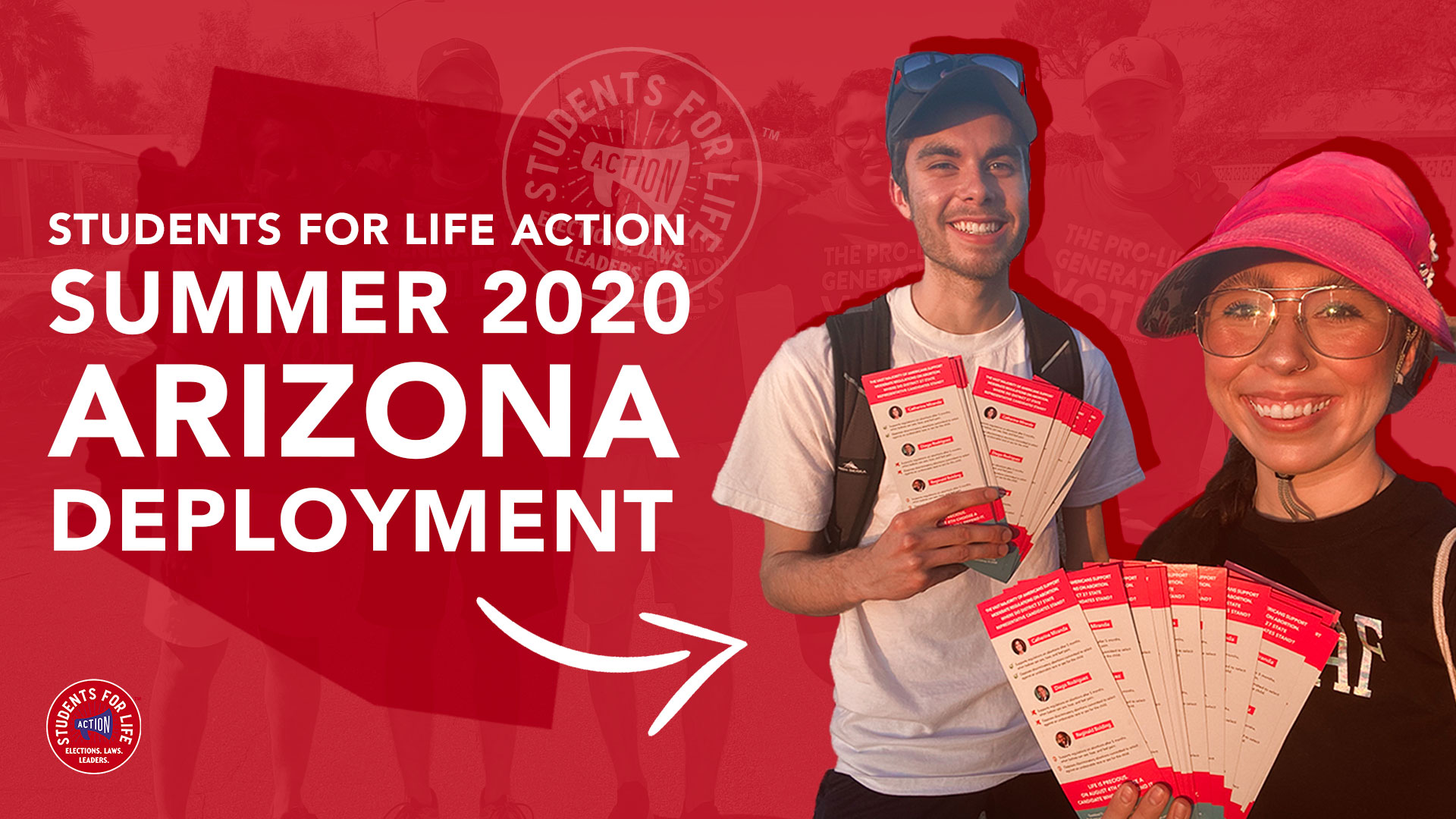 August 14, 2020
How Trump Is Pulling Ahead in AZ and What We Did
Students for Life Action (SFL Action) is pleased to see their pro-life campaigning efforts have helped President Donald Trump move forward in Arizona's 2020 presidential election polls. A Trafalgar Group poll has Trump ahead of Democratic nominee Joe Biden 46.2% to 44.8%. The polling average from RealClearPolitics does not necessarily spell good news for Biden, as it shows the former Vice President leading Trump by a mere 2.2 points.
Arizona is one of the key battleground states Trump must win in order to win reelection and prevent the American people from being subjected to Biden's radical abortion views. Biden has pledged to repeal the Hyde Amendment and force taxpayers to fund abortions, a position at least 60 percent of Americans oppose. Now that Biden has confirmed that Sen. Kamala Harris – someone with an alarmingly authoritarian stance on abortion – is his vice presidential pick, it's clear that Biden and Harris are campaigning on a very abortion-friendly platform.
SLFAction has not wasted any time between now and November when it comes to gathering state-level support for leaders like Trump, who will advance pro-life policies. We've partnered with the SBA list throughout this busy summer of campaigning by helping them meet their goal of making 4 million canvass visits across the country in key swing states.
These efforts have made a huge difference when it comes to setting the stage for the passage of future pro-life legislation in Arizona. Our student volunteers knocked on 5,000 doors during Arizona's recent Republican primary between Sen. Heather Carter and State Rep. Nancy Barto. The students informed voters about Carter's abysmal pro-life record and empowered them to elect a candidate who actually represents their values.
Carter once prevented $7.5 million from going to pregnancy resource centers, and she would frequently be absent during votes on pro-life issues. Barto's association with the SBA List and her long history of defending unborn lives was something SFLAction was able to educate Arizonians on to help Barto win her election.
For many of our volunteers, this was the first time they had knocked on doors or made phone calls on behalf of a public official before. But they bravely donned face masks and endured long days in the Arizona heat to provide the unborn with a voice. Our internship program has given students the tools they need to mobilize on their college campuses this Fall and encourage their peers to vote pro-life in upcoming elections.
The Super Saturday canvassing trips we hosted alongside SBA List to campaign for pro-life leaders are not done yet, and we plan to do this again throughout the school year. Another Super Saturday event is scheduled to take place at Arizona State University in Phoenix on September 19. Students who participate in these efforts will have the opportunity to get paid to knock on doors in the state and have meaningful pro-life conversations with potential voters.
Don't let your pro-life canvassing efforts end with the summer! Join Student for Life Action for a "Sock the Vote" activism weekend by registering here.