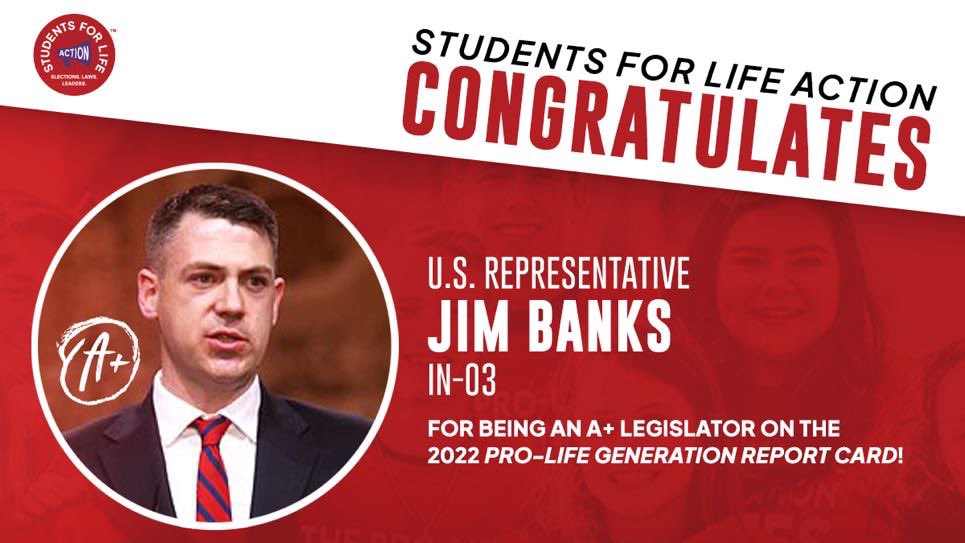 February 10, 2023
Kristan Hawkins Endorses Indiana Congressman Jim Banks for the U.S. Senate, "a rare politician who actually does what he says"
CLICK HERE to review SFLAction's first Congressional Report Card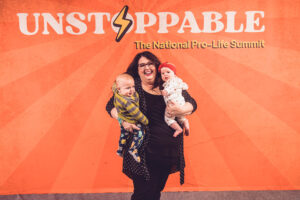 WASHINGTON, D.C. (02-10-2023) – Students for Life Action (SFLAction) President Kristan Hawkins* released the following statement endorsing Congressman Jim Banks (IN-03) following his announcement to run for Mike Braun's seat in the U.S. Senate:
"Congressman Jim Banks is the rare politician who actually does what he says. His track record on protecting the preborn goes back over 20 years to his student political activism at Indiana University. Banks continued to fight for LIFE in the U.S. House by sponsoring pro-life legislation that seeks to end abortion in our lifetime. His efforts have earned an A+ on our Pro-Life Generation Report Card. He has set an example for what we aspire for our student leaders to become, and I fully endorse his bid to be the next U.S. Senator from Indiana." 
Earlier this year, SFLAction released its first Pro-Life Generation Report Card as a tool for voters. In its findings, 270 Democrats were graded too extreme to receive a passing grade which indicates support for common-sense regulations that protect women and the preborn from the abortion industry.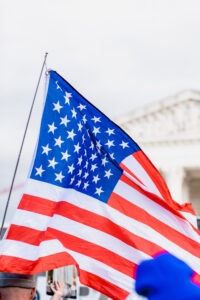 As a mega grassroots mobilizer, SFLAction has pursued an aggressive strategy of pushing new protections for the preborn and their mothers with a willingness to hold accountable office holders who may say they are pro-life but choose not to act in strategic moments. Following Hawkins' personal endorsement, the organization said that they look forward to continuing work with Congressman Banks in the U.S. Senate that undoubtedly needs more pro-life champions in leadership.
As noted by The Washington Post, SFLAction is "one of the largest antiabortion organizations in the country," and has long been preparing legislatively for a Post-Roe America. Fox News recognizes SFLAction "has already been pushing state legislatures" and our growing influence has even reached pro-abortion lead researcher Mary Ziegler who noted the power of our mobilization in The Atlantic. 
For interviews email [email protected]    
*Title for identifications purposes only 
###