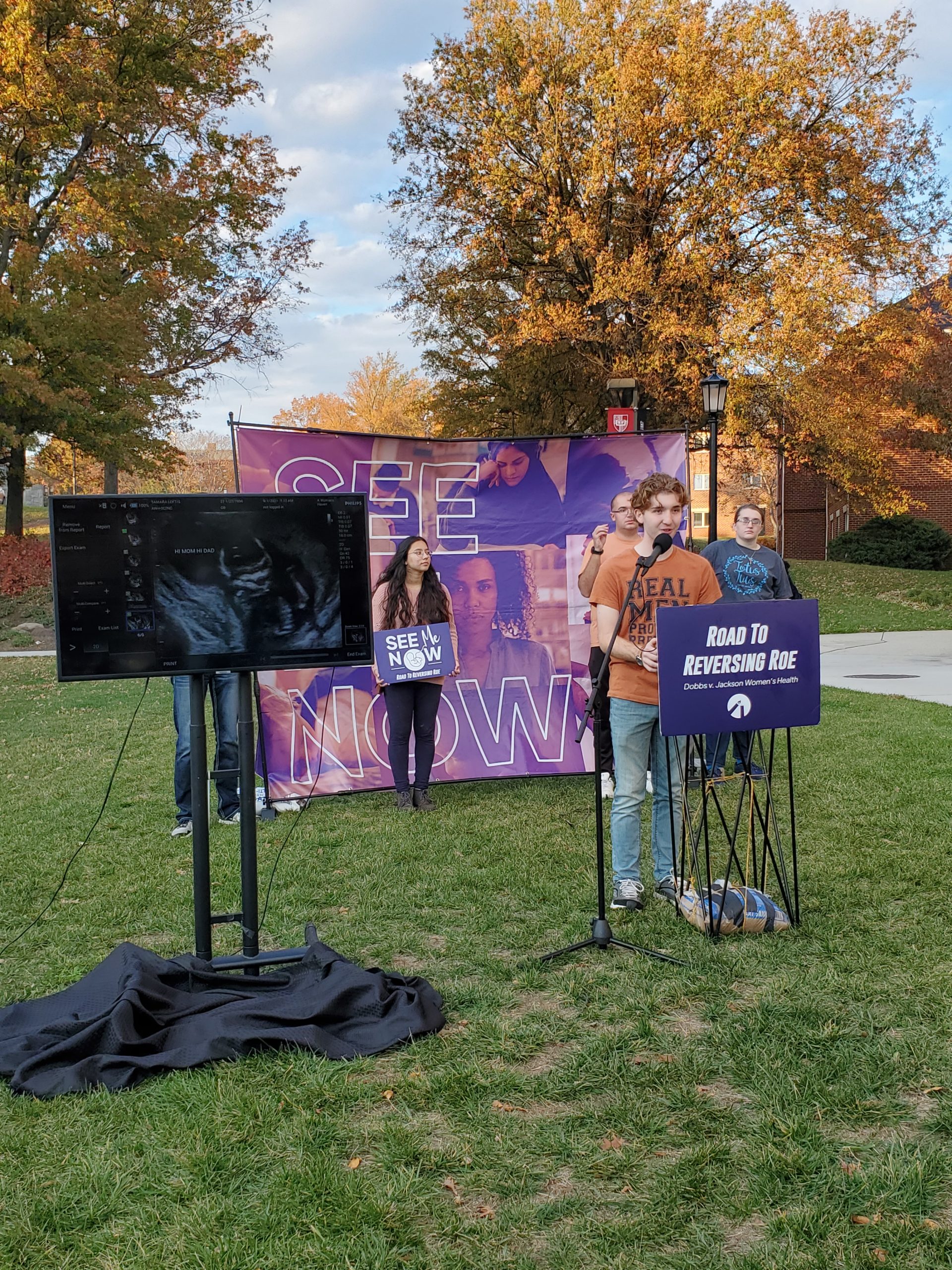 November 22, 2021
SFLAction Proudly Announces November's Activist of the Month
This year has been a historic one for the pro-life movement. Activists nationwide have aided pro-life lawmakers in supporting a record amount of pro-life legislation. Students for Life Action has been active in all 50 states, building student leaders and mobilizing on state legislative battles (including testifying, rallying, meeting with legislators, generating calls & texts to voters, and training students).  
This month, we are honoring one student in particular who stands out: Noah Slayter. We asked him a few interview questions to share with supporters of Students for Life Action.  
Can you tell our SFLAction supporters about yourself?
I'm a freshman politics major at the Catholic University of America. I formed an SFLA group in high school with my good friend, Claire Anderson. I am also a Live Action Ambassador and a member of Prager U's Pragerforce. Beyond the pro-life movement, I am a theatre kid! I've been performing in musicals and plays since I was eight. Currently, my favorite musical is Come From Away, and Bandstand. I also love movies! I help facilitate an unofficial movie club on campus where we watch classic films.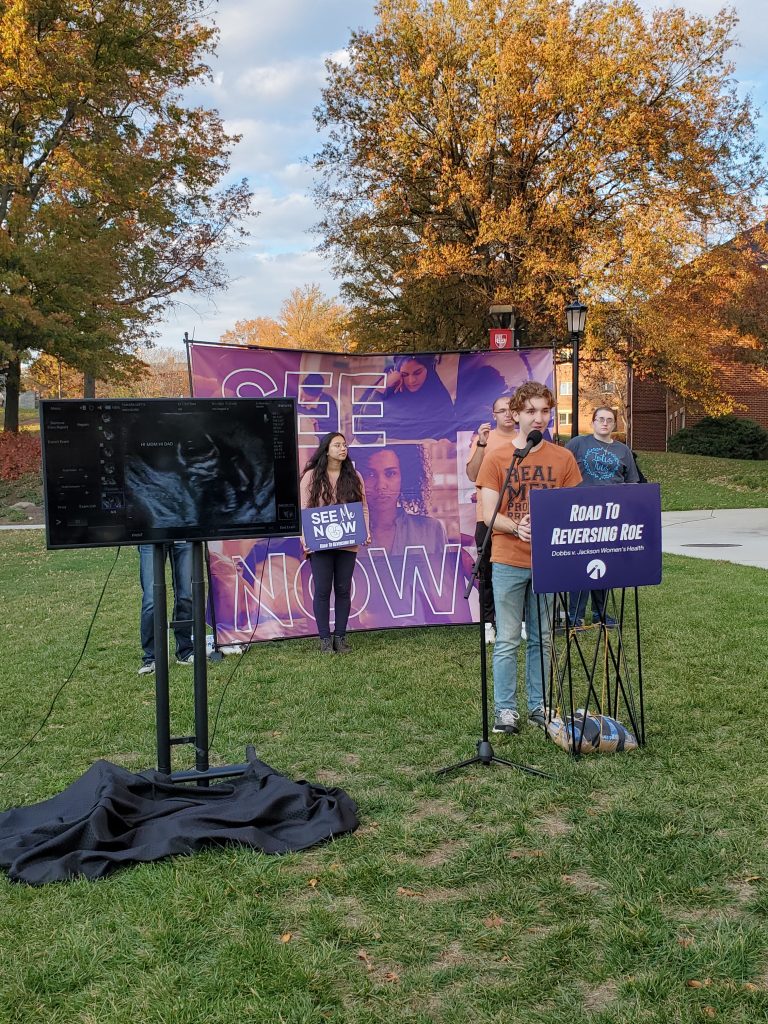 What motivated you to become a leader in the pro-life movement?
I have been going to the [national pro-life march held on the anniversary of Roe v. Wade] since I was 11 years old, so I always knew abortion was wrong. However, it wasn't until sophomore year of high school, during a cross country practice, that I knew God was calling me to the pro-life movement. I had just finished my run when a friend of mine, Ellie, came to talk to me. Ellie asked if I wanted to create a pro-life club at my parish's youth group. She was the president of her church's group already. Prior to that day, I hadn't had any connection to the pro-life movement other than the [national pro-life march]. For some reason though, Ellie thought I was the right person to start a group. I completely attest this to God's intervention.   
Out of nowhere, I am sucked into the movement. I started a group and, a year later, it was an official Students for Life group. In January of 2020, I attended the Women's March, and this was extremely eye opening. The people were so vitriolic; they called me names and almost attacked my friend, Claire. It really made me realize just how much the world was ignorant of what the pro-life movement stood for. We, the movement that desires love and life for everyone, were being told that we're the evil ones who wanted to hurt women. I decided there that I would try to create some change in the world. To be a small light in a world of such darkness. (Hey, a little cliché never hurt anyone…)  
Can you tell me more about your Students for Life group?
While I just joined my college's pro-life group, Cardinals for Life, I want to tell you about the group I started in high school. My group was called St. Gianna's Life Defenders. St. Gianna is the Catholic Church's patron saint of the pro-life movement. She was an Italian pediatrician during the early 1900s. The majority of her patients were the poor and elderly. She was completely in love with her husband, and they wrote the most inspiring love letters. Gianna had four children, and, during the pregnancy of her fourth child, the doctors told her she would die if she didn't abort her child. Gianna refused saying, "If you must decide between me and the child, do not hesitate: choose the child—I insist on it. Save the baby." She died after giving birth to the daughter who would also bear her name.  
I always reflect on this phrase: save the baby. We often say "save the babies;" it's even in a rap. But beyond the social media posts and trendy clothes, do we honestly contemplate what's at stake here? The pro-life movement has its martyrs in millions of children. We must fight for them; for those who died simply because of their circumstances and because of the choices of others. St. Gianna chose her life for her daughter. I hope to have just a tiny piece of her conviction and true love for life.   
 

What are your career goals?

Working for Students for Life, of course! Beyond politics, I wish to also learn about digital media. This would include graphic design, social media, data analysis, etc. Basically, I want to use the internet to promote the pro-life movement. Even further than that, I want to be able to teach others to do it, as well. My family has a background in education as both my parents are teachers, and my sister wants to be one, as well. I would love to be able to use that background to help other students and their groups use social media. I want to give trainings or mentor students on how to virtually promote their group. Kristan Hawkins once said (paraphrased), "If it doesn't look good, who cares?"  Essentially, I want to help pro-life and conservative groups know how to maneuver and thrive online.  
How has Students for Life Action helped you on your pro-life activism journey?
The number of opportunities SFL Action has given me has been tremendous. They are probably the reason I got into the Honors Program at CUA. The experiences and challenges I've had have made me who I am today. This is definitely in part to Students for Life Action. I cannot thank them enough for all the help they've given me.  
What would you tell someone who wants to get involved in the pro-life movement?
If you're a student, start or join a pro-life club. This will help you educate yourself, which is honestly the most important thing you can do. When you are conversing with a pro-choicer or starting a pro-life social media account or whatever, if you don't know what you're talking about, it won't end well.   
Second, find your niche. The pro-life movement is the most diverse political movement in the world. I have pro-life friends who are Christian, atheist, black, white, young, old, nurses, lawyers, painters, businesswomen, etc. The pro-life movement has a place for you. And if you can't find your niche, honestly that's better because you can create your own niche and have a bigger TikTok page cause no one else is doing what you're doing. 
Lastly, remember you stand on the shoulders of giants. The people who came before are there to support you. The staffers at SFLA are literally there for you, just waiting for you to DM their Instagram page. Please, please, please reach out to them. If you want, reach out to me. Please contact my Instagram: @theprolifeguy. I promise I'll help you out!