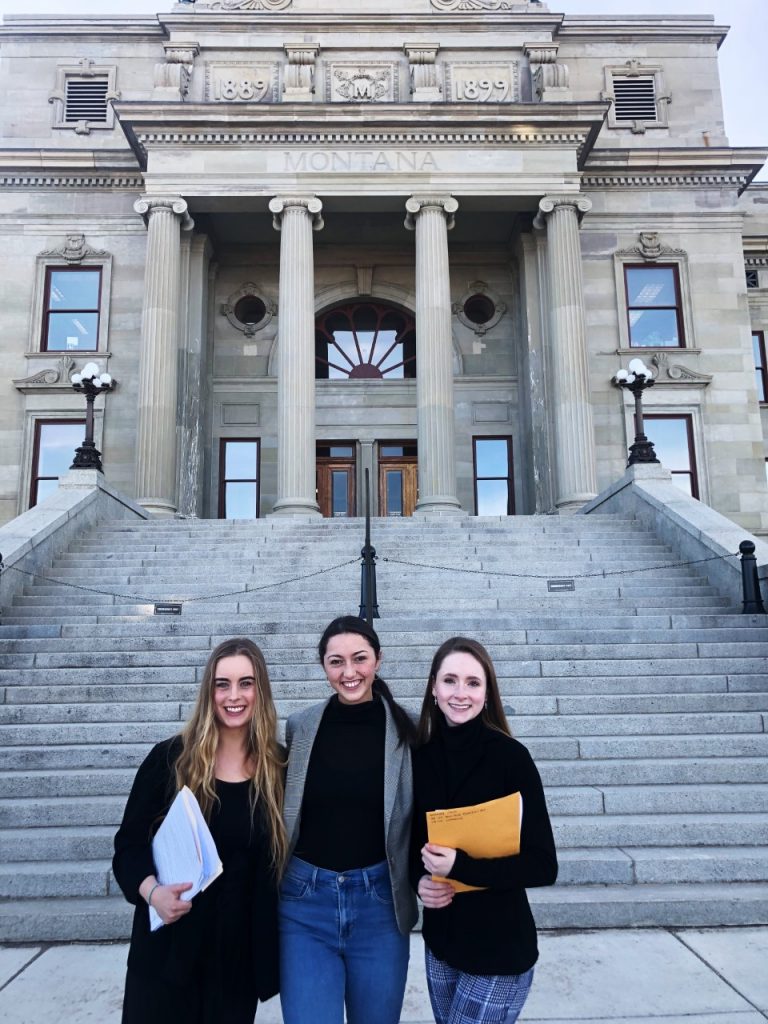 August 18, 2021
Planned Parenthood Sues to Stop Popular Pro-Life Laws in Montana from Going to Work, Including Innovative Chemical Abortion Law
"It's no surprise that Planned Parenthood ran to court to stop what the voters wanted. But Corporate Abortion's move from pushing 'choice' to legally manipulated coercion is being rejected by Americans nationwide," said Students for Life Action's Kristan Hawkins. 
HELENA, MT & WASHINGTON D.C. (8-17-2021) – Students for Life Action President Kristan Hawkins called Planned Parenthood's rush to court to prevent pro-life laws from going into effect in Montana "just what you would expect from an organization committed to pushing abortion up to moments before birth." The bills passed with popular support, following a coalition effort that included Students for Life Action. SFLAction team members on the ground testified, lobbied and advocated for a number of laws, including a very innovative approach that required life-saving precautions for Chemical Abortion Pills, a key issue for the Pro-Life Generation as 40 percent of abortions are now committed with the deadly drugs. 
As reported when the case was filed this week: "At issue are four bills that mostly sailed through the Republican-held Legislature this winter and spring: HB 136 largely bans abortions after 20 weeks; HB 140 requires providers to offer patients an ultrasound before their procedure; HB 171 adds new restrictions on abortions early in pregnancy and prohibits the use of telemedicine and mail-delivered abortion medication; and HB 299 prohibits state health insurance plans sold through the federal exhange from including abortion coverage." 
Stopping the spread of Chemical Abortion is a top legislative priority for SFLAction, which helped lead a coalition effort along with other Pro-Life Legislative experts including SBA List to develop legislation that prevents dangerous on-line distribution of the life-ending drugs. 
As Hawkins has written in USA Today, Chemical Abortion Pills "have four times the complications of surgical abortion, can cause dangerous complications later in pregnancy and in ectopic pregnancies, and can harm women's future fertility if handed out without proper screening and treatment for blood type. They also pose a risk to women if abusers get hold of the drugs to force on women, sometimes without their knowledge or consent."
In a poll out earlier this year of Millennials and Gen Z, those considered most pro-abortion, Students for Life of America found that efforts to protect women from abusers had the support of the majority. By a margin of 55% to 23%, Millennials and Gen Z supported in-person purchase to stop abuse. The poll also found that more Millennials and Gen Z than not supported health and safety standards for Chemical Abortion Pills, known to have deadly side effects.
For interviews, contact Kristi Hamrick at [email protected].
–30–
Students for Life Action (SFLAction), a 501(c)(4), along with its sister organization, Students for Life of America (SFLA), a 501(c)(3),make up the nation's largest, pro-life, youth organization as well as operating a political and policy operation engaging people of all ages. Together they work to end abortion, the human rights issue of our day, and provide political, legal, and community support for women and their children, born and preborn. Headquartered in Fredericksburg, VA, SFLA has more than 1,250 groups on middle, high school, college, university, medical and law school campuses in all 50 states. SFLA creates strategy, policy and programming that connects those most targeted for abortion with people ready to help and builds a framework for political engagement on their behalf. SFLA/SFLActionhas more conversations with those most targeted by the abortion industry every day, week, and year than any other pro-life outreach in the world. Every week, Students for Life entities reach more than 2 million people across social media platforms to have nearly 200,000 digital conversations. Under the leadership of SFLA/SFLAction President Kristan Hawkins, who was recruited to build the organization, SFLA has grown over the last 15 years into a $15 million organization preparing for a Post-Roe America.