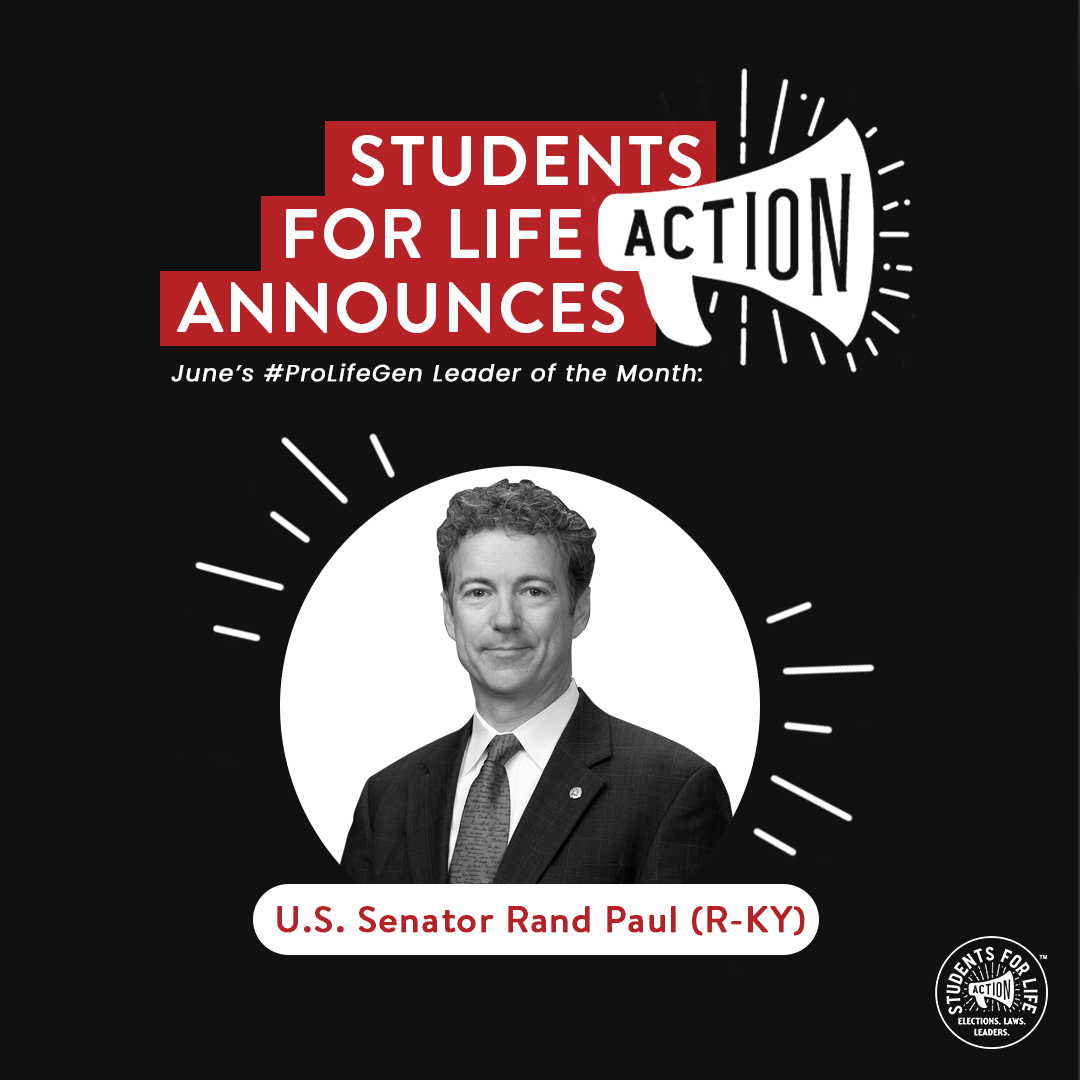 June 14, 2021
Congratulations to SFLAction's June Pro-Life Gen Leader of the Month, U.S. Senator Rand Paul!
Today we are recognizing U.S. Senator Rand Paul from Kentucky as our Pro-Life Gen Leader of the Month to applaud his extraordinary efforts to defund Planned Parenthood and protect the preborn through legislation.
In March, Senator Paul was featured in headline news after singlehandedly forcing Democrats to remove a provision from their COVID relief bill that would have enabled Planned Parenthood facilities to receive taxpayer funds from the Paycheck Protection Program (PPP). To allow Planned Parenthood's participation in PPP, Democrats attempted to waive the Small Business Administration (SBA) affiliation rules for nonprofits, which generally disqualifies affiliates of a large company from receiving PPP loans.
Planned Parenthood already receives over $500 million from the government every year, on top of over $600 million in private donations, $2 billion in assets, and $2 billion in revenue.
Prior to the COVID relief bill, Planned Parenthood facilities received over $80 million in loans from PPP, leveraging their small amount of employees per facility to pose as a small business and leech taxpayer funds intended to help small business struggling because of the COVID-19 pandemic.
In response, Senator Paul, who is the ranking member of the Small Business Committee, urged SBA Administrator Isabella Guzman to investigate the PPP loans given to Planned Parenthood and ensure SBA's affiliation rules are properly enforced, which she committed to doing during her confirmation hearing in April.
Following this request, Senator Paul's office sent a letter to SBA demanding answers on why they approved Planned Parenthood for PPP loans in the first place. SBA failed to respond by the April 23rd deadline and approved even more loans to Planned Parenthood, prompting the Senator to send a follow-up letter in May.
At the follow-up Small Business Committee hearing, Senator Paul questioned Administrator Guzman about why SBA approved at least SIX MORE loans for Planned Parenthood affiliates totaling $17.6 million after she promised to uphold the affiliation rule. Unsurprisingly, Administrator Guzman sidestepped these questions, saying her team would look into it.
Protecting taxpayer funds isn't the only way Senator Paul fought back against the Corporate Abortion giant. Last month, Senator Paul sent a letter to Smithsonian Institution Secretary Lonnie G. Bunch III, urging him to remove the bust of Planned Parenthood founder Margaret Sanger from the National Portrait Gallery's "Struggle for Justice" exhibit.
The exhibit honors champions who have fought discrimination throughout American history. In Senator Paul's letter, he remarked that Sanger does not belong in this display because she was a "proud eugenicist who sought to 'purify' the American population through birth control."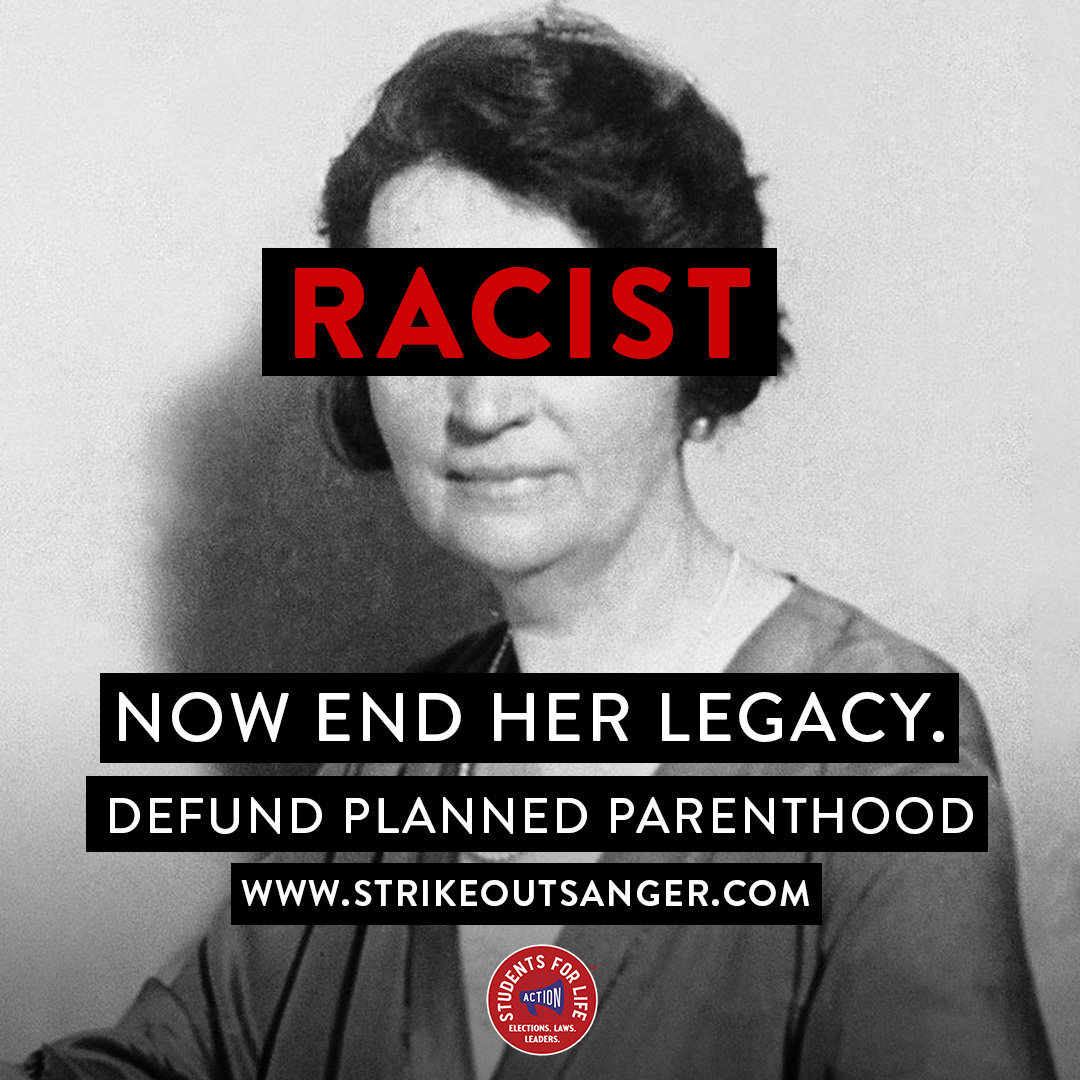 We know that Sanger advanced a "Negro Project," using Black ministers to promote contraceptives that would reduce the Black population. In writing to a colleague on how to advance birth control and the abortion mentality in minority communities, Sanger wrote, "We do not want word to go out that we want to exterminate the Negro population."
She also wrote in her autobiography about her cooperation with the KKK and advocated for a eugenics approach to breeding for "the gradual suppression, elimination and eventual extinction, of defective stocks – those human weeds which threaten the blooming of the finest flowers of American civilization."
Because of this, Senator Paul rightly noted that Sanger has no place alongside Civil Rights heroes such as Frederick Douglass and Martin Luther King, Jr.
In addition to blocking further taxpayer funds from supporting Planned Parenthood and opposing the glorification of known racist Margaret Sanger, Senator Paul has introduced the S. 99 Life at Conception Act to establish equal protection for the preborn under the 14th Amendment of the Constitution.
Section 1 of the 14th Amendment says, "No State shall make or enforce any law which shall abridge the privileges or immunities of citizens of the United States; nor shall any State deprive any person of life, liberty, or property, without due process of law; nor deny to any person within its jurisdiction the equal protection of the laws."
Commenting on this bill, Senator Paul said, "The Life at Conception Act legislatively declares what most Americans believe and what science has long known – that human life begins at the moment of conception, and therefore, is entitled to legal protection from that point forward. Only when America chooses, remembers, and restores her respect for life will we rediscover our moral bearings and truly find our way."
Since Roe v. Wade was decided by nine unelected Supreme Court Justices in 1973, roughly 65 million innocent babies have been killed in the womb. Senator Paul's bill would remedy this tragic mistake, confirming that life begins at conception and guaranteeing the protection of human rights at all stages of life – even in the womb.
Senator Paul is truly a reliable pro-life champion, protecting taxpayer dollars from further funding the predatory abortion industry, calling out Planned Parenthood for their racist origins, and introducing legislation to finally protect the lives of all innocent preborn babies.
Please join us in thanking Senator Paul, our Pro-Life Gen Leader of the Month, for his dedication to promoting pro-life values on the Hill! Tweet him @RandPaul.