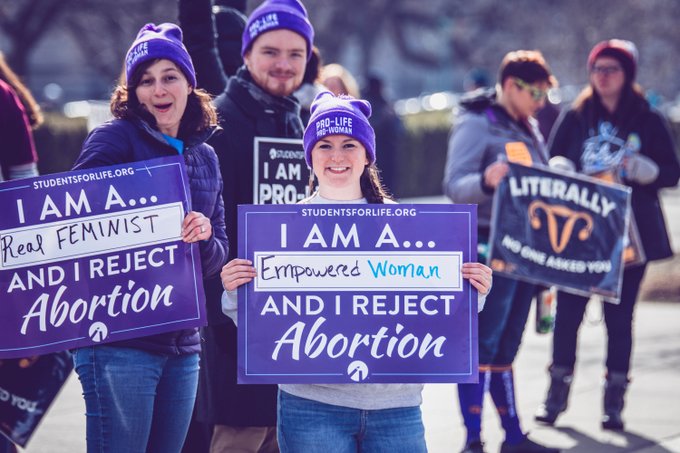 August 19, 2020
Sen. Braun and Rep. Warren Davidson Declare Abortion is Not Health Care 
Last week, Students for Life Action urged Senators and Members of Congress to join Sen. Braun and Rep. Warren Davidson to demand the United States Treasury end tax breaks for abortion.  
In a bicameral letter to Secretary Mnuchin of the United States Treasury that Students for Life Action circulated, Senators and Members of Congress requested new regulations that could prevent the IRS from qualifying abortions as medical care under §213(d)(1)(A), a U.S. tax code that allows tax deductions for medical treatment not covered by insurance. This statute currently covers abortion as tax-deductible.  
In this letter, Sen. Braun and Rep. Davidson declare that abortion is not healthcare. They argue that abortion should not qualify for tax exemption because it does not prevent a physical or mental illness. Furthermore, abortion primarily and directly ends the life of a preborn child, a human being with her own unique DNA, which classifies her as a single body in the statute. In other pregnancy-related tax cases, a preborn child is considered her own human being; thus, the same principle must apply to women seeking tax exemption for abortions. The letter states:  
"In all but the most extreme circumstances, abortion is an elective procedure that has nothing to do with 'the prevention or alleviation of a physical or mental defect or illness.' Pregnancy is a natural condition of the human body, for both the mother and her unborn child, and only rarely, if ever, does a pregnancy physically threaten the life of a mother in such a way that the mother's death can only be averted by abortion, rather than through other means such as early induction or Caesarean section." 
This letter is endorsed by our friends at Susan B. Anthony List, Family Research Council, U.S. Conference of Catholic Bishops, Concerned Women for America, Americans United for Life, March for Life, and Heritage Action for America.  
In the words of Rep. Davidson, "Abortion is not health care, and it should not be recognized as such by the IRS…Taxpayers should never be forced to subsidize abortion." 
Sen. Braun added, "Every human life from the moment of conception is invaluable. Taking the life of an unborn child through abortion is certainly not health care, and should not be treated as such." 
Students for Life of America and SFLAction constantly remind our activists that abortion is not healthcare. Abortion does not preserve a human life; it only destroys one. During the COVID-19 crisis, many states declared abortion "non-essential" and ordered abortion facilities to close because the United States needed to concentrate its resources to preserve human life, rather than destroy it.  
We are so grateful for pro-life champions in the House and Senate like Rep. Davidson and Sen. Braun, who are committed to the absolute truth that all human beings are created equal, including the preborn. We thank every Senator and Member of Congress who signed onto this bi-cameral letter and hope Secretary Mnuchin considers their demands to remove tax exemptions for abortions.