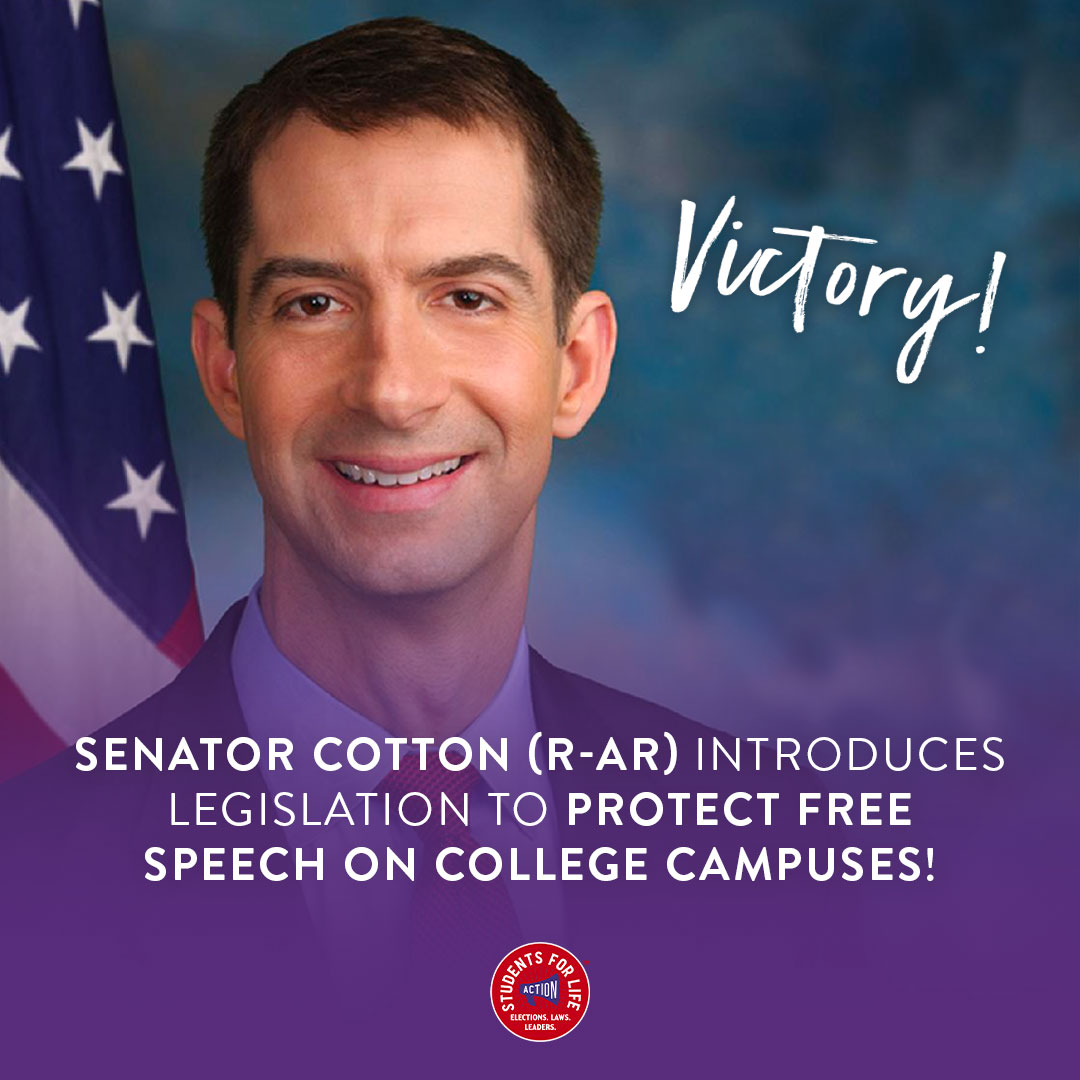 August 11, 2020
Senator Cotton Introduces Legislation to Protect Free Speech on College Campuses
Students for Life of America (SFLA) and Students for Life Action (SFLAction) applaud members of the United States Senate for introducing legislation that will ensure our students' First Amendment rights. 
On August 6, Senator Tom Cotton (R-AR) alongside Sen. Mitch McConnell (R-AL), Sen. Cramer (R-ND), and Sen. Kelly Loeffler (R-GA) introduced the Campus Free Speech Restoration Act. This act will amend the Higher Education Act of 1965 to guarantee students' rights to free speech on college campuses. 
The purpose of this bill is "To amend the Higher Education Act of 1965 to ensure that public institutions of higher education eschew policies that improperly constrain the expressive rights of students, and to ensure that private institutions of higher education are transparent about, and responsible for, their chosen speech policies." 
In 2019, President Trump signed an executive order to ensure free speech on college campuses. Under this order, as long as President Trump is in office, colleges and universities that accept federal dollars must guarantee students' right to free speech. If they deny students this right, universities will face significant financial penalties.  
If passed, this legislation will live beyond President Trump's executive order and protect students at state schools from unconstitutional speech codes and free speech zones. Private colleges and universities must communicate to their students the institution's policies on free expression and uphold these policies.  
According to Sen. Cotton, "Too many of America's public colleges have attacked the First Amendment rights of their students using so-called free speech zones and unconstitutional speech codes. This bill fights back against campus censors in order to defend open debate and free speech, which lead us to truth." 
SFLA and SFLAction are continually fighting for our activists' right to free speech on college campuses. Every year, several students starting SFLA groups on their campus are denied a platform at their universities. Fortunately, SFLA already has the resources ready for students to take legal action against their academic institutions for free speech violations. Last February, in an op-ed in the Wallstreet Journal, SFLA President Kristan Hawkins outlined the many different types of free speech violations SFLA activists face each school year. These include vandalism of pro-life displays on campus, failure to recognize SFLA groups as official student clubs, and implementing "trigger warnings" for pro-life students wanting to educate their peers on the horrific realities of abortion.  
In spring 2019, SFLA leaders Ellie Wittman, Bernadette Tasy, Leandra Westbrook, Nathan Cain, and SFLA President Kristan Hawkins were invited to the White House for President Trump's announcement of his executive order requiring colleges and universities to uphold free speech on campuses. These students experienced discrimination on their college campuses for their pro-life views. With the help of Alliance Defending Freedom, these students successfully filed lawsuits against their institutions and changed many free speech policies on campus.  
In the words of SFLA President Kristan Hawkins, "Pro-life students should have every opportunity available to them that pro-abortion students enjoy, and anything less is a failure on the part of the university to abide by the First Amendment. Schools cannot use the power of the purse to punish students who value mothers as well as their preborn babies."  
We are so grateful for Sen. Cotton and his colleagues for taking the bold steps to defend students' right to free speech on college campuses. We urge other senators to co-sponsor this important piece of legislation to ensure the Constitution is upheld in all institutions of higher education.