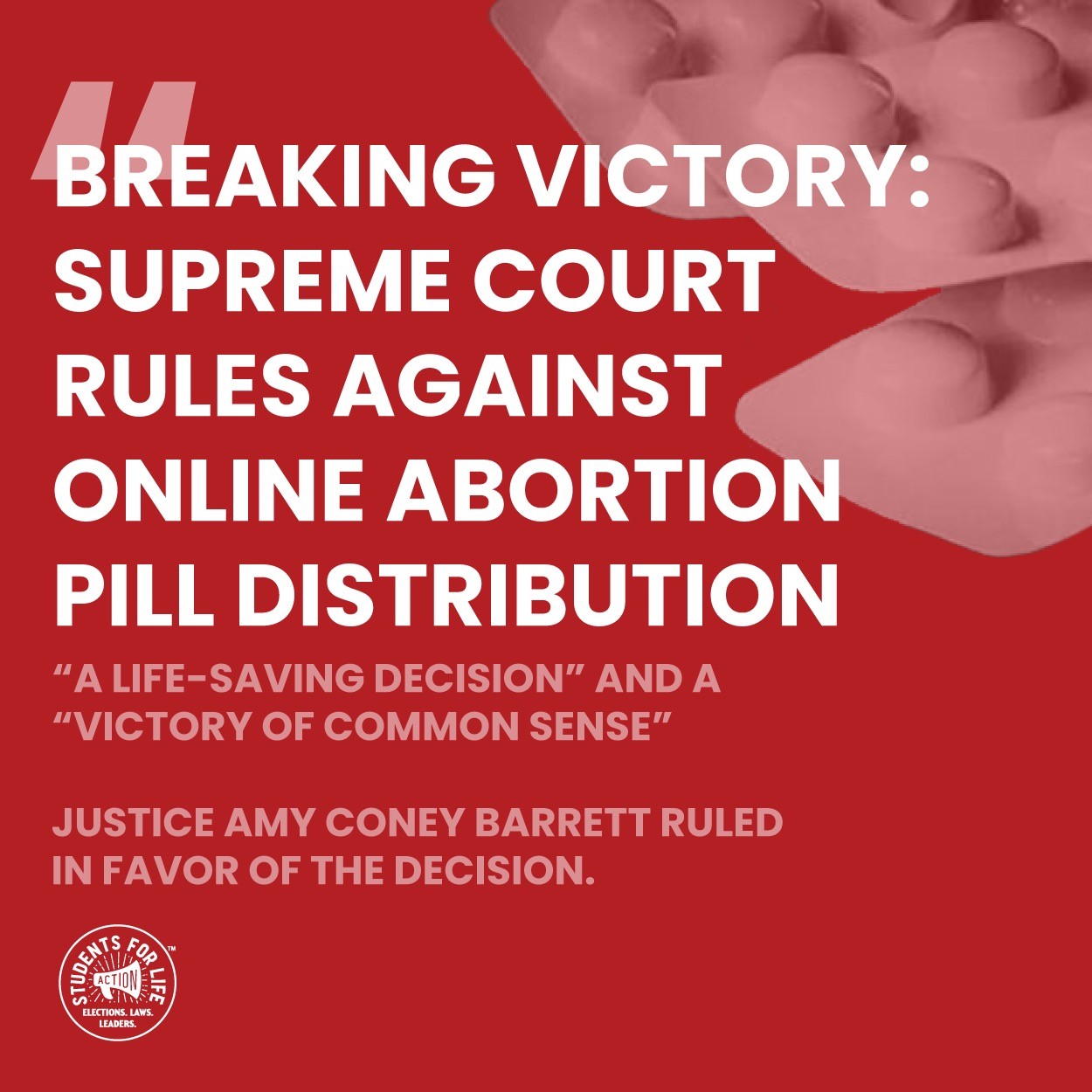 January 13, 2021
The Supreme Court Protects Women by Ruling Against Online Abortion Pill Distribution
Students for Life Calls Supreme Court Ruling Against Online Chemical Abortion Pill Distribution "A life-saving decision" and a "Victory of Commonsense"
WASHINGTON D.C. (01-12-2021) – Following news of the Supreme Court's decision to restore health and safety standards to the distribution of chemical abortion pills, Students for Life of America President Kristan Hawkins made the following statement: "The abortion lobby's misuse of the COVID crisis to force distribution of chemical abortion pill online by running to court shows how little they care about what happens to women taking the deadly drugs. Women have died taking these deadly drugs, and the Supreme Court made the right decision in restoring health and safety standards."
For more on the dangers of chemical abortion, visit our website, This is Chemical Abortion.
For interviews, contact Kristi Hamrick at [email protected]
–30—
Students for Life of America (SFLA) is the nation's largest, pro-life, youth organization. Headquartered in Fredericksburg, VA, SFLA serves more than 1,240 groups on college and university, middle and high school, medical and law school campuses in all 50 states. Student pro-life organizations work to confront policies on their campuses to support pregnant and parenting students, to end Planned Parenthood's relationships with schools and communities, and to change minds of their peers about abortion. SFLA has more conversations with those most targeted by the abortion industry every day, week, and year than any other pro-life outreach in the world and mobilizes the Pro-Life Generation to confront abortion at the local, state and national levels daily. Every week, Students for Life entities reach more than 2 million people across social media platforms to have nearly 200,000 digital conversations with the most engaged pro-life online audience in the world.