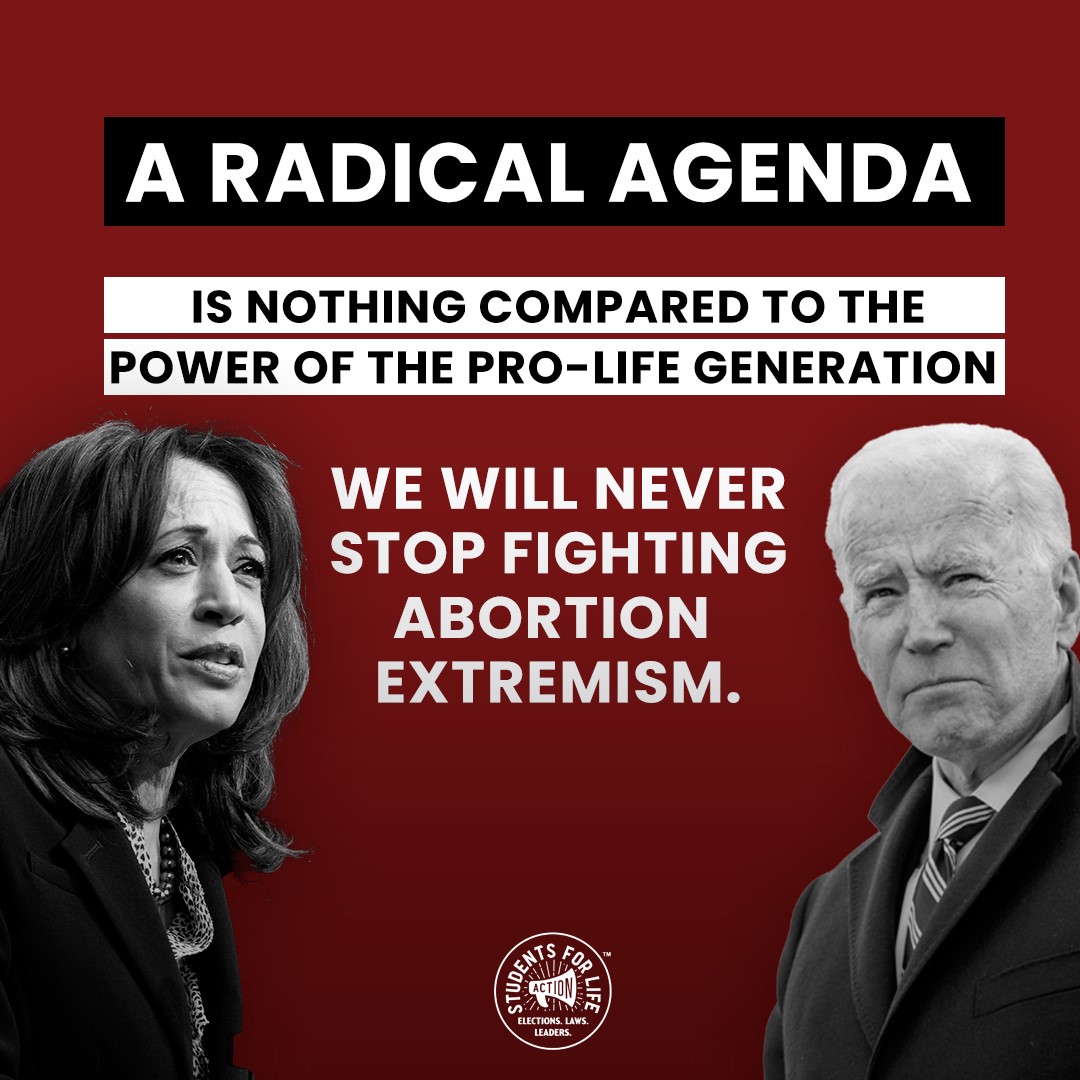 January 23, 2023
SFLAction President Kristan Hawkins Condemns the Biden Administration's Efforts to Prop Up FDA's Pro-Abortion Regulations as Rule of the Land
Students for Life Action President Kristan Hawkins Condemns the Biden Administration's Efforts to Prop Up FDA's Pro-Abortion Regulations as Rule of the Land
"The Biden Administration is trying to establish the Food and Drug Administration as the new Supreme Court with their regulations as the new Roe v. Wade," said Students for Life of America President Kristan Hawkins. "This abuse of power is not only an attack on states' rights but is also an attack on common decency."
WASHINGTON, D.C. (01-23-2023) – Students for Life Action (SFLAction) President Kristan Hawkins commented on the Biden Administration's recent memorandum to further abortion, stating:
"The Biden Administration is trying to establish the FDA as the new Supreme Court with their regulations as the new Roe v. Wade. This abuse of power is not only an attack on states' rights but is also an attack on common decency. No Test, Online distribution of Chemical Abortion Pills exposes women to injury, infertility, death, and abusers, and it would seem that the Biden Administration doesn't care about what happens to women as long as a baby doesn't survive.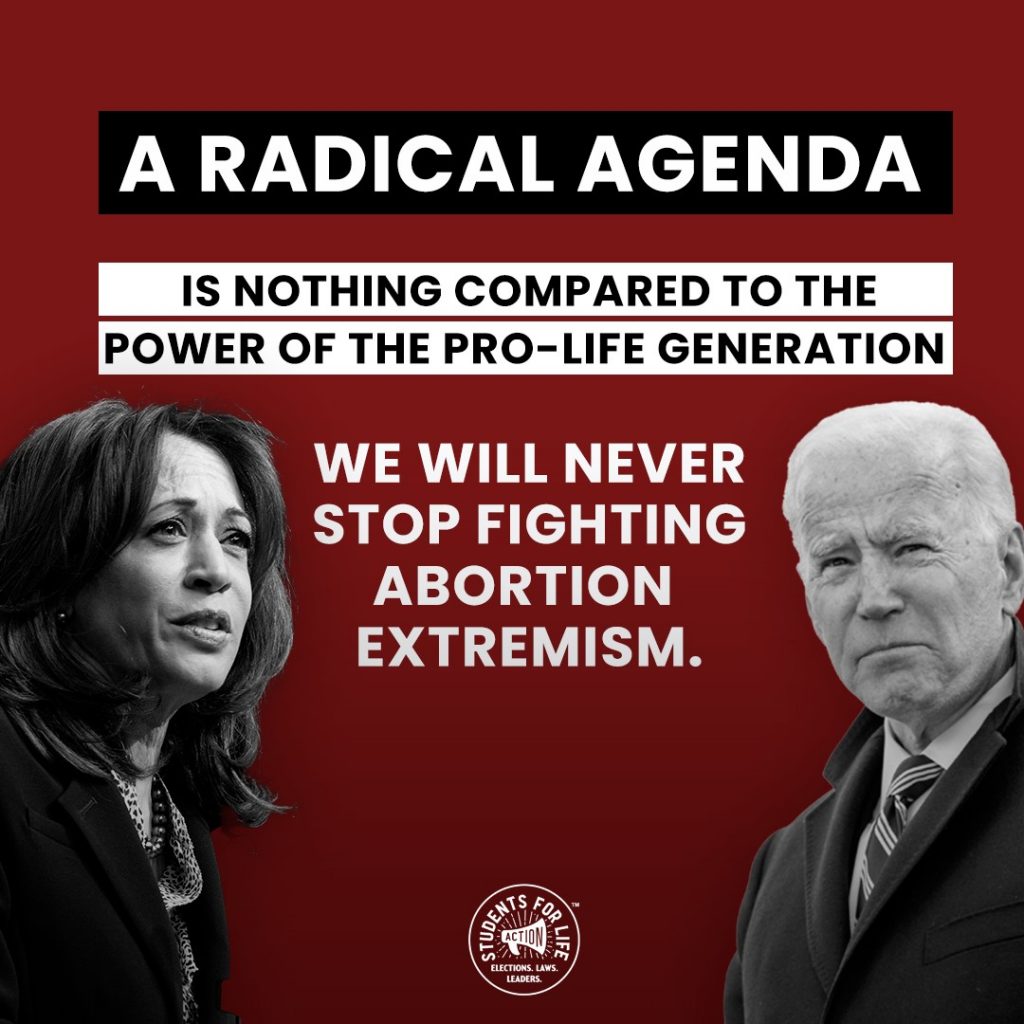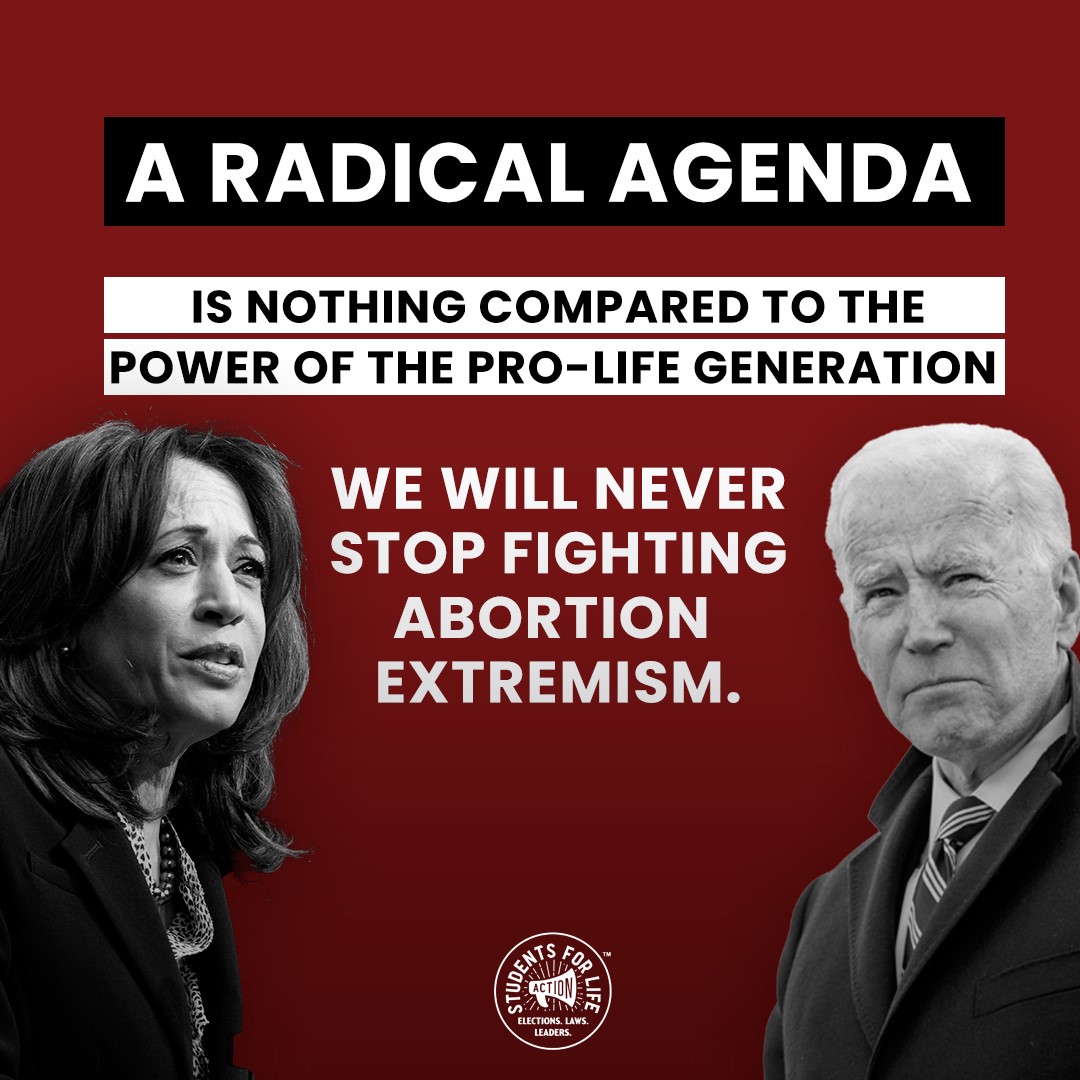 "In 1973, seven men created abortion through all 9 months in U.S. law with the stroke of a pen. Pro-life Americans will not stand by as Biden tries to do the same in an executive order, perhaps to draw media attention away from his current troubles. As officials are looking for classified documents in his private home, maybe they can find the so-called studies mentioned in the executive order claiming that the pills are "safe." Chemical Abortion Pills pose great risk to women when used as directed. And there is evidence of environmental harms to aquatic, animal, and even plant life.
"Rest assured that 50 years after Roe v. Wade, pro-life Americans will not have the flawed and inhuman judgment of seven men replaced by the highly discredited Joe Biden."
CLICK HERE TO READ HAWKINS' OP-ED at the National Review detailing how the pills can lead to injury, infertility, and even death to mothers as well as to the preborn.
Click HERE to read SFLA's recent poll through YouGov which shows the majority of Gen Y & Gen Z do NOT approve of the Biden Administration's Chemical Abortion Pill schemes.  
To learn more about Chemical Abortion, go to This Is Chemical Abortion.
For an overview of where Students for Life Action worked to pass Chemical Abortion pill legislation in the last two sessions, click here.
For more on abortion as a federal issue, click here to read Hawkins' recent letter to Congress.
 For interviews email [email protected]   
–30–     
Students for Life Action (SFLAction), a 501c4, along with its 501c3 sister organization, Students for Life of America (SFLA), make up the nation's largest pro-life youth organization and a political and policy operation engaging people of all ages. Together they work to end abortion — the human rights issue of our day — and provide political, legal, and community support for women and their children, born and preborn. Headquartered in Fredericksburg, VA, SFLA has more than 1,300 groups on middle, high school, college, university, medical, and law school campuses in all 50 states. SFLA creates strategy, policy, and programming to connect those most targeted for abortion with people ready to help and builds a framework for political engagement on their behalf. SFLA and SFLAction have more conversations with those most targeted by the abortion industry than any other pro-life outreach in the world, reaching more than 2 million people across social media platforms each week and engaging in approximately 100,000 digital conversations per month. Over more than 16 years, President Kristan Hawkins has grown SFLAction/SFLA into an $18 million organization preparing for a Post-Roe America.