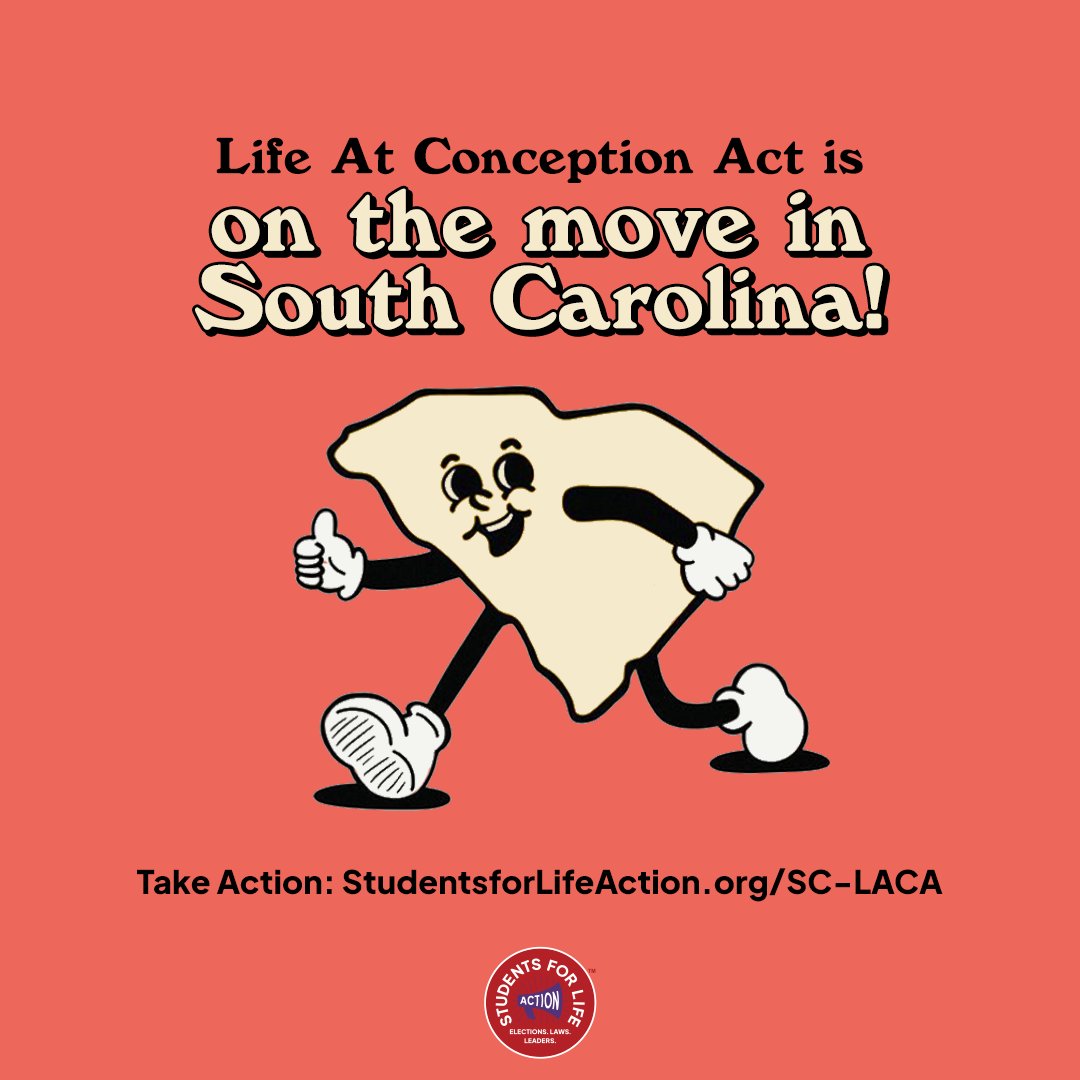 September 7, 2022
South Carolina Leaders: Pass Life at Conception Act through Senate
"Today, we are calling upon South Carolina's Senators to pass the Life at Conception Act without loopholes," said Dustin Curtis, SFLAction Executive Director. "This legislation is a huge step forward for protecting women and the preborn from the horrors of abortion. We were thrilled to see the Senate Medical Affairs committee pass this legislation without amendments that endanger babies conceived in unfavorable circumstances. While we safeguard the lives of women and the preborn, the Life at Conception Act brings us closer to limiting elective abortions in the state." 
COLUMBIA, S.C. and WASHINGTON, D.C. (9-07-2022) – Students for Life Action (SFLAction) is urging South Carolina's Senate to send the Life at Conception Act to the Governor today in order to protect women and the preborn from abortion. The Life at Conception Act supports medical efforts needed to save a woman's life but prohibits elective abortions that put a ranking system around the circumstance of a child's conception.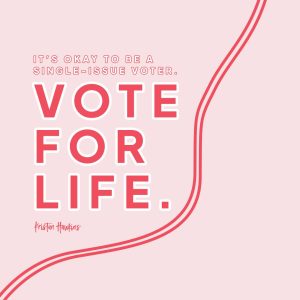 Through grassroots mobilization, SFLAction made 148,905 phone calls and sent 123,876 text messages in support of this bill in addition to holding a rally and lobby day. In July, SFLAction targeted South Carolina's Senators to educate them on the life-affirming principles supported through this legislation.
"This bill is a huge step forward for protecting vulnerable populations from the horrors of abortion," said Dustin Curtis, SFLAction Executive Director. "While we safeguard the lives of women and the preborn, the Life at Conception Act brings us closer to limiting elective abortions in a state that has experienced a 15% increase in the number of abortions in the last year."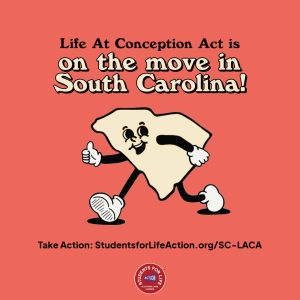 While prioritizing support for medical care if a mother's life is in danger, this legislation, as passed out of the Senate Medical Affairs Committee, removes prejudice policies against children for their sex, age, race, and perceptions of their abilities or the circumstances of their conception. SFLAction is hopeful that South Carolina Senators will send this cutting-edge measure, that is similar to what has already passed in Oklahoma and Arkansas, to the Governor's desk.
CLICK HERE to read SFLAction's petition
CLICK HERE to read Kristan Hawkins and Chad Connelly's op-ed
For interviews email [email protected]
–30–
Students for Life Action (SFLAction), a 501c4, along with its 501c3 sister organization, Students for Life of America (SFLA), make up the nation's largest pro-life youth organization and a political and policy operation engaging people of all ages. Together they work to end abortion — the human rights issue of our day — and provide political, legal, and community support for women and their children, born and preborn. Headquartered in Fredericksburg, VA, SFLA has 1,300 groups on middle, high school, college, university, medical, and law school campuses in all 50 states. SFLA creates strategy, policy, and programming to connect those most targeted for abortion with people ready to help and builds a framework for political engagement on their behalf. SFLA and SFLAction have more conversations with those most targeted by the abortion industry than any other pro-life outreach in the world, reaching more than 2 million people across social media platforms each week and engaging in approximately 100,000 digital conversations per month. Over more than 16 years, President Kristan Hawkins has grown SFLAction/SFLA into an $18 million organization preparing for a Post-Roe America.