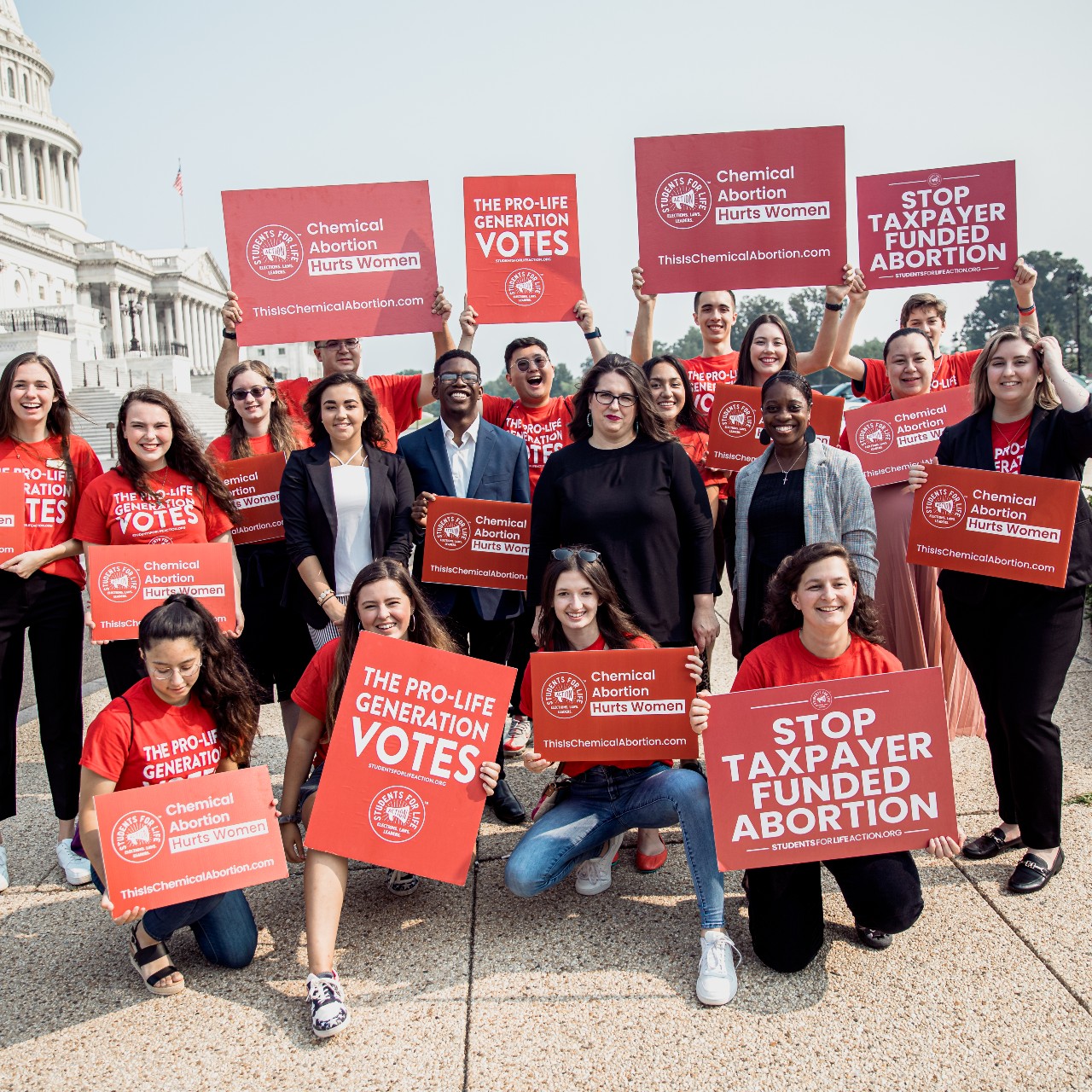 February 24, 2022
South Dakota Bill Protecting Children and Women from Chemical Abortion Passes House; SFLAction Urges Senators to Support
"With Roe on the rocks and the Biden's FDA destroying women's safety provisions around the distribution of Chemical Abortion, abortion drug vendors are working aggressively to establish a deadly new back alley in Chemical Abortion distribution," said Students for Life Action and Students for Life of America President Kristan Hawkins. "This is Death By Mail – a threat to both child and mother. The Pro-Life Generation will not abide the abortion movement's new frontier. While the abortion industry drags women backwards, we are moving FORWARD, connecting women and families with the resources and help they need to be safe from the predation of Corporate Abortion."
 PIERRE, S.D., and WASHINGTON, D.C. (02-23-22) – In preparation for a Post-Roe America, Students for Life Action is working in South Dakota to protect women and children from Chemical Abortion. This week in South Dakota, Students for Life Action is celebrating the passage of Representative Steven Haugaard's House Bill 1208 to prohibit deadly Chemical Abortion drugs in South Dakota out of the House. Previously, this bill passed out of the state's House Health and Human Services Committee and SFLAction now urges the state Senate to take this life-saving bill over the finish line. SFLAction will continue mobilizing in support of this strong legislation.
Students for Life Action's Kristi Hamrick recently spoke with the Argus Leader about the importance of this bill:
"[B]ecause the FDA has recently and recklessly reduced health and safety standards for chemical abortion pills, it's up to state leaders to do the work of protecting women and their preborn children.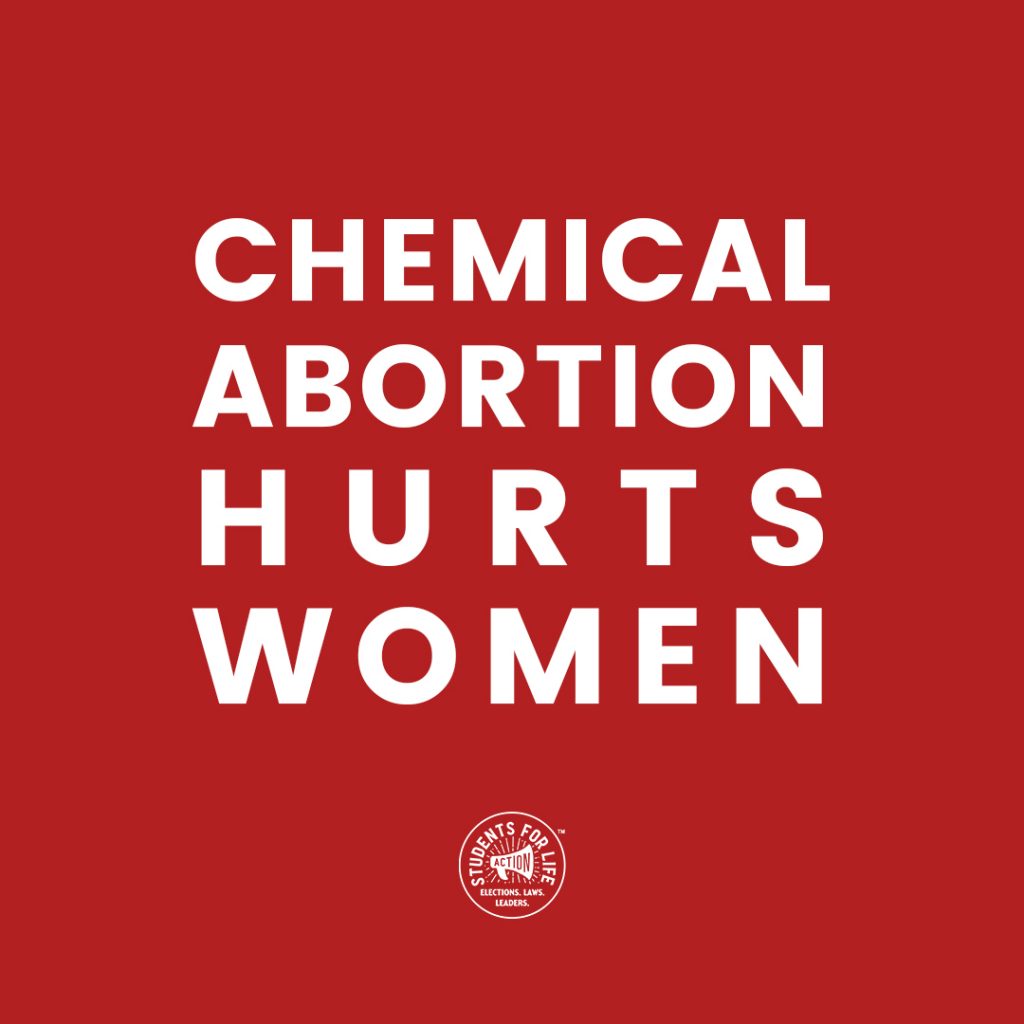 "Today, 54% of all abortions are committed with pills before 9 weeks, with a much higher complication and hospitalization rate than surgical abortion. Even if you support abortion – and Students for Life Action does not – that's not reason to allow women and preborn children to be sacrificed to the corporate interests of Big Abortion Pharma."
Jaylem Durousseau, Midwest Regional Coordinator for Students for Life Action and Students for Life of America, delivered testimony in support of the bill. A portion of that testimony is below:
The lethality of chemical abortion cannot be understated. Thousands of women were hospitalized after receiving a chemical abortion, with at least 26 women dying as a result, according to the FDA. Women such as California woman Holly Patterson who was sent to a hospital after extreme hemorrhaging and, after being sent home with painkillers and not receiving proper medical treatment, was left to bleed out and die in her apartment alone further, chemical abortion will almost always result in the death of a preborn child, and in cases it won't, will leave a child to be born alive, and either face the side affects for the rest of their life, or be left to die without proper medical care.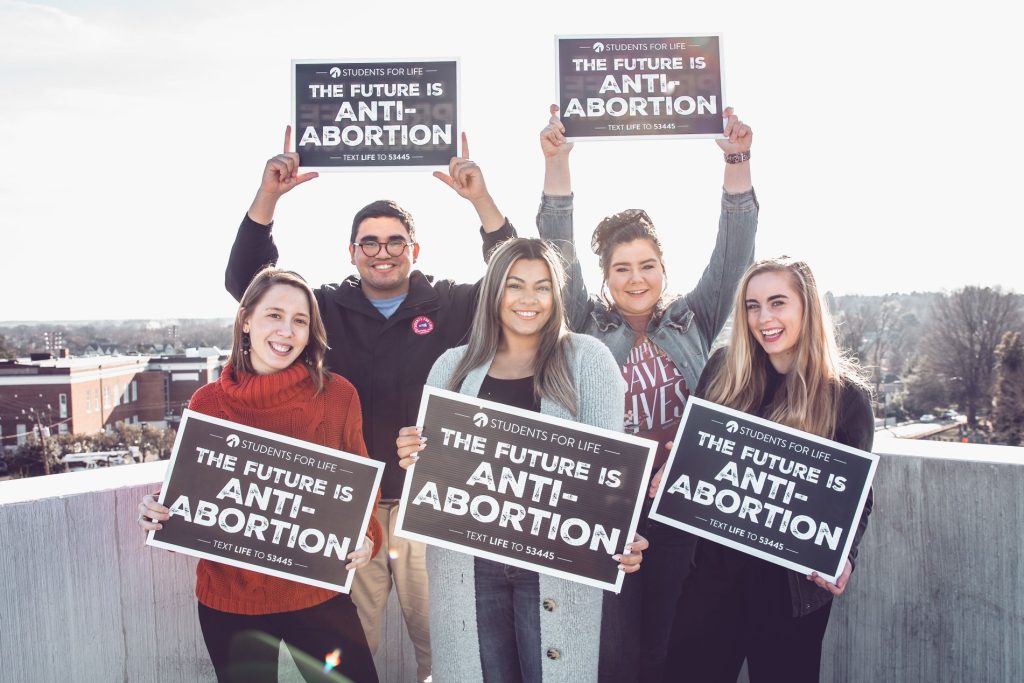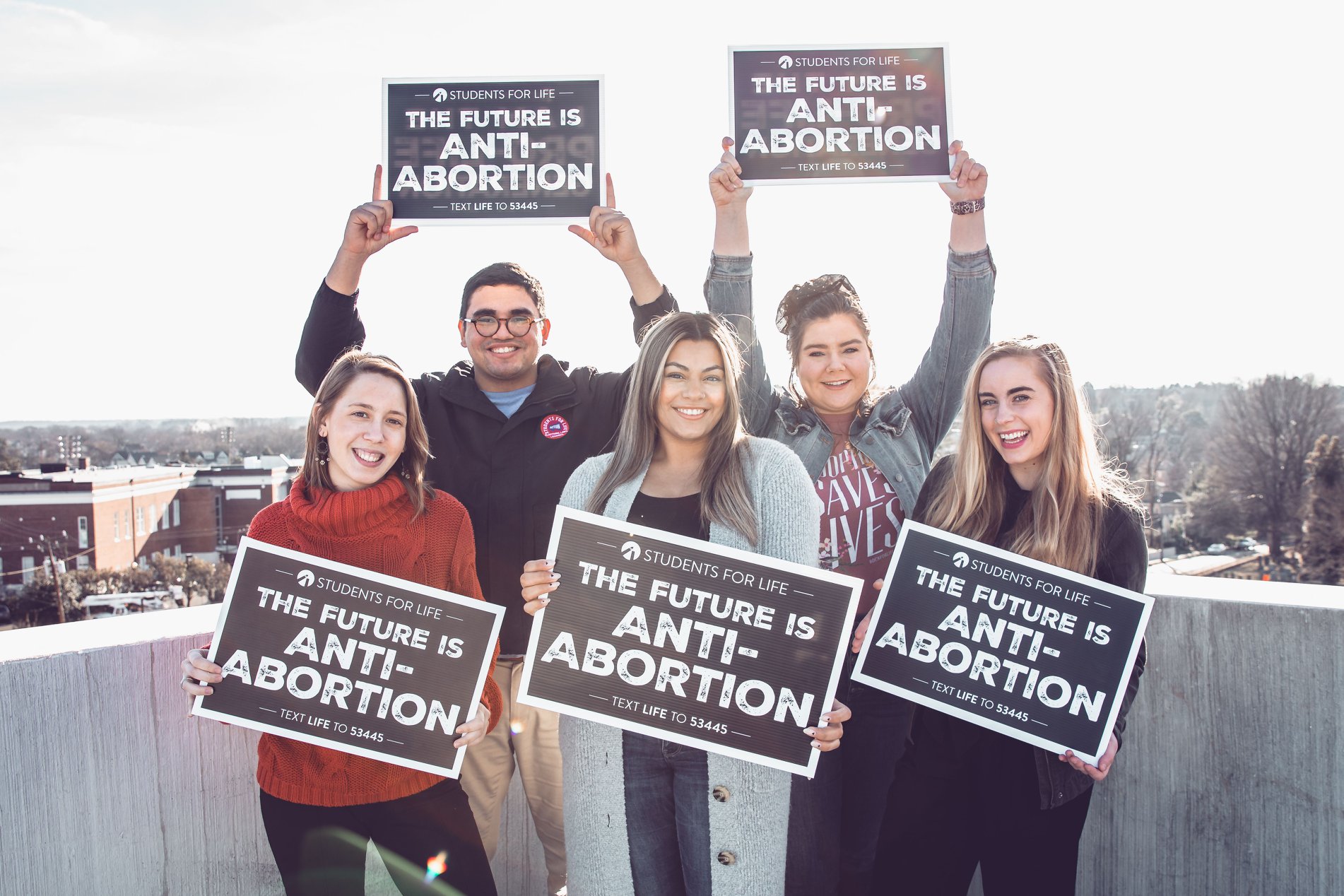 Students for Life of America's Demetree Institute for Pro-Life Advancement conducted a poll earlier this year showing that Millennials, Gen Z & Gen Y strongly supported strong health and safety standards for Chemical Abortion Pills.  
Pushing pills in ways known to harm women made no sense to a strong majority of Millennials and Gen Z. The move by Abortion Radial Joe Biden's FDA to strip out in person care and health and safety standards for Chemical Abortion Pills doesn't sit well with the generation targeted by Planned Parenthood & Co. More than 6 in 10 oppose No Test, Online distribution of Chemical Abortion Pills.
Standing strong against reckless No Test, Online Chemical Abortion Pill sales and distribution is a winning issue. Almost 7 in 10 Millennials and Gen Z are more likely to support a candidate who supports laws that require in-person medical care and testing before and after the sale of dangerous Chemical Abortion Pills.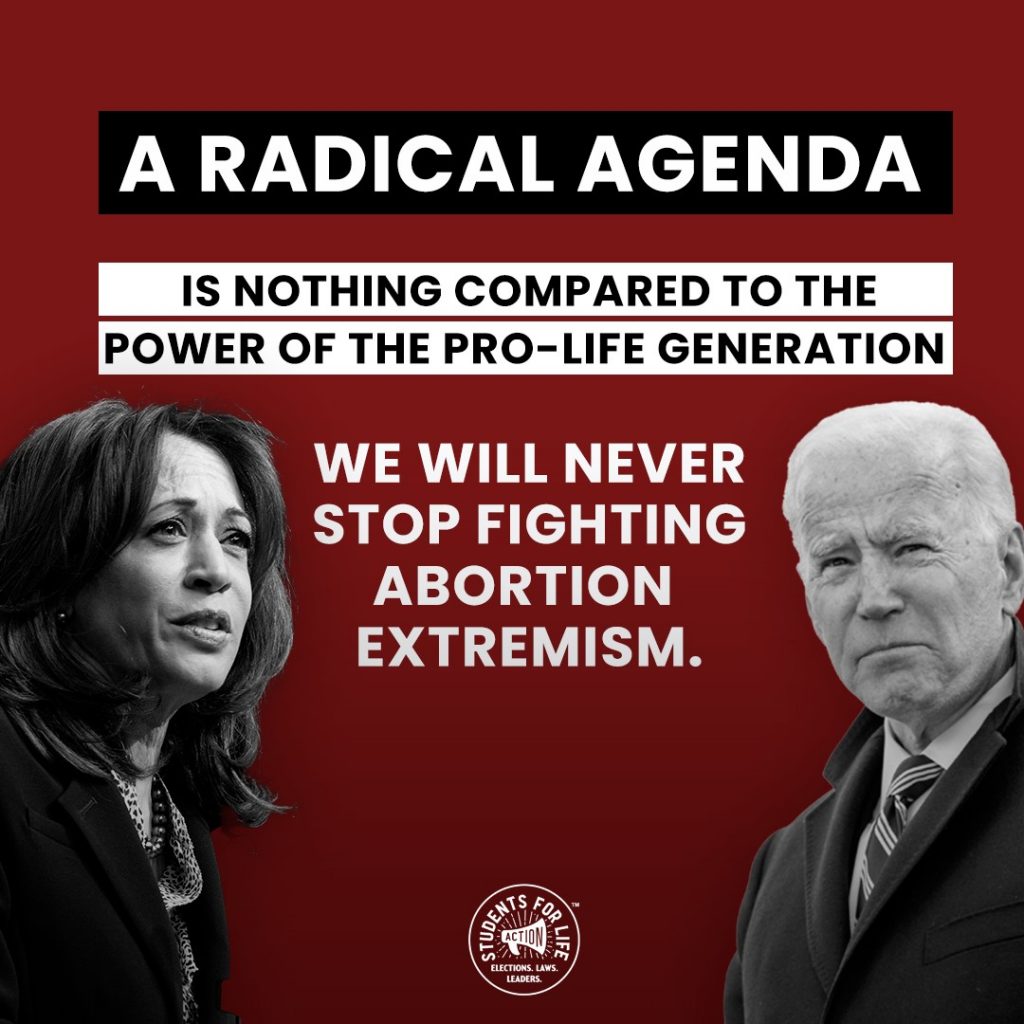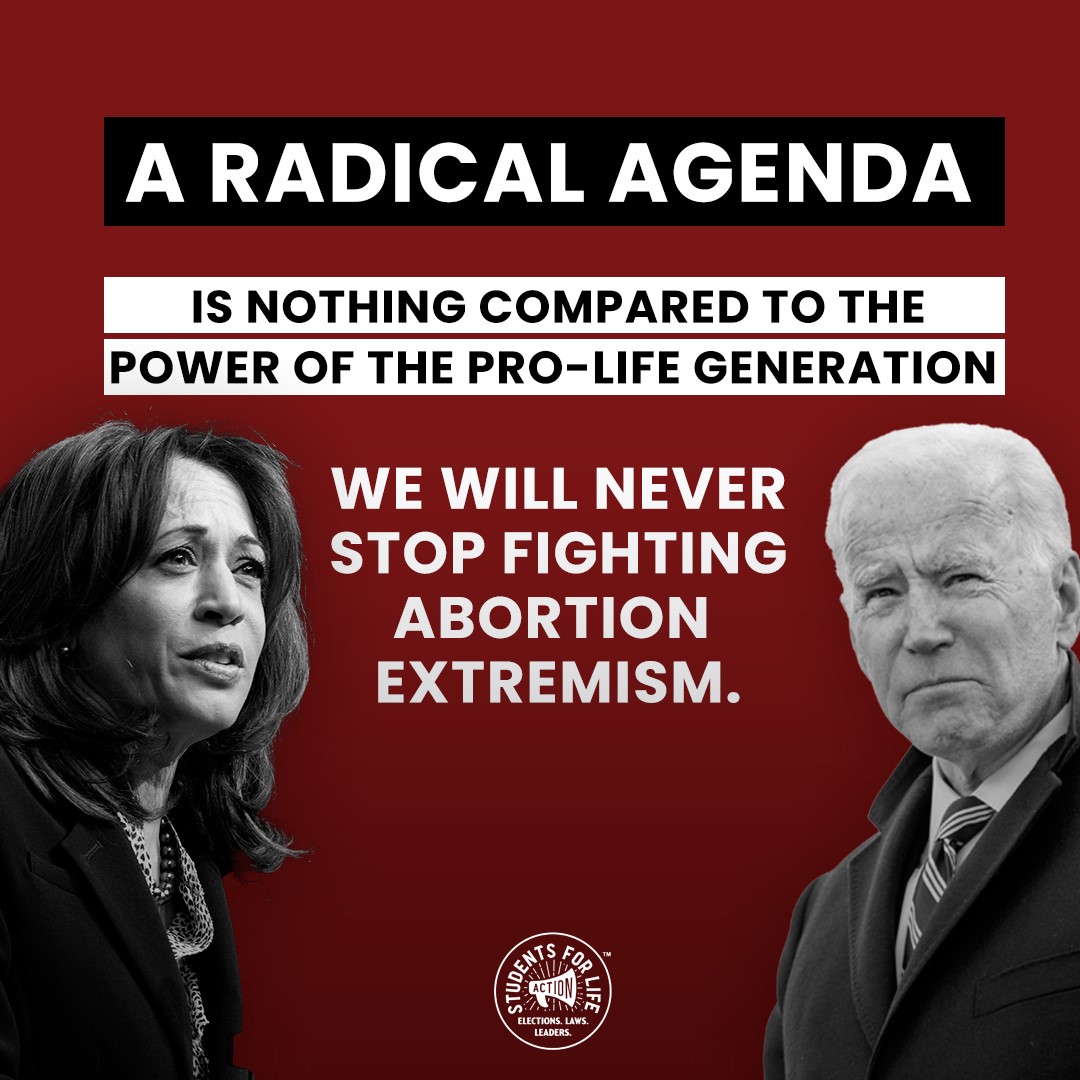 …As the Biden administration has chosen to protect the abortion lobby at the expense of women, it's now the duty of you all to make sure the women of this great state remain protected. Please vote yes on House Bill 1208 to protect women and children from the abortion industry.
Learn more about Chemical Abortion pills and watch the This Is Chemical Abortion docuseries, created in partnership with Charlotte Pence Bond, HERE
Learn more about the grassroots work of Students for Life Action HERE
 For interviews, contact [email protected]
 –30– 
Students for Life Action (SFLAction), a 501c4, along with its 501c3 sister organization, Students for Life of America (SFLA), make up the nation's largest pro-life youth organization and a political and policy operation engaging people of all ages. Together they work to end abortion — the human rights issue of our day — and provide political, legal, and community support for women and their children, born and preborn. Headquartered in Fredericksburg, VA, SFLA has more than 1,250 groups on middle, high school, college, university, medical, and law school campuses in all 50 states. SFLA creates strategy, policy, and programming to connect those most targeted for abortion with people ready to help and builds a framework for political engagement on their behalf. SFLA and SFLAction have more conversations with those most targeted by the abortion industry than any other pro-life outreach in the world, reaching more than 2 million people across social media platforms each week and engaging in approximately 100,000 digital conversations per month. Over the last 16 years, President Kristan Hawkins has grown SFLAction/SFLA into an $18 million organization preparing for a Post-Roe America.