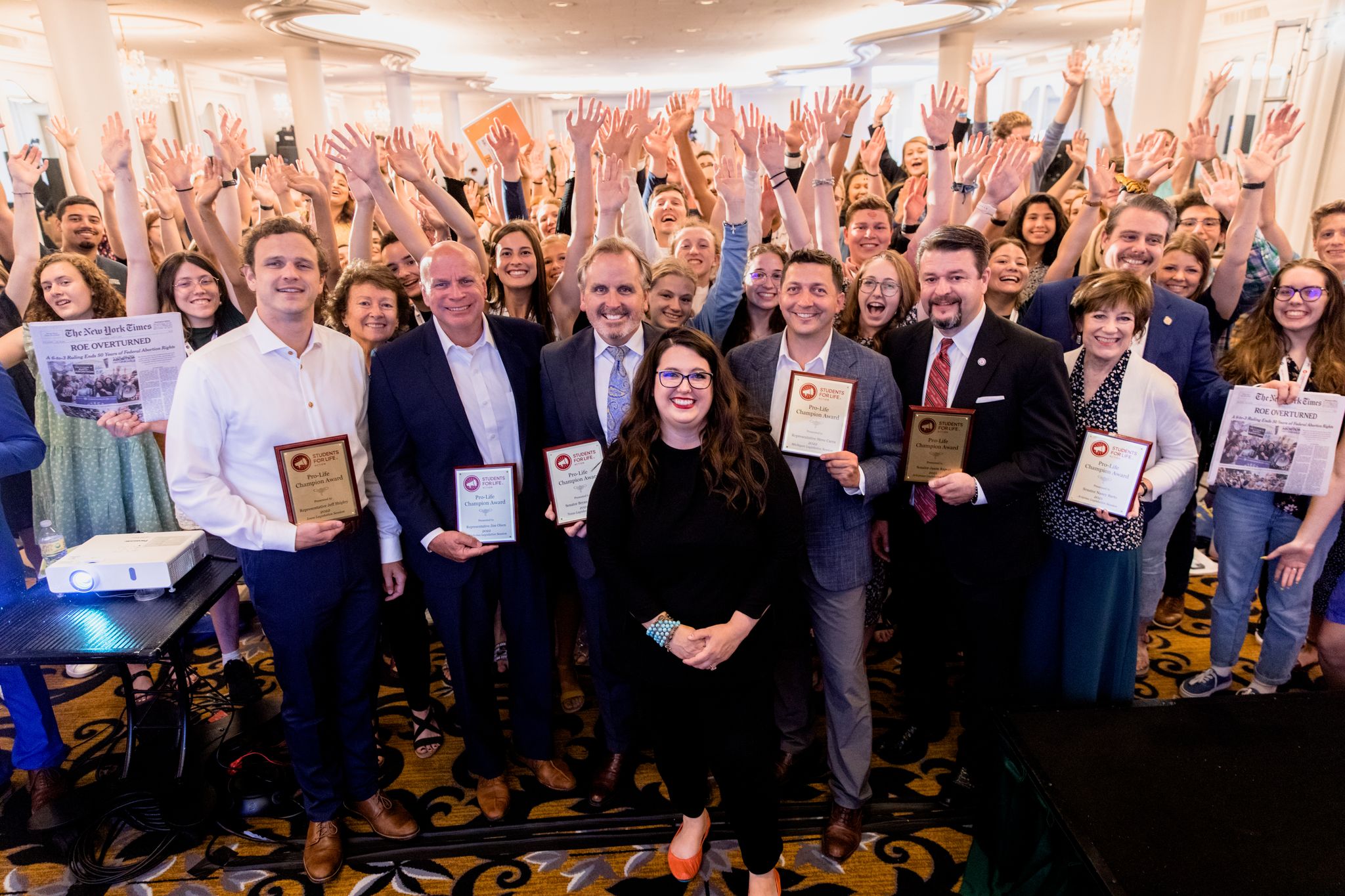 June 29, 2022
Students for Life Action Awards Pro-Life Champions at National Leadership Collective
"A pro-life champion is someone who digs their heels into the ground to push back against the status quo in order to defend the preborn. Instead of telling the pro-life movement what they must 'settle' for, a pro-life champion tells their colleagues what must be done to protect the preborn," said Kristan Hawkins, SFLAction President. 
WASHINGTON, D.C. (06-29-2022) – Students for Life Action (SFLAction) hosted its second annual National Leadership Collective (NLC) where over 200 students, staff, and pro-life legislators met in Washington, D.C. to discuss a Post-Roe legislative strategy and received training on key priorities for supporting both the preborn and women.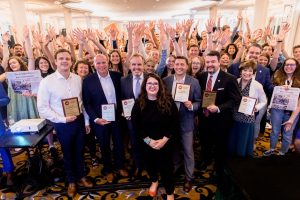 Among the legislators in attendance were Rep. Ocean Andrew (WY), Rep. Jim Olsen (OK), Rep. Phillip Scott (VA), Sen. Jason Rapert (AR), Sen. Bryan Hughes (TX), Rep. Jeff Shipley (IA), Rep. Kim Ransom (CO), Rep. Mark Jennings (WY), Sen. Nancy Barto (AZ), and Rep. Steve Carra (MI).
At the NLC, SFLAction President Kristan Hawkins awarded six legislators for their tireless work to defend life in their respective states. She said, "A pro-life champion is someone who digs their heels into the ground to push back against the status quo in order to defend the preborn. These pro-life champions file strong legislation like the Life at Conception Act, Chemical Abortion Bans, and heartbeat bills. They force recorded votes even when their colleagues are screaming at them in closed doors meeting, even if they start out as the only one in the capital determined to protect the preborn, and even if it means risking their seat."
The following pro-life champion awards were given graciously to:
Rep. Steve Carra of Michigan: Representative Steve Carra introduced the SFLAction-inspired Protection at Conception Act that combines a Life at Conception Act and Chemical Abortion ban into one bill. When passed, it will be the most comprehensive pro-life legislation passed in Michigan. Rep. Carra also filed the nation's second largest Amicus Brief in support of the Dobbs case that took down Roe v. Wade.
Sen. Nancy Barto of Arizona: One of SFLAction's first activism trips included highlighting Sen. Nancy Barto's record defending the preborn, in an election where she defeated an incumbent in a Republican Primary in Arizona's state senate. She wasted no time following through her promise to protect life by introducing and successfully passing into law SB 1457, a package of legislation that included banning chemical abortion pills from being sent in the mail and legislation to ban discriminatory abortions committed for genetic abnormalities.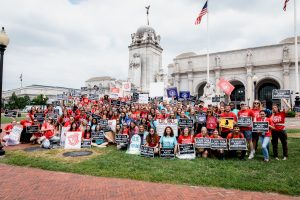 Rep. Jim Olsen of Oklahoma: After the SFLAction-inspired Life at Conception Act passed the State Senate in 2021, but was later slowed down in the house, Rep. Olsen worked hand-and-hand to navigate the bill through the State House and finish what we started. The Oklahoma Life at Conception Act was signed into law this April thanks to the help of Rep. Olsen.
Sen. Bryan Hughes of Texas: Sen. Hughes championed the famous Texas Heartbeat Bill with innovative enforcement policies that defied Roe and protected the preborn immediately. His work helped set the stage for what a post-Roe America looks like.
Rep. Jeff Shipley of Iowa: Rep. Shipley was the first legislator to introduce SFLAction's model legislation banning Chemical Abortion. He fought hard against leadership in his own party and endured intense pressure to force a recorded vote on our bill in order to expose who would stand with leadership and who would stand for life.
Sen. Jason Rapert of Arkansas: Sen. Rapert sponsored and passed SB 6, the Unborn Child Protection Act, which became the model bill on which SFLAction based our Life at Conception Acts introduced in various state legislatures across the nation. When the Governor of his state and liberal Republicans pushed amendments that would weaken the bill and leave groups of babies unprotected, Sen. Rapert worked with SFLA to raise the alarm among Arkansas voters.
To learn more about the Post-Roe Blueprint from Students for Life Action, read Hawkins' latest op-ed at Fox titled RIP Roe: Supreme Court abortion ruling sets stage for what pro-life groups do next.
 For interviews email [email protected]
–30–
Students for Life Action (SFLAction), a 501c4, along with its 501c3 sister organization, Students for Life of America (SFLA), make up the nation's largest pro-life youth organization and a political and policy operation engaging people of all ages. Together they work to end abortion — the human rights issue of our day — and provide political, legal, and community support for women and their children, born and preborn. Headquartered in Fredericksburg, VA, SFLA has more than 1,250 groups on middle, high school, college, university, medical, and law school campuses in all 50 states. SFLA creates strategy, policy, and programming to connect those most targeted for abortion with people ready to help and builds a framework for political engagement on their behalf. SFLA and SFLAction have more conversations with those most targeted by the abortion industry than any other pro-life outreach in the world, reaching more than 2 million people across social media platforms each week and engaging in approximately 100,000 digital conversations per month. Over more than 15 years, President Kristan Hawkins has grown SFLAction/SFLA into an $18 million organization preparing for a Post-Roe America.