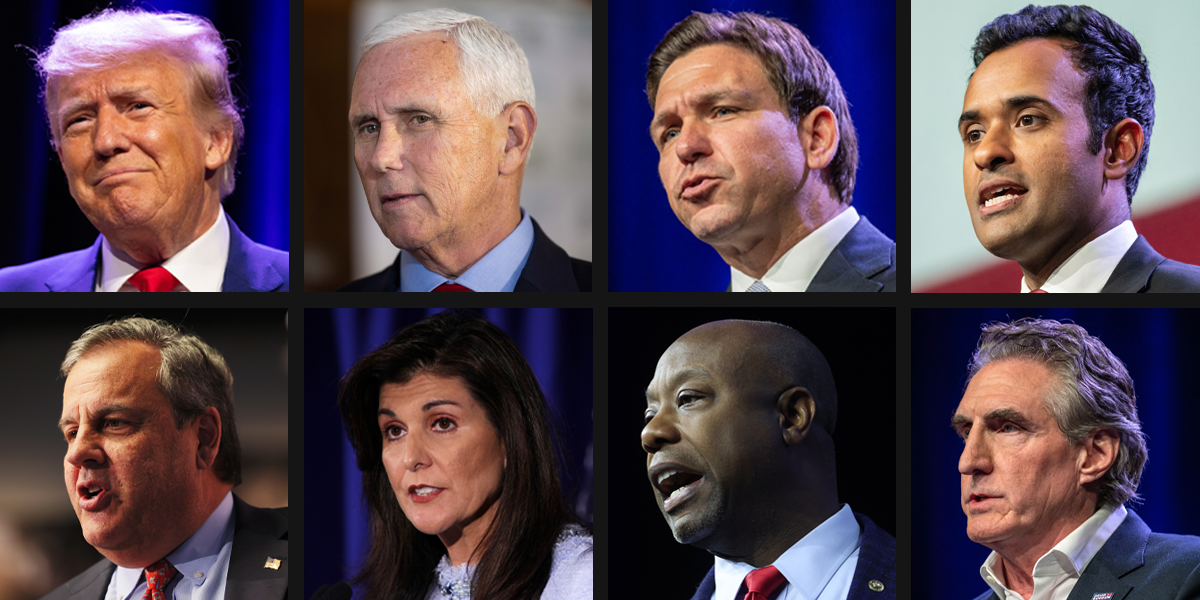 September 21, 2023
Students for Life Action Calls on GOP Presidential Contenders to Sign the PROTECTING HEARTBEATS PLEDGE
"On a battlefield or in an emergency room, medical professionals run to save those with a heartbeat. Love runs toward others to help, and we can do no less for mothers and their preborn children," said SFLAction's Kristan Hawkins. 
WASHINGTON D.C. (09-21-2023) –Students for Life Action (SFLAction) President Kristan Hawkins announced that the nation's largest pro-life youth organization engaged in all 50 states and on more than 1,400 campuses is calling on every GOP Presidential Candidate to sign a PROTECTING HEARTBEATS PLEDGE. "More than 9 in 10 abortions take place by three months of pregnancy (12) weeks, leading the Pro-Life Generation to call for earlier protections for innocent preborn children," said Hawkins. "If we have learned one thing from President Biden, it's that abortion IS federal. As I've said before, the Biden administrations taxpayer-funded abortion extremism has infected all facets of American government, including in healthcare, education, foreign aid, military spending, and even the postal service. Biden's supporters won't stop forcing others to embrace death of the preborn through all nine months of pregnancy – they even refuse to identify abortions that they think go too far. But we won't let this radicalism win. We are just beginning the fight to rebuild a culture of life. The next President needs to be part of that effort."
SFLAction is distributing a simple pledge, calling for a commitment from presidential hopefuls to sign Heartbeat Abortion Protection legislation that offer legal protections to babies with the universal sign of life – a heartbeat.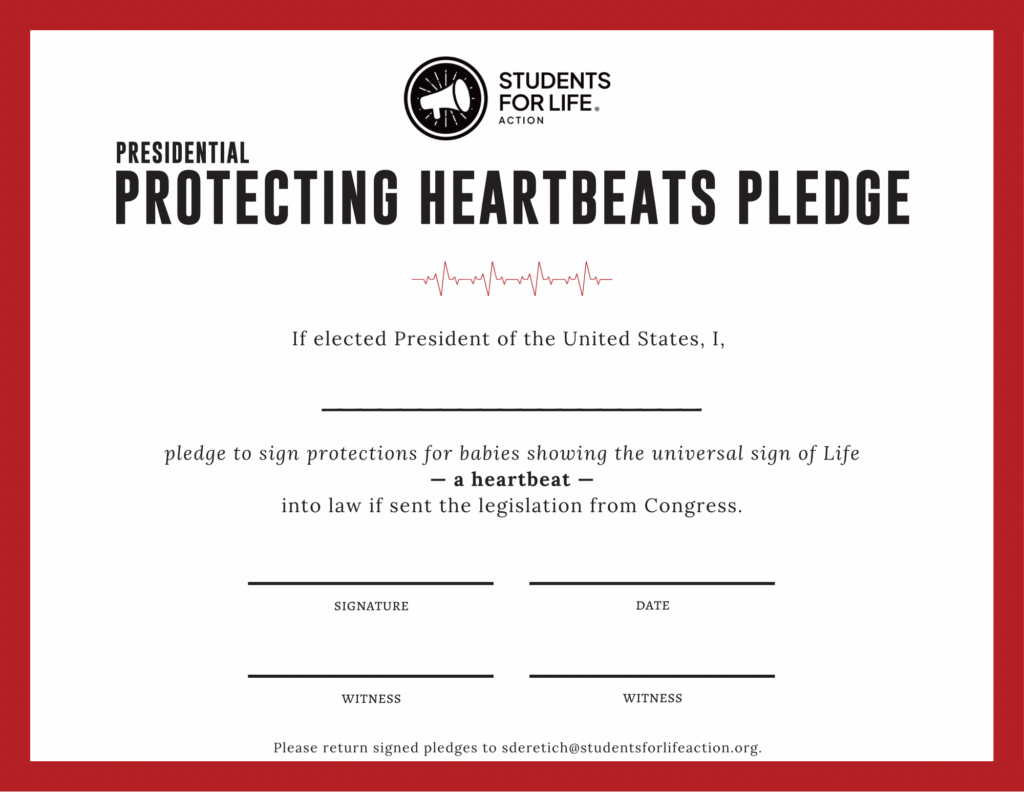 The Pledge reads as follows: "If elected President of the United States, I (Name here) pledge to sign protections for babies showing the universal sign of Life – a heartbeat – into law, if sent the legislation from Congress." 
Students for Life Action has advanced Heartbeat Abortion Protection legislation in states across the country, including Florida, where Gov. DeSantis signed the important protections into law.
Learn more about the many states where the Pro-Life Generation has fought for protections for those with the universal sign of life at Students for Life Action's blog.
And to learn more about SFLAction's plans to rally the Youth Vote in this election cycle, click here.
For interviews, email [email protected]  
####  
Students for Life Action (SFLAction), a 501c4, along with its 501c3 sister organization, Students for Life of America (SFLA), make up the nation's largest, pro-life youth organization, managing a political and policy operation engaging Americans of all ages but with a special emphasis on the largest segment of voters — the Youth Vote. Together they provide political, legal, educational, and community support for women and children, born and preborn. Headquartered in Fredericksburg, VA, SFLA serves more than 1,400 groups on middle, high school, college, medical, and law school campuses in all 50 states. SFLA and SFLAction have more conversations with this generation targeted by the abortion lobby than any other pro-life operation in the world, each week reaching more than 4 million across social media platforms and averaging 1.3 million video views. SFLA has also launched multiple initiatives to lead and serve the future of the pro-life movement including the Campaign for Abortion Free Cities, Standing With You, and the Demetree Institute for Pro-Life Advancement . Over more than 17 years, President Kristan Hawkins has grown SFLAction/SFLA and the Pro-Life Generation into a nearly $20M organization, now preparing for an abortion-free America.