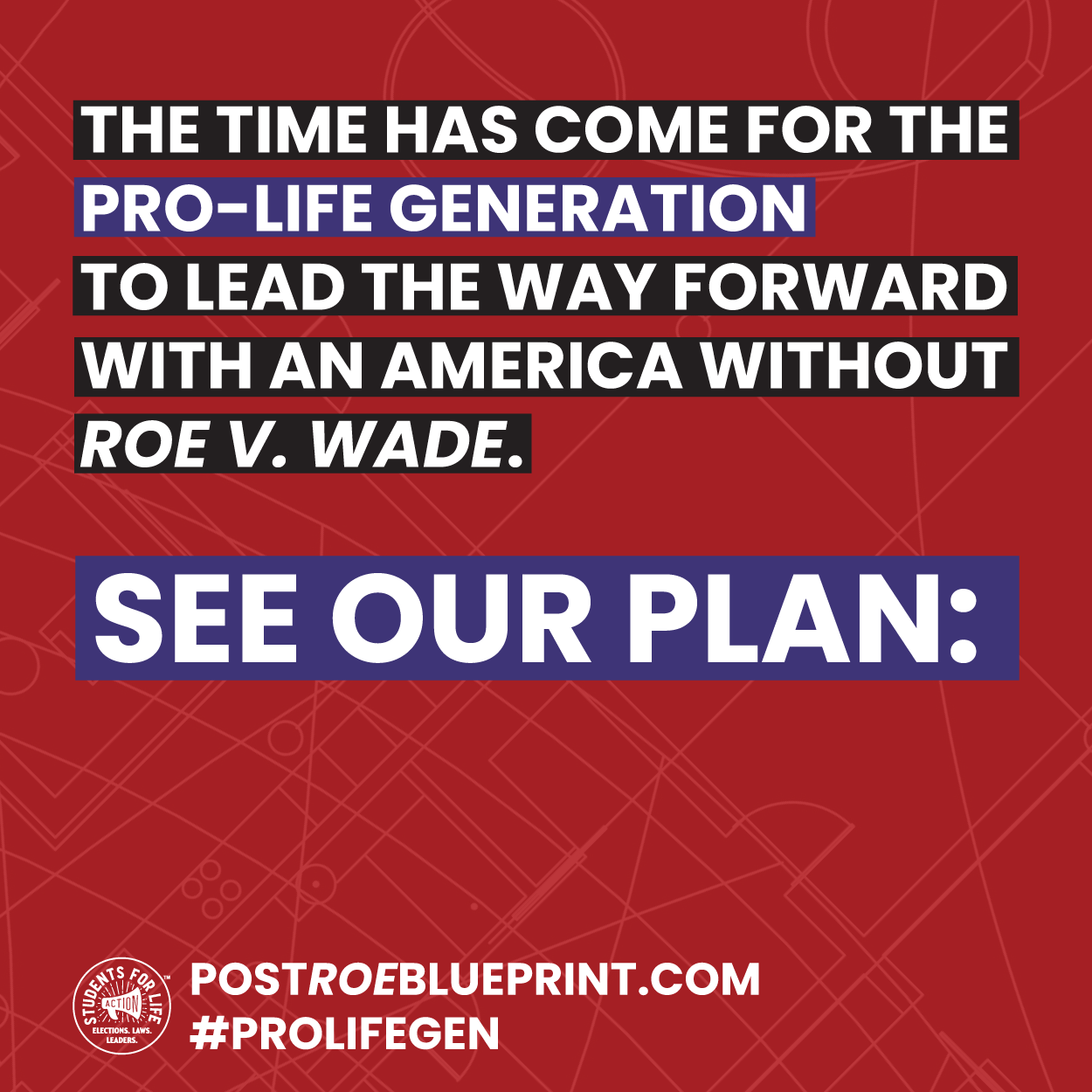 August 24, 2020
Students for Life Action Calls on Pro-Life Legislators Nationwide to Implement The Pro-Life Generation's Blueprint for a Post-Roe America
"Pro-life sentiments will not be enough to transform our culture to fully support mothers and their children, born and preborn," said SFLAction President Kristan Hawkins. "It's up to the pro-life movement to lay out a roadmap of action items for the future that can be taken at all levels of government – from federal to state, to the local level."
WASHINGTON D.C. (08-24-2020) – "Despite the fact that the issue of abortion was ignored during the Democratic National Convention, it represents a clear difference between most candidates vying for office," observed Students for Life Action President Kristan Hawkins. "To equip pro-life leaders of both parties, SFLAction is releasing The Blueprint for a Post-Roe America, providing a path forward for those who want to build a culture of life for families. The New York Times recently recognized something that pro-life activists have known for years, as an issue, abortion motivates people to vote. But after an election, the expectation must be that politicians get to work and make a difference."
Joining SFLAction in endorsing the Blueprint are Millennial & Generation Z pro-life leaders including Vice President Mike Pence's daughter Charlotte Pence, an author, speaker and film maker and Abby Johnson, Founder of And Then There Were None and former clinic director with Planned Parenthood. Other co-signers include Lauren Green McAfee, pro-life advocate, author and speaker; Christina Bennett, Communications Director, Family Institute of Connecticut, Pro-life Voices for Trump and member of the National Black Pro-Life Coalition; Kelsey Hazzard, Founder & President, Secular Pro-Life; Michael Knowles, Host of the Michael Knowles Show; Terrisa Bukovinac, Founder of Pro-Life San-Francisco and Board Member of Democrats for Life;  Alexandra Clark, Host of Poplitics with Turning Point USA; Kassy Dillion, Founder and President of Lone Conservative; Joshua Edmonds, Executive Director of Georgia Life Alliance and Cissie Graham Lynch, Host of Fearless with Cissie Graham Lynch, Communications Advisor for Samaritan's Purse and The Billy Graham Evangelistic Assoc. More names will be announced as added. 
 SFLAction will be calling on pro-life Americans nationwide to endorse The Blueprint and urge elected officials to support, through a petition HERE.
Learn more about The Blueprint here.
With the goal of holding politicians accountable for how they voted, SFLAction took the unusual tactic this summer of going after pro-abortion politicians of both parties in state-level primaries. The current campaign and its effectiveness are detailed  in Hawkins' op-ed at RealClearPolitics.
As a governing philosophy, SFLAction will use the Blueprint as the basis of our scorecard, coming in the next legislative session. SFLAction is also currently circulating a candidate survey that addresses policy initiatives coming from the principles articulated in the Blueprint.
SFLAction priorities for up-coming legislation include policies calling for:
Defunding Planned Parenthood at the local, state and federal levels.
Making infanticide illegal by requiring care for those born during abortions.
Reigning in the abortion industry's push for expanded Chemical Abortion Pill distribution.
Updating Informed Consent requirements to include information about the possibility of reversing chemical abortions and about the dangers to women's fertility if they have Rh Negative blood.
Requiring that women be given the option to see an ultrasound of their pre-born child.
Calling for a national abortion reporting law.
Supporting appointments of Judges committed to protecting life in law.
Demanding protections of Free Speech Rights and Prosecutions for those who suppress them.
Calling for a streamlined process for adoption and foster care programs.
Asking for legislators to consider a Constitutional Amendment to fully address the mistakes in Roe v. Wade.
"In fighting the horrors of abortion, we oppose an industry harming woman and their children, but we also embrace an approach to help them reach their potential through loving support and proactive policies," said Hawkins.
In his book, Abortion and the Conscience of the Nation, President Ronald Reagan observed: "I have often said that when we talk about abortion, we are talking about two lives — the life of the mother and the life of the unborn child … Anyone who doesn't feel sure whether we are talking about a second human life should clearly give life the benefit of the doubt. If you don't know whether a body is alive or dead, you would never bury it. I think this consideration itself should be enough for all of us to insist on protecting the unborn."
In an opinion piece in the Washington Examiner title Blueprint for a Post-Roe America Hawkins detailed additional policy recommendations. Click here to read more.
For interviews, e-mail Kristi Hamrick at [email protected]
–30–
Students for Life Action (SFLAction) is the 501c4 sister organization of Students for Life of America (SFLA), the nation's largest, pro-life, student organization with more than 1,240 groups on middle, high school, and university campuses in all 50 states. Students for Life has more conversations with those most targeted by the abortion industry every day, week, and year than any other pro-life outreach in the world and mobilizes the Pro-Life Generation to confront abortion at the local, state and national levels daily. Every week, Students for Life entities reach more than 2 million people across social media platforms to have nearly 200,000 digital conversations with the most engaged pro-life online audience in the world.