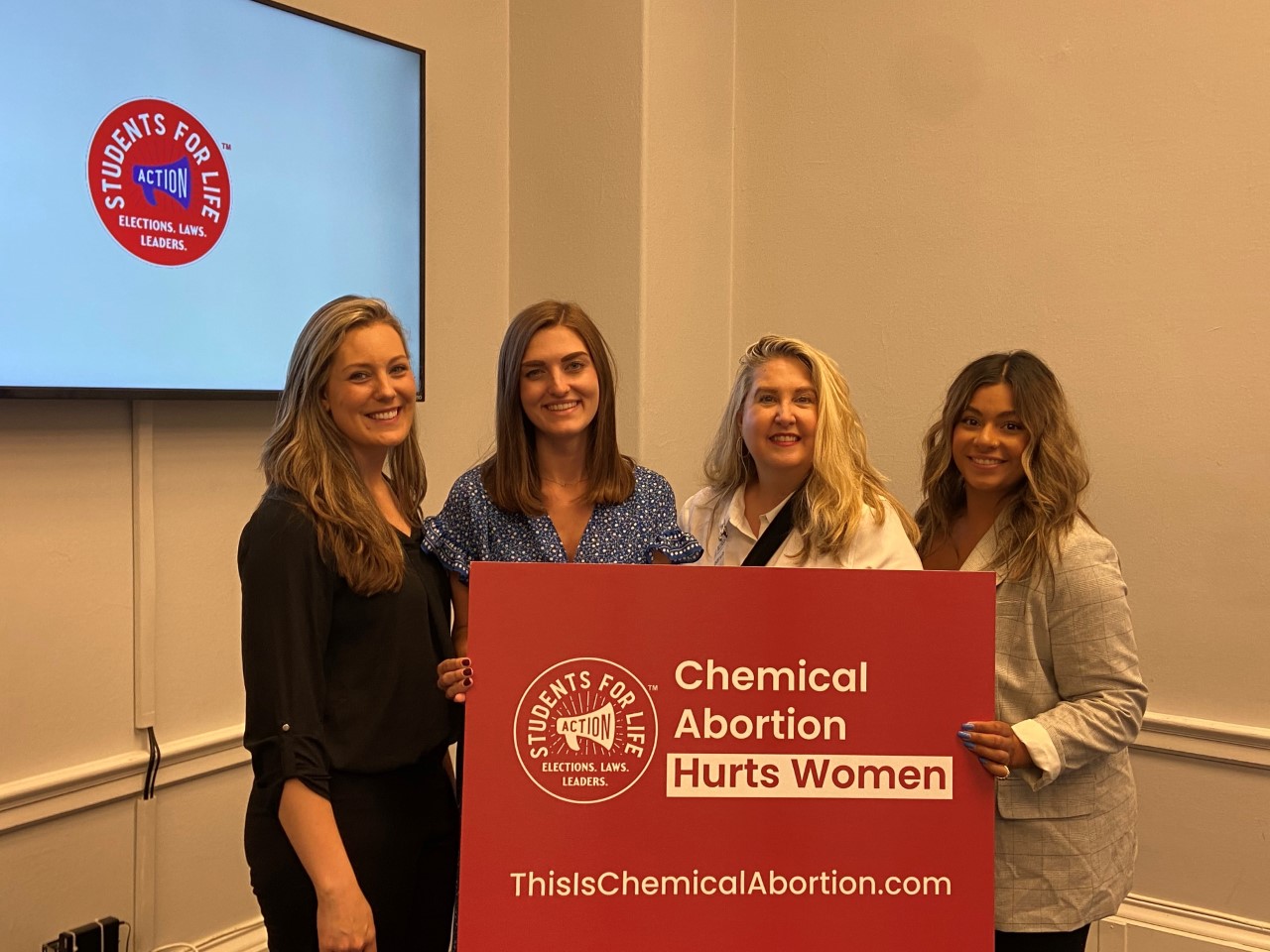 August 31, 2021
Students for Life Action Celebrates Chemical Abortion Legislation on the Move
 – headed to Governor's Desk to Protect Women and Pre-born Infants from Deadly, Chemical Abortion Pills  
AUSTIN, TX, and FREDERICKSBURG, VA (08-31-2021) – "Today's news that politically delayed, life-saving legislation is headed to the Governor's desk is a win for the Pro-Life Generation. We are one-step closer to stopping Death by Mail, the reckless distribution of Chemical Abortion Pills, in Texas," said Students for Life Action President Kristan Hawkins. "Making it easy to sell drugs that kill the preborn and sometimes their mothers without life-saving protection makes sense only if you're on the payroll of Corporate Abortion.  
Throughout the Texas legislative session, Students for Life Action has been on the ground testifying, advocating, and representing the Pro-Life Generation, including the numerous groups in Texas. A top legislative priority is addressing Chemical Abortion. Chemical Abortion regulation is a game-changing issue for what is now 40 percent of Corporate Abortion market. This legislative session, SFLAction worked in 14 states to protect life in law by limiting or stopping on-line distribution of the deadly drugs. Click here to learn more. 
"It's a long way from Roe v. Wade until today, as Texas creates a new and expanding legacy for defending life in law," notes Hawkins. 
To learn more on SFLAction's engagement on the issue, The Long Road of Regulating Chemical Abortion in Texas, click here.
For interviews, contact Kristi Hamrick at [email protected].
–30–
Students for Life Action (SFLAction), a 501(c)(4), along with its sister organization, Students for Life of America (SFLA), a 501(c)(3), make up the nation's largest, pro-life, youth organization as well as operating a political and policy operation engaging people of all ages. Together they work to end abortion, the human rights issue of our day, and provide political, legal, and community support for women and their children, born and preborn. Headquartered in Fredericksburg, VA, SFLA has more than 1,250 groups on middle, high school, college, university, medical and law school campuses in all 50 states. SFLA creates strategy, policy and programming that connects those most targeted for abortion with people ready to help and builds a framework for political engagement on their behalf. SFLA/SFLActionhas more conversations with those most targeted by the abortion industry every day, week, and year than any other pro-life outreach in the world. Every week, Students for Life entities reach more than 2 million people across social media platforms to have nearly 200,000 digital conversations. Under the leadership of SFLA/SFLAction President Kristan Hawkins, who was recruited to build the organization, SFLA has grown over the last 15 years into a $15 million organization preparing for a Post-Roe America.