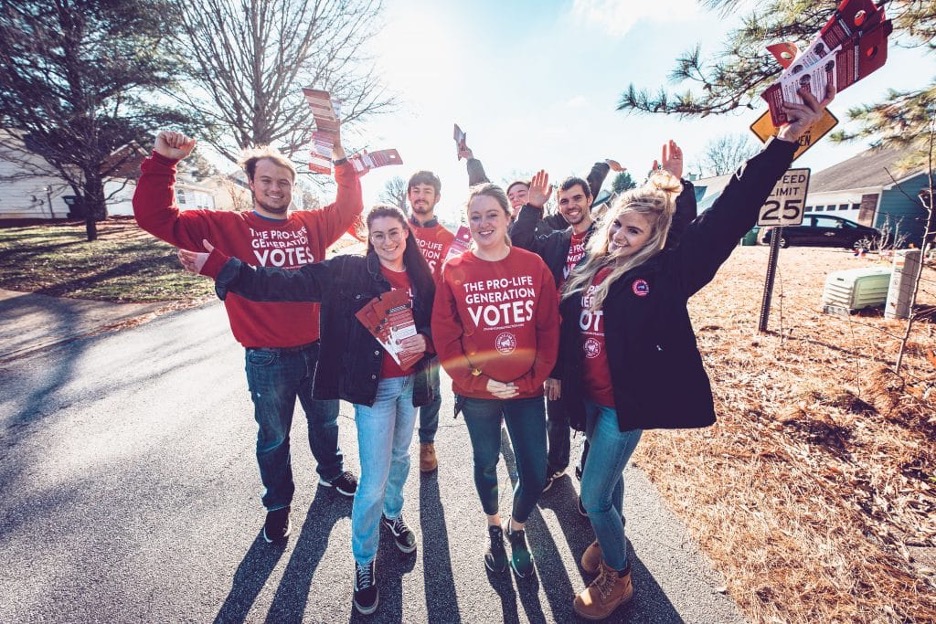 January 10, 2021
Students for Life Action Knocked on Over 70,000 Doors in Georgia!
On January 5th, a very important special election was held in Georgia. The stakes? Whether the U.S. Senate would retain majority pro-life control… or shift to majority pro-abortion control. With stakes like this, of course Students for Life Action (SFLAction) headed to Georgia to urge voters to #SavetheSenate and #VoteProLifeFirst.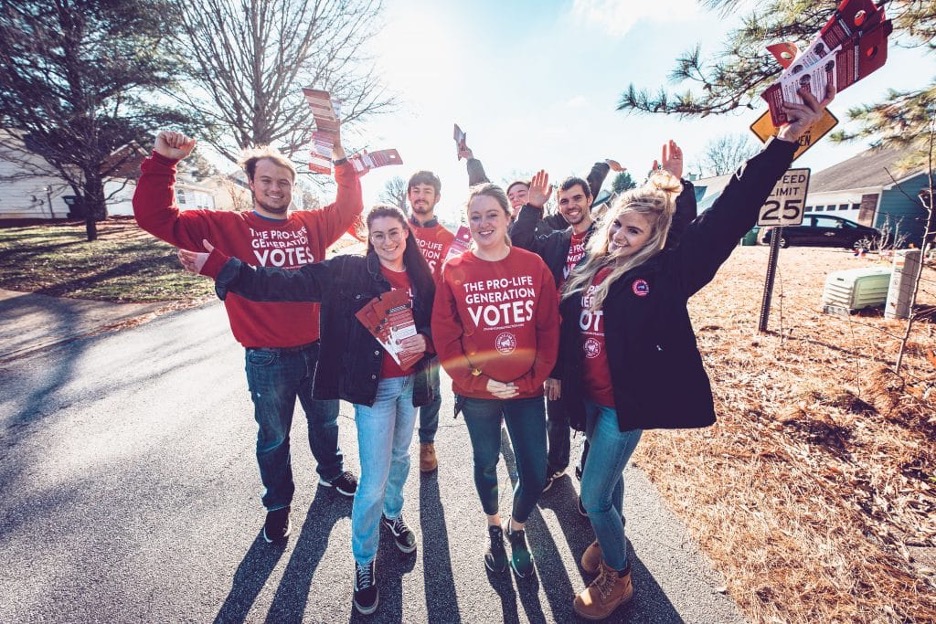 Nearly 200 students and staff traveled with Students for Life Action to Atlanta on January 1st with the goal of knocking on 50,000 doors in support of Georgia's pro-life candidates, David Perdue and Kelly Loeffler. Watch the wrap-up video of our trip below…
With this many passionate pro-life students packed into twenty-two different vans, of course we blew the door-knocking goal out of the water. But that wasn't all. Throughout the week, students consistently reported stories of great conversations with voters, plus minds & votes changed.
The Numbers: Students for Life Action…
Knocked on over 70,000 doors.
Sent 314,000 text messages

.

Made 491,000 phone calls

.

In all, SFLAction contacted over 876,769 total voters through #SavetheSenate efforts.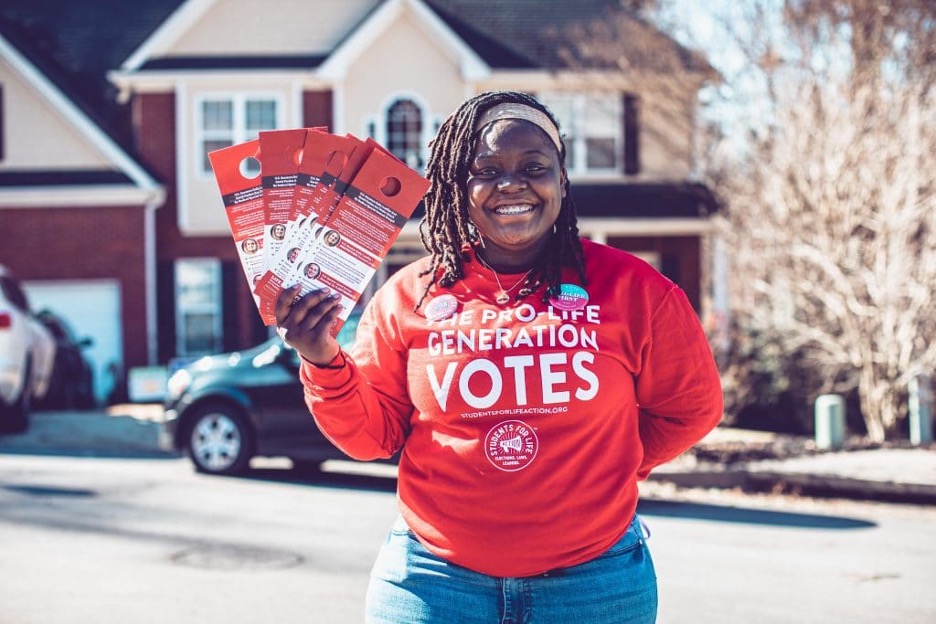 The door-knocking accomplishment in particular was a Students for Life Action record. To date, this is the most doors Students for Life Action volunteers have ever knocked in just four days. And the entire Students for Life team could not be prouder of the young people who made it possible. The Pro-Life Generation in Georgia worked extremely hard, maintaining enthusiasm and energy despite early mornings, long days, and a ton of walking.
The Stories
With about 180 students knocking on thousands of doors per day, it's no surprise that the stories they experienced were countless. And one key detail makes this extra neat. One evening, all the student volunteers gathered together to ask a panel of Students for Life team members questions. At one point, our Communications Director, David Cordaro, told the entire room: "Raise your hand if this is your first time doing an event with Students for Life!"
And most of the students threw their hands in the air.
Our team was blown away, and very humbled. Over half of the nearly 200 student volunteers had never done a thing with us before – yet they knew how critically important it was to urge Georgians to #VoteProLifeFirst. They knew that NOW was the time to step up, and in a big way. The following are just a few encounters we had in Georgia:
"My first day, I spoke with an older gentleman. I said, "Hi sir, I'm Chase with Students for Life Action and I want to inform you on Warnock and Ossoff's radical abortion views." I then informed him about their positions and asked if he was voting pro-life, to which he said, "I don't know." By the end, he admitted their views were radical and that because I was so informative & passionate, he would vote pro-life!"
"I spoke to a man who told me he was a pastor and a social worker, but he said what we were doing was better and more meaningful work than what he's done for years. He thanked us and then prayed over us that we would have an impact for Life!"
"One house I door-knocked had a Biden-Harris sign in their yard. A woman answered the door, and immediately greeted me with, "Oh, you're one of " I shrugged that off and proceeded to tell her about Warnock and Ossoff's radical abortion positions – including their support of full-term, taxpayer funded abortions. She said, "That's horrible!" I asked if she planned to vote pro-life or pro-choice, and she wasn't sure. I noted that if she decided to vote pro-choice, there is no moderate option and it was a vote for late-term abortion. She then told me she would vote pro-life and thanked me for the information!"
"After door-knocking on Election Day, I went with the other students to a polling location to hold pro-life signs and hopefully talk to some folks about voting pro-life. I was able to stop one gentleman as he was entering, and I asked him if he planned to vote pro-life. He said, "Yes! I've actually already spoken with your group earlier. I brought this with me!" and he held out our literature that he'd brought as a voting guide for himself! It was amazing to make such a huge difference for this voter."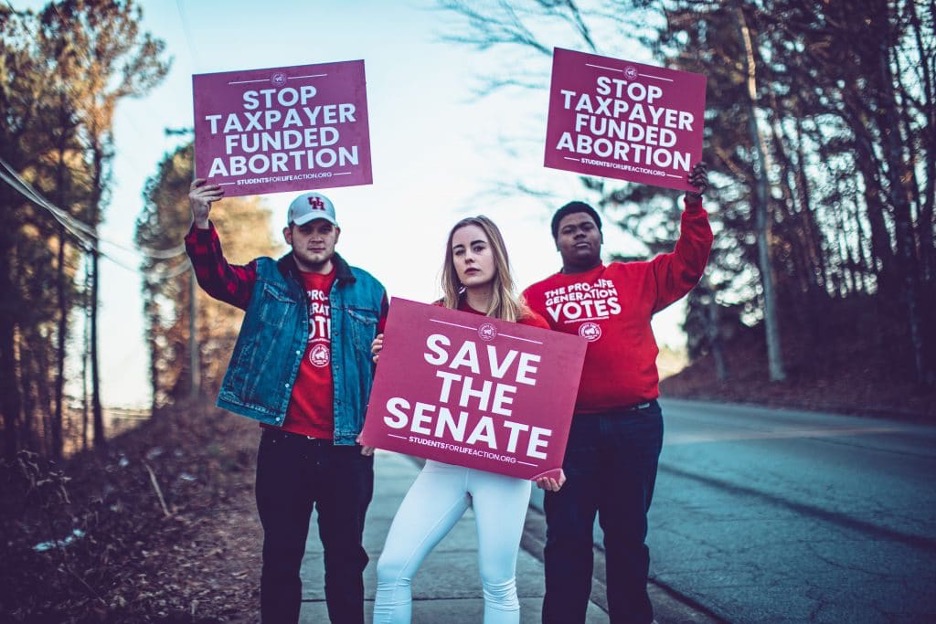 Did We Lose in Georgia?
In the practical sense of the question, yes. David Perdue and Kelly Loeffler both very narrowly lost their election bids to pro-abortion candidates Jon Ossoff and Rev. Raphael Warnock (yes, a Christian pastor who supports abortion up until birth and paid for by taxpayers). There are many post-election analyses out there about why things turned out this way that are worth reading, but for now, here are some silver linings as phrased by Titus Folks, the National Campaigns Advisor for SFLAction: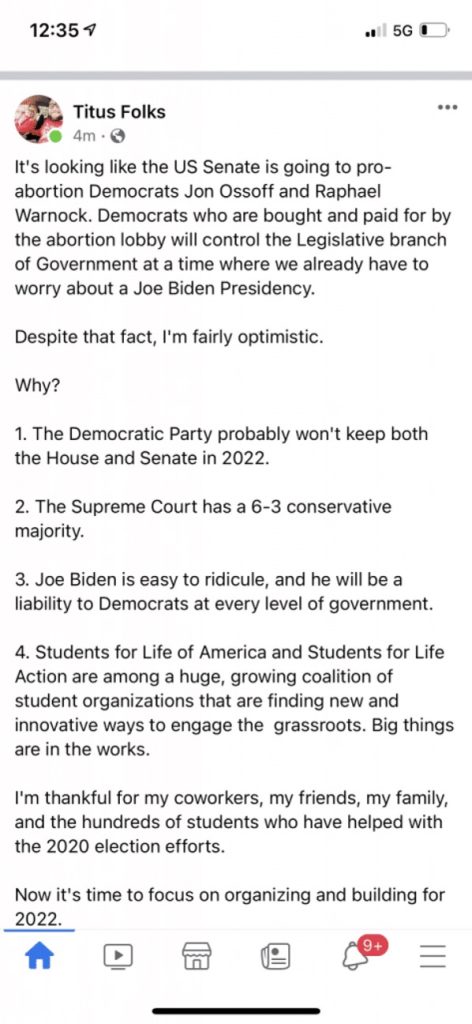 Students for Life Action is committed to continuing to be involved with elections – especially during the midterms in two years. We are launching new city-specific projects that will save countless lives and provide valuable messaging data to the pro-life movement. And, of course, we will never stop creating new, innovative digital media campaigns, working with students on campus, and changing the hearts and minds of our generation about abortion.
We encourage you to visit www.postroeblueprint.com for more on our long-term strategy to abolish abortion.