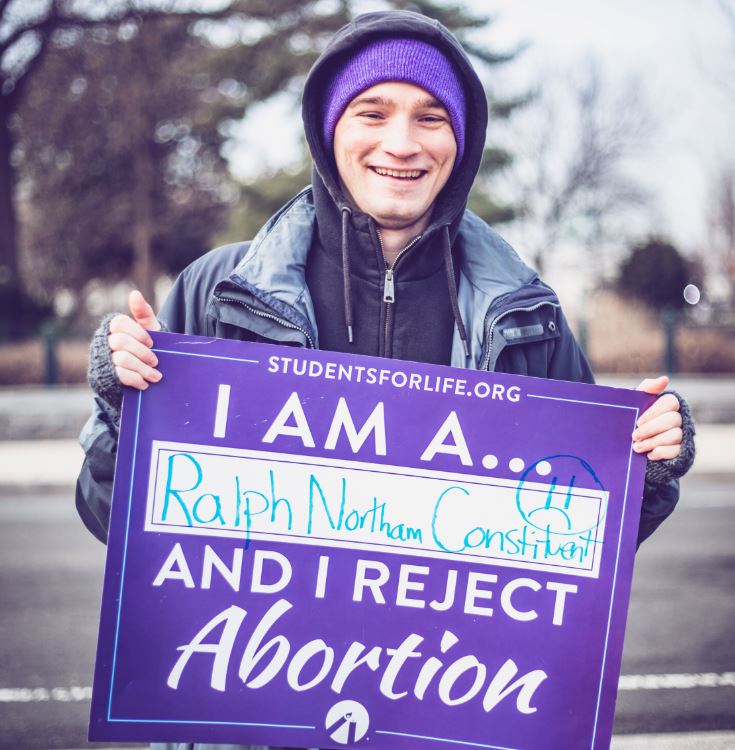 July 26, 2021
Students for Life Action Launches 5-Figure Campaign and TV Spot in Virginia Exposing the Abortion Radicalism of Terry McAuliffe 
"Virginia deserves better than the tired re-runs of Abortion radicals playing moderates for the cameras," said Students for Life Action's Kristan Hawkins. "Terry McAuliffe would be a step back into the Ralph Northam infanticide support model, flacking for whatever Corporate Abortion wants." 
FREDERICKSBURG, VA (07-26-2021) – Students for Life Action President Kristan Hawkins announced a 5-figure campaign of digital and cable ad, featuring a TV spot that exposes the abortion record of the rabidly pro-abortion former Virginia Governor Terry McAuliffe, who justified Governor Ralph Northam's support for infanticide when it was national news. 
"The Pro-Life Generation knows that we are at a crossroads across the country, as House Speaker Nancy Pelosi and Senate Majority Leader Chuck Schumer work to add Virginia to their power base. But starting today, I will be launching a brand-new TV ad showing citizens of Virginia just how radical Terry McAuliffe is when it comes to abortion," said Hawkins. "Virginia in 2021 is ground zero is a winnable state for those who care about women and the preborn."
Recent polls show the Virginia governor race is within the margin of error, which is significant as when Terry McAuliffe was elected in 2013, he had to outspend his opponent by a whopping $17 MILLION just to eke out a 2.5% margin of victory. His, however, is not the only race impacting the future of pro-life policies in Virginia. Of particular significance, pro-abortion politicians currently hold a 55-45 majority in the Virginia House of Delegates after winning nine seats in 2019 seats by margins of 6% or less.
The television spot will expose McAuliffe's support for the infanticide position that Virginia's disgraced governor Ralph Northam (D) took in 2019 when he went on the radio to defend infanticide, saying that in cases where babies are born after a botched abortion:
"The infant would be resuscitated if that's what the mother and the family desired, and then a discussion would ensue between the physicians and the mother."
Students for Life Action has been engaged in Virginia for the past several years and,  over the last month, 45 pro-life student leaders knocked on 20,000 doors in just THREE days. 

Hawkins observed, "With this TV ad, combined with our grassroots issue discussion and mobilization efforts, I believe we can stop the radical abortion agenda in Virginia."
To view the ad, click here.
As SFLAction has previously reported: "For those who argue that late-term abortion and infanticide don't take place, consider this from National Review: 'According to estimates from the pro-choice Guttmacher Institute, about 1.3 percent of annual abortions in the U.S. occur after 20 weeks, which does sound rare — until you consider that the Guttmacher also estimates about 926,000 annual abortions, meaning that about 12,000 take place after viability. As Ramesh Ponnuru often points out, that means there are more post-viability abortions each year than gun homicides, according to the most recent FBI estimates.'"
Students for Life Action has worked at the state and federal levels to protect the lives of infants born during abortions. Click here to learn more. 
For interviews, contact Kristi Hamrick at[email protected].
–30–
Students for Life Action (SFLAction), a 501c4, along with its sister organization, Students for Life of America (SFLA), a 501c3, make up the nation's largest, pro-life, youth organization as well as operating a political and policy operation engaging people of all ages. Together they work to end abortion, the human rights issue of our day, and provide political, legal, and community support for women and their children, born and preborn. Headquartered in Fredericksburg, VA, SFLA has more than 1,250 groups on middle, high school, college, university, medical and law school campuses in all 50 states. SFLA creates strategy, policy and programming that connects those most targeted for abortion with people ready to help and builds a framework for political engagement on their behalf. SFLA/SFLAction has more conversations with those most targeted by the abortion industry every day, week, and year than any other pro-life outreach in the world. Every week, Students for Life entities reach more than 2 million people across social media platforms to have nearly 200,000 digital conversations. Under the leadership of SFLA/SFLAction President Kristan Hawkins, who was recruited to build the organization, SFLA has grown over the last 15 years into a $15 million organization preparing for a Post-Roe America.