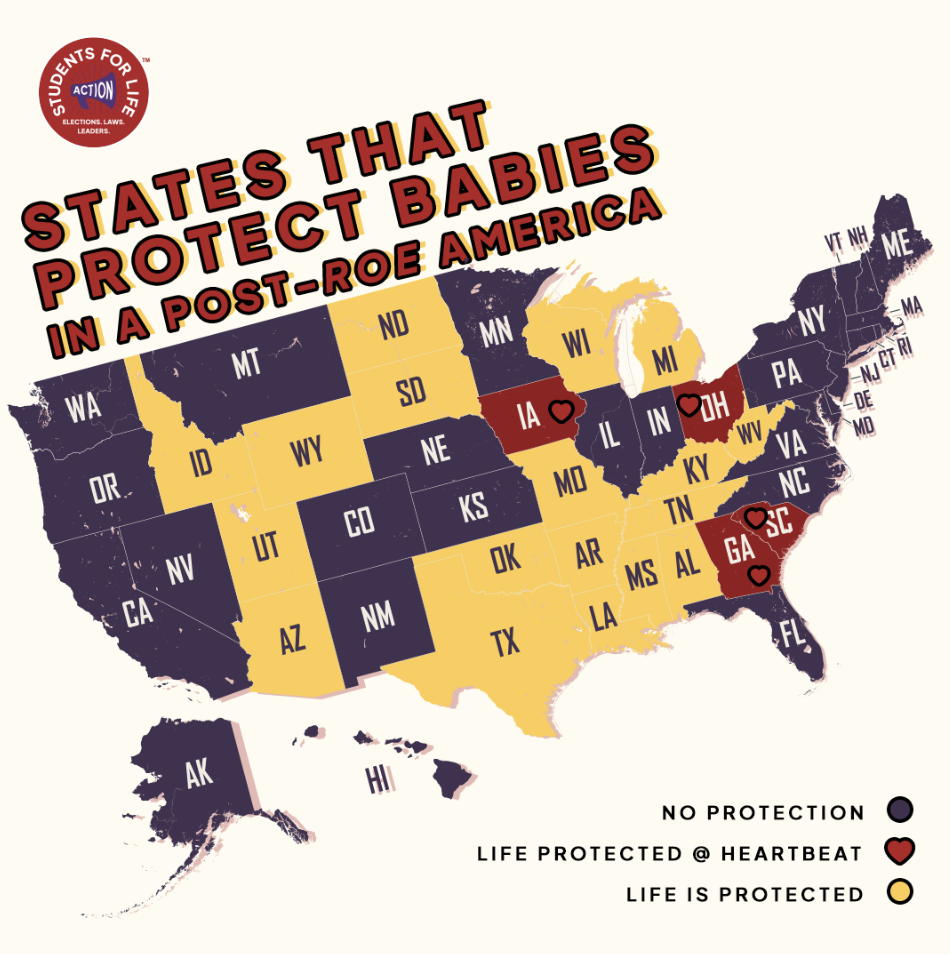 June 24, 2022
Students for Life Action's Post-Roe State Legislative Strategy
Since Students for Life of America's launch 16 years ago, we have been focused on leading, mobilizing, and transforming young people across America for what will happen the day after Roe v. Wade and Doe v. Bolton are reversed and the decisions about the legality of abortion returns to the states. For at that moment, 50 individual state battles will begin, and the pro-life movement must have trained, easy-to-mobilize activists to lead the charge to abolish abortion in their states and promote the non-violent alternatives already available to women in crisis. This is the Pro-Life Generation, this is the Post-Roe Generation. 
As you will see, Students for Life Action is a key player in the conservative movement for directly targeting politicians to stand for life as well as mobilizing at the local and national level to ensure our bills and voices are heard. In fact, even POLITICO and Washington Post conceded Students for Life Action as a "powerful conservative" organization when highlighting our ongoing battles. A fight we will not back down from no matter how much they try to silence us. Some of our outstanding stats include knocking on 257,504 doors, calling 1,014,022 voters, and mobilizing in 13 states. Students for Life Action's true power to promote pro-life policies relies on harnessing the energy of, not just our dedicated student leaders, but grassroots members of the pro-life movement. 
"Protection At Conception" is SFLAction's Goal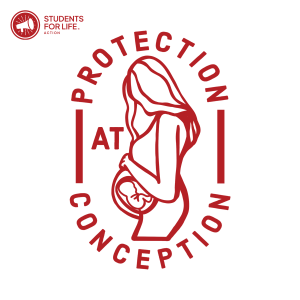 SFLAction's legislative goal is to see the strongest pro-life protections possible enacted at every level of government. We also have a special focus on addressing the crisis of Chemical Abortion as it is the Abortion Industry's newest evil plot to increase their profits and harm children and women. Chemical Abortion is the abortion of a baby typically in the first trimester using the combination of two drugs: Mifepristone and Misoprostol. This type of abortion makes up more than half of all abortions in the U.S. and has killed 24 women and injured thousands more since its legalization in 2000.  
It is essential that the Pro-Life Movement remains fixed on the goal of #ProtectionAtConception as we know that life begins at conception and every child deserves to be protected regardless the circumstances of their conception. Learn more about our Protection at Conception campaign and sign our pledge at ProtectionAtConception.com. 
As Students for Life Action President Kristan Hawkins recently wrote in a letter to Congress, "According to the CDC, more than 9 out of 10 abortions take place by 12 weeks (92.7%), which means that if we are not focusing on limiting early abortions, we are not really addressing the violence of abortion at all. And after 50 years, it's time for a real conversation in legislatures, communities, churches, and courts on how to protect life in law and in service." 
Today, the abortion industry is on the defensive. Roe has been tossed into the ash heaps of history where it belongs. And a new fight has already begun: A fight to protect life in law, from the moment of conception, one state at a time. 
Many states have been contemplating holding special sessions to deal with the new legal environment they will find themselves in. Thirteen states have "trigger laws" that will take effect shortly after Roe is overturned, and another 13 states have laws pre-Roe or legislation passed recently that is being held up by courts. This will potentially result in Governors or the Legislature, depending on the state, to call for special legislative sessions to clarify, fine-tune, or rewrite their language. We have identified seven states to begin focusing on immediately and seven that we are calling on their Governors to call a special session right away. 
SFLAction is targeting to encourage governors to call a special session in Iowa, New Hampshire, North Carolina, Utah, Wyoming, Virginia, and Maine.  
SFLAction's Priority List in a Post-Roe America: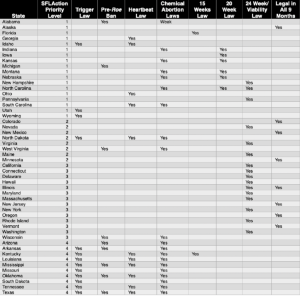 Looking Back Over the last two legislative sessions, SFLAction: 
Tracked and monitored more than 

1,000

 abortion-related bills 

 

Engaged in pro-life legislative battles in 

30 

states 

 

Sent more than 

1,000,000

 text messages in support of pro-life bills 

 

Made more than 

180,000

 phone calls to pro-life constituents 

 

Generated nearly 

300,000

 calls and emails from pro-life constituents to their legislators 

 

Organized more than 

100 

lobby days, both in-person and virtual 

 

Collected more than 

150,000

 petitions from voters 

 

Inspired or helped introduce 

15

 bills at both the state and federal level 

 

Supported 

hundreds

 of pro-life bills & opposed amendments to weaken them 

 

Helped to pass 

dozens

 of lifesaving pro-life bills 

 

Opposed & helped kill 

dozens

 of abortion expansion bills 

 
SFLAction is the only grassroots mobilizing force of its kind in the pro-life movement. With activists trained and ready to mobilize in all 50 states, SFLAction can get boots on the ground, onto a Senate floor, on the phone with a legislator, or knocking on doors to mobilize community members at a moment's notice because we are already working in all 50 states.   
SFLAction has multiplied our resources into big results by rapidly responding in support of urgent legislative priorities in ways that no other organization of its kind can, thanks to the grassroots army already fighting for life on campuses and in communities nationwide.   
Students and team members tabling at a local campus have packed up and headed to their state capitol to testify 

 

A handful of students banded together to text constituents in a district, garnering more than 5,000 emails from constituents to legislators 

 

In Kansas, SFLAction spent $200 sharing a video of a pensive pro-life legislator holding up a key pro-life vote with his constituents, resulting in him voting correctly the very next day. 

 
Throughout the 2021 and 2022 sessions, SFLAction remained aggressive in seeking as many pro-life wins as possible and has utilized every moment of the last two legislative sessions to prepare state after state for the Post-Roe America that has already begun. Read more about our efforts in our state legislative report.