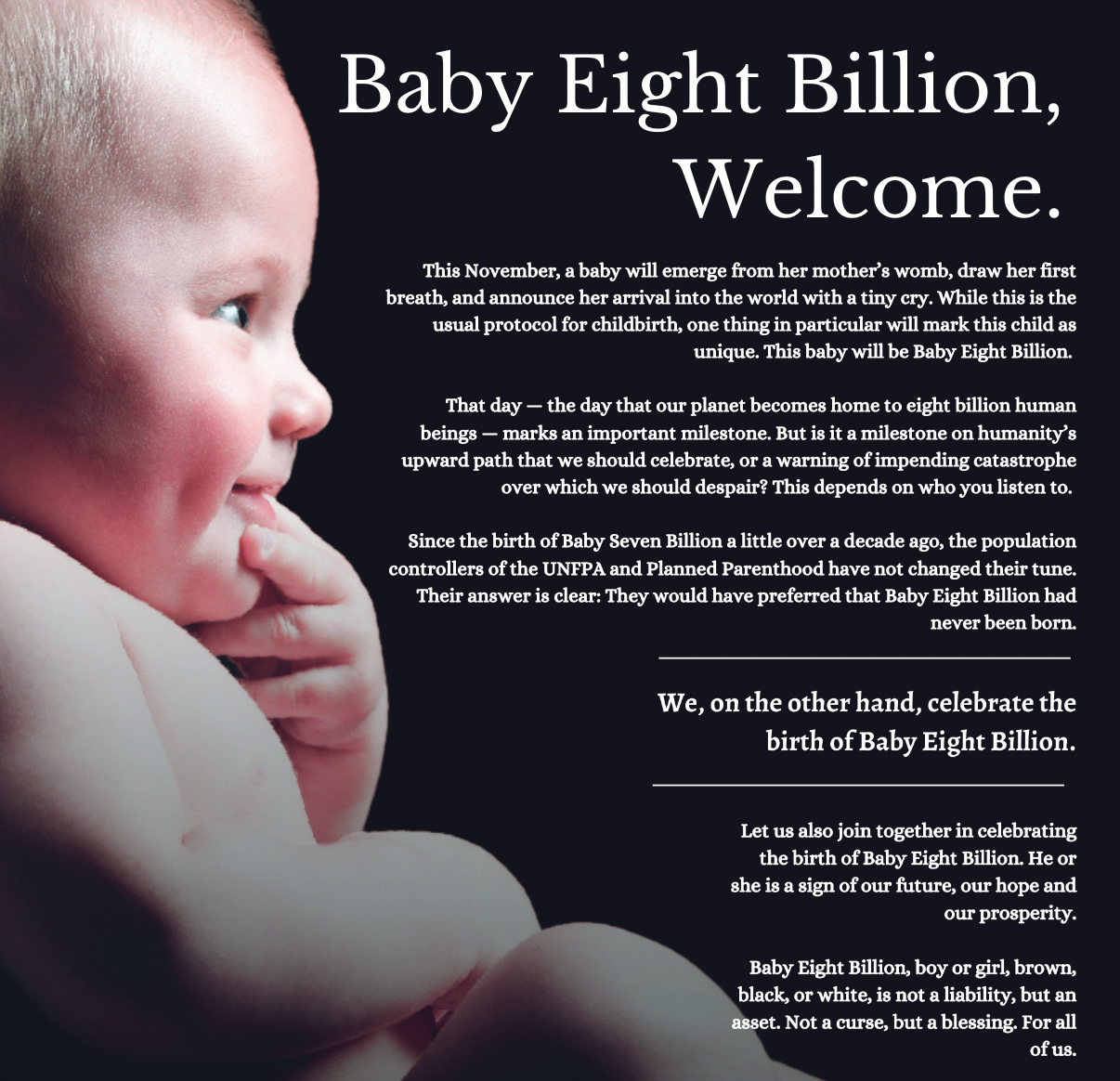 November 16, 2022
Students for Life of America Joins Pro-Life Leaders Welcoming Birth of Baby Eight Billion
"Our mission at Students for Life of America focuses on changing the culture and policies to welcome each generation to come," said Kristan Hawkins, SFLA President. "Happy birthday, baby eight billion, you are a symbol of hope, and we wish you a long, prosperous life."
MEDIA ADVISORY: Students for Life of America joins Pro-Life Leaders in Birthday Greetings seen in a national newspaper ad today.
WASHINGTON, D.C. (11-16-2022) –With the birth of the planet's eight billionth baby due to take place this November, Students for Life of America (SFLA) joined a pro-life coalition ad, a project of C-Fam and Population Research Institute, debuting a powerful celebration of our ever-expanding human family.
The ad running in The Washington Times is signed by SFLA President Kristan Hawkins as well as 41 other pro-life coalition members. "It's always a celebratory moment to see a unique, whole human being enter our society," added Hawkins.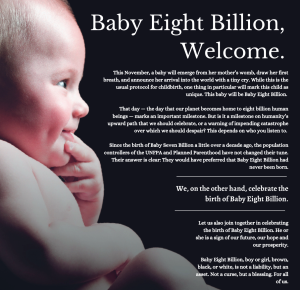 Baby eight billion is expected to be born this month and is a girl, as noted in the digital and print ad that can be viewed here. The ad's message combats rising rhetoric from groups such as the United Nations Population Fund (UNPF) and Planned Parenthood that seek to fearmonger people into direct abortion with the myth of overpopulation.
The ad states in part: "Since the birth of Baby Seven Billion a little over a decade ago, the population controllers of the UNFPA and Planned Parenthood have not changed their tune. Their answer is clear: They would have preferred that Baby Eight Billion had never been born. We, on the other hand, celebrate the birth of Baby Eight Billion."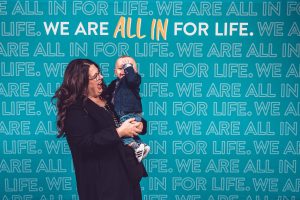 Previously, SFLA has reported that the myth of overpopulation originated in 1798 with Thomas Malthus who predicted overpopulation would lead to a food shortage by 1890 and consequentially humanity's demise. This "crisis" was re-predicted numerous times and weaponized by the abortion lobby who profits off families not having children. Yet, the Anti-Life Lobby will argue that overpopulation is a problem, despite repeated studies that show the opposite. To read more about the myth of overpopulation, click here.
To learn more, check out this blog titled: "We "Need" Abortion Because of Overpopulation? Wrong. Here Are The Facts"
To follow SFLAction's blueprint for a Post-RoeAmerica and the next eight billion babies,  CLICK HERE.
For interviews email [email protected]
–30–
Students for Life Action (SFLAction), a 501c4, along with its 501c3 sister organization, Students for Life of America (SFLA), make up the nation's largest pro-life youth organization and a political and policy operation engaging people of all ages. Together they work to end abortion — the human rights issue of our day — and provide political, legal, and community support for women and their children, born and preborn. Headquartered in Fredericksburg, VA, SFLA has more than 1,300 groups on middle, high school, college, university, medical, and law school campuses in all 50 states. SFLA creates strategy, policy, and programming to connect those most targeted for abortion with people ready to help and builds a framework for political engagement on their behalf. SFLA and SFLAction have more conversations with those most targeted by the abortion industry than any other pro-life outreach in the world, reaching more than 2 million people across social media platforms each week and engaging in approximately 100,000 digital conversations per month. Over more than 16 years, President Kristan Hawkins has grown SFLAction/SFLA into an $18 million organization preparing for a Post-Roe America.