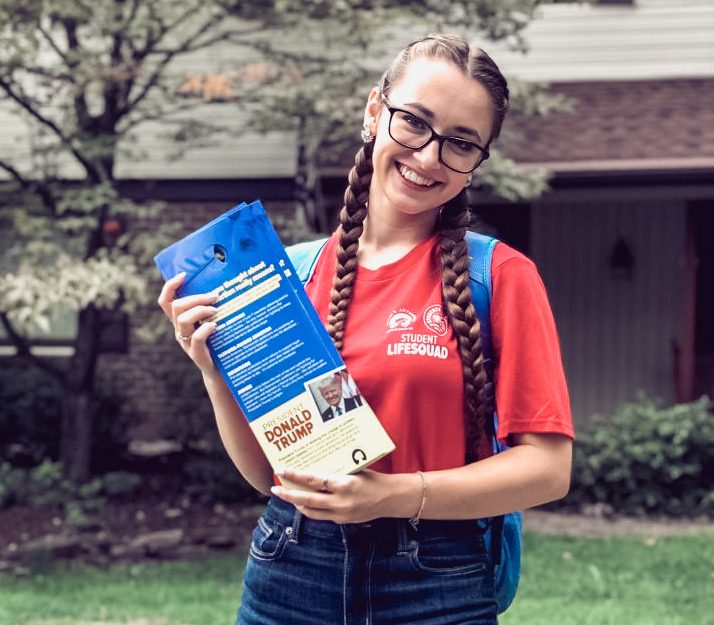 August 14, 2020
We Challenged Pro-Choice Republicans and Won
Students for Life Action wants it to be impossible for pro-choice Republicans like State Sen. Heather Carter and State Rep. Jane Kessinger to sell-out the preborn for political power in the GOP. The outcomes of state legislative races determine the fate of pro-life policies, and that's why SFLAction has been pushing voters to turn out for life in large numbers at the polls. By holding public leaders accountable with our voting power, we can secure the votes needed to pass pro-life legislation in the future. 
Pro-choice Republicans lose when their voting records are compared with pro-life Republicans in their primaries. SFL Action volunteers mobilized on behalf of State Rep. Nancy Barto, Carter's challenger for Arizona's state senate seat. Our volunteers were able to discuss Carter's abysmal history of defending the unborn and her tendency to side with the abortion lobby. 
A pro-life bill that would've sent $7.5 million to pregnancy resource centers failed after Carter voted against it, even though these organizations provide women with other choices than abortion. Carter made it evident multiple times that she did not consider pro-life issues to be a priority. When it came time to vote on pro-life legislation, Carter was often absent. In one such instance, Carter missed a crucial vote to end late-term abortion in Arizona because she chose to go to a root canal appointment instead. 
SFL Action was pleased when Barto was victorious after volunteers knocked on 5,000 doors and made 35,000 calls on Barto's behalf. Compared to her predecessor, Barto is an original member of Susan B Anthony List's National Pro-Life Women's Caucus. Unlike Carter, Barto has been an open advocate for life, and her election means Arizona is now in a better position to pass pro-life laws. 
The Kansas legislature faced a similar obstruction to passing pro-life laws because of pro-choice Republicans like Kessinger. The "Value Them Both Amendment" – which would have granted more power to the state over abortion laws – was vetoed by Democrat Governor Laura Kelly. Republicans in Kansas had the majority and had enough votes to override the veto, but Kessinger was one of four Republicans who refused to take this action. 
SFL Action helped pro-life advocate Jane Dirks defeat Kessinger in her bid for reelection. Because of our efforts, the "Value Them Both Amendment" will likely pass. Dirk's election put an end to a Medicaid expansion in Kansas that would have increased funding for the abortion industry. 
This is what happened in Virginia after the state was promised Medicare expansion. What actually ended up happening was Virginia gave $6 million in funding to Planned Parenthood, and the abortion provider was able to open a new location in Richmond. But thanks to SFL Action securing Dirk's victory, Kansas voters were spared from this deception. 
Life is an important issue to rally behind, and it's time to vote out candidates who refuse to protect the preborn.