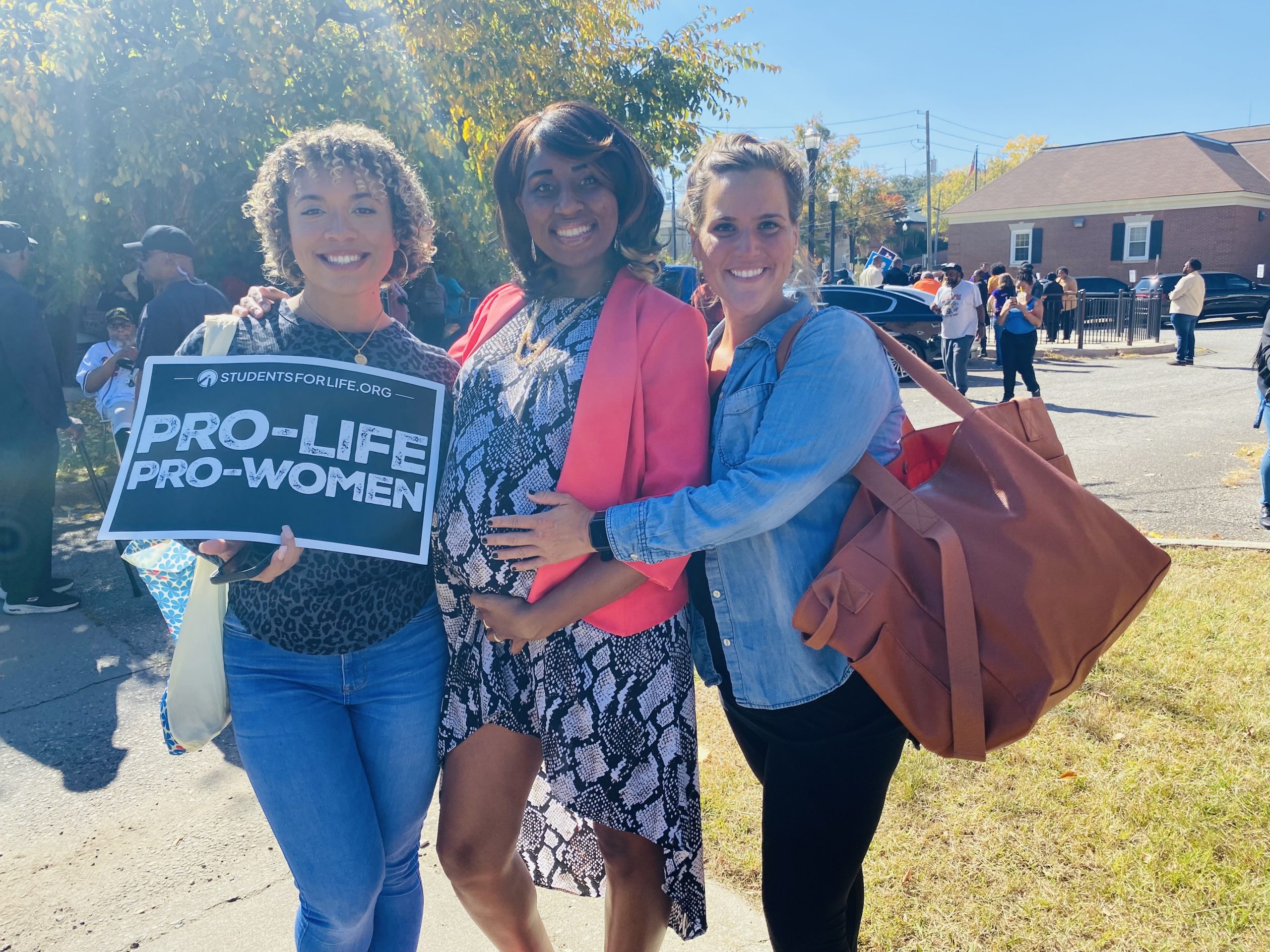 November 2, 2022
Confronted with the Truth: Pro-Life Gen Corrects the Record on Stacey Abrams' Radical Abortion Policies
Students for Life Action (SFLAction) headed to Stacey Abrams' events in Milledgeville, Georgia recently with one pressing question for her: Why are you trying to hide your abortion extremism? 
From Abrams' attempts to shut down the pro-life questions to taking the candidate head-on herself, the pro-life movement ruffled feathers in Georgia (and rightfully so). Doubled down in her lies about the preborn, Abrams was literally sweating under the pressure of debating our pro-life staff and volunteers.  
Unlike Senate Majority leader Chuck Schumer last week, it didn't take a slip up on a hot mic for Abrams to be caught fumbling over her answers to SFLAction. The candidate managed to show her abortion extremism all on her own. 
Abrams, the Democratic gubernatorial candidate for Georgia governor, has spewed several lies and radical positions on abortion in the media recently. Here's how it went down when SFLAction staff and volunteers (including some who are pregnant) confronted her during her rallies: 
During the first tour stop, Cori Woods, SFLAction Southeast Field Operations Coordinator, used an ultrasound Doppler against Amare's 9-month pregnant belly to project the sound of her baby's heartbeat. Woods and the team wasted no time in telling interested rally attendees that this was the sound of a fetal heartbeat that Abrams denies.  
Savannah Craven, SFLAction Northeast Field Operations Coordinator, quickly made her presence and pro-life position known as she went right into the crowd and began chanting pro-life sayings over a megaphone.  
As they chanted "Pro-Choice is a Lie, Babies Never Choose to Die," during Abrams' tour stop, the SFLAction team quickly garnered the attention of a mostly hostile crowd who attempted to cover Craven's signs and block her in any way.  
Woods joined in the chanting, asking Abrams if she could hear the sound of Amare's preborn baby's heartbeat thumping over the Doppler monitor. While they were confined to the sidewalk, the team didn't stop calling out Abrams' deadly policies for the preborn and had many conversations with attendees. 
Some attendees showed more civility than others, as some yelled, cursed, called names, booed, and made accusations about the pro-life women (the Pro-Life Generation is familiar with this mean and extreme treatment). When sharing Abrams' position on abortion with some attendees, Woods reported that people denied it and said it couldn't be true that Abrams was so radical on abortion. 
Sadly, it's true. Abrams supports late-term, direct abortions.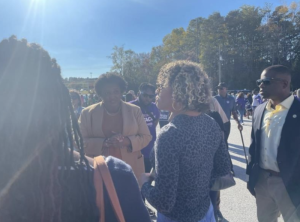 By the time that SFLAction reached the second rally, their presence was well-known, and they captured the undivided attention of Abrams herself. Relentless and bold in her pursuit, Craven had Abrams' full attention and that of countless reporters and event attendees when she repeatedly asked the candidate why she lies about preborn heartbeats.  
While holding a "A child, Not a Choice" sign, Craven waited for Abrams to defend her inaccurate statement. Craven was standing in front of the stage asking Abrams questions on her megaphone before the crowd, yet Abrams kept saying people came to hear her and she would talk to Craven later. 
Why was Abrams so afraid to defend her pro-abortion position in front of the crowd and cameras? She would only speak to SFLAction off stage, but doesn't everyone she's asking for their vote deserve to know where she stands on abortion?  
Craven didn't give up despite the crowd booing her – she continued to ask Abrams why she gaslights women who suffered tragic miscarriages into believing a fetal heartbeat is a manufactured sound. She also pressed Abrams on how the abortion industry exploits women and about Planned Parenthood's racist past.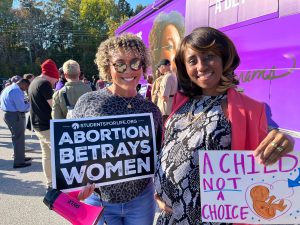 A security guard grabbed Craven's shoulder and tried to get her to leave, but she reminded the crowd that she has free speech rights in a public setting. A campaign staffer even tried to pull Craven's arm to get her out of the spotlight and said, "Don't do this." 
When Abrams wrapped up her speech, she walked over to SFLAction because she said Craven "deserves her moment." Ironically, her crowd of supporters didn't seem to think so as they called Craven "brainwashed and ignorant" and swore at her when telling her, "Get the f*** out of the way!" 
Finally speaking with Abrams, Craven reported that she doubled down on her comments about fetal heartbeats and tried to debate Craven on ultrasounds. In a bizarre manner, Abrams told Craven that she knows someone who created an ultrasound machine in the 1960's to comfort pregnant women. 
Abrams told her that this machine lets women know their babies are still alive, but the sound is that of brainwave activities – she said this was the 'truth' and how electric waves before six weeks gestation sounds like a heartbeat. (If this seems like a crazy, fake story to you – that's because it is.)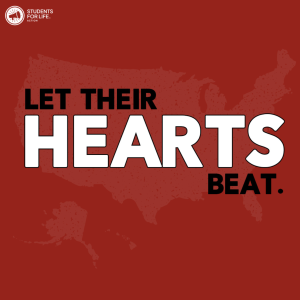 Craven went toe to toe, fact-checking Abrams while calling out her policies that dehumanize babies, as well as her absurd remarks that abortion is a solution to inflation. Abrams said that she wants to "protect children from cradle to college," but her policies do everything possible to make sure preborn babies don't even make it to their cradles!  
Coming up short on so many questions from SFLAction, Abrams said that they would have to agree to disagree and when a child is born, she'll do everything to get it what it needs to survive. Unfortunately, however, Abrams might pledge this on the campaign trail, but her late-term abortion policies make it so less children get to live fulfilled lives.  
READ NEXT: Stacey Abrams Still Can't Answer Basic Questions When It Comes to Abortion