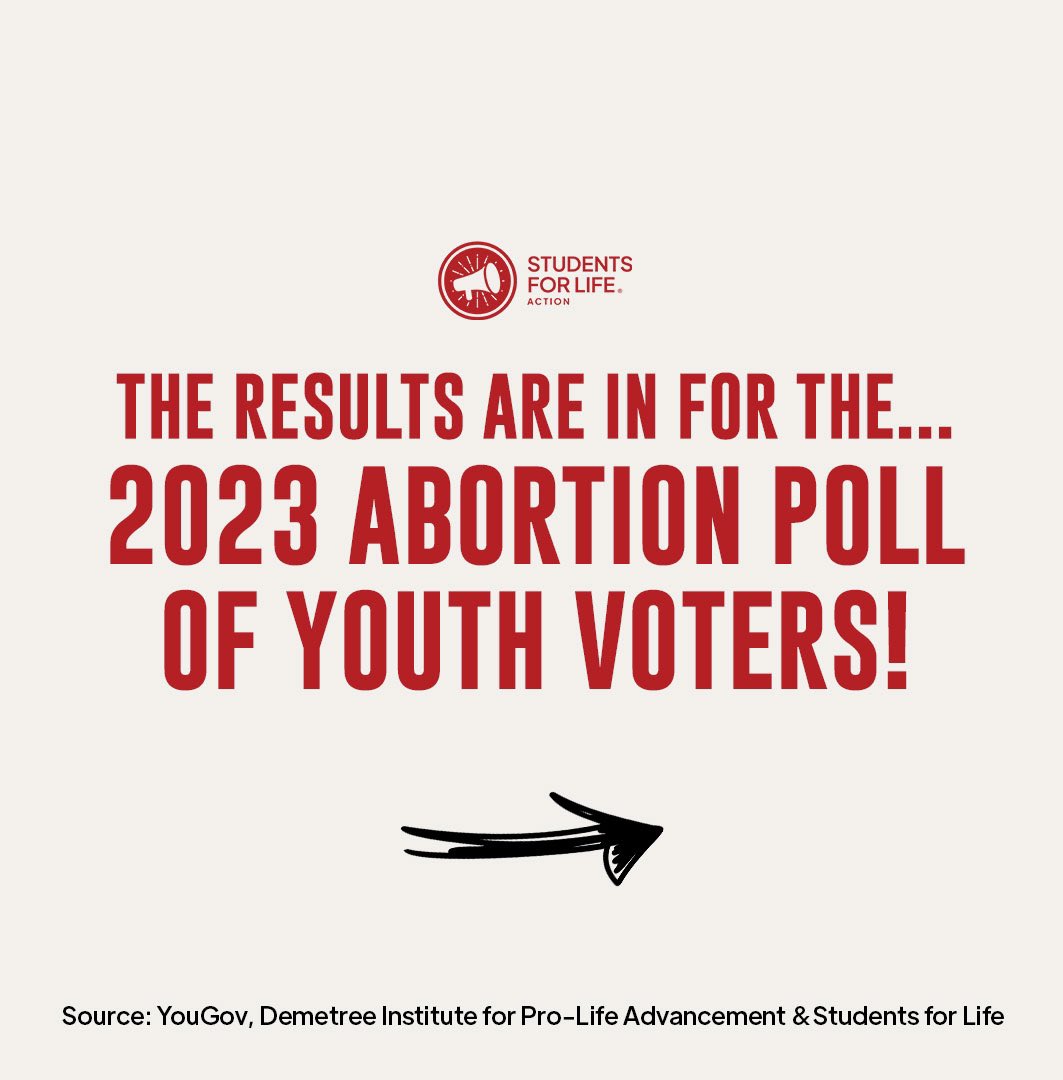 January 25, 2023
Despite Messaging from Anti-Life Legislators, Gen Z and Y DO Want Limits on Abortion According to New Poll
Buzzwords such as "codifying Roe" are often infiltrated into our media by elected officials who wrongly claim that most young voters want access to unlimited abortion. Roe v. Wade stood for abortion at any point in pregnancy for any reason, and when Students for Life of America (SFLA) conducted recent polling, it found that voters do indeed want limits on abortion – contrary to popular media messages.  
SFLA's Demetree Institute for Pro-Life Advancement released its fourth, wide-ranging poll of the largest segment of voters in America – the youth vote (Gen Z & Gen Y) – conducted by YouGov-Vinea, finding once again that this group rejects the radical abortion extremism attributed to them.  
The majority of Gen Z and Y voters surveyed (65%) said they wanted limited or no abortion. In addition, when asked about whether laws should limit abortion, 67% said yes in all circumstances (21% overall) or in some circumstances (46% overall) – only three in ten did not support laws limiting abortion.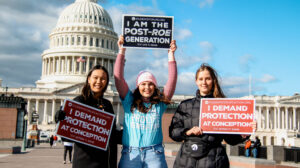 Furthermore, SFLA's poll found that with better knowledge of abortion and the meaning behind these buzz words, the less likely individuals were to support abortion extremism. While overall thoughts on some of the specifics of codifying Roe were mixed, young voters with more information changed their minds, and the math flipped by 15 points as 37% supported "codifying Roe" after learning more, down from 52%. 
Those opposing "codifying Roe" rose from 22% to 47% — a 25-point shift! And that's not a narrative you'll likely ever hear in the media or asked by mainstream polls.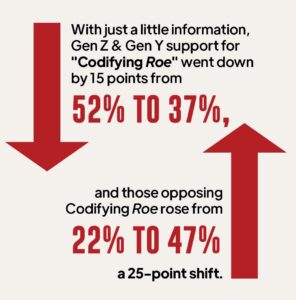 Instead, the pro-abortion party takes messaging from pollsters who use general questions in order to claim everyone wants more abortion for any reason and creates their political agenda accordingly. The party or individuals that don't stand for life have created a strategy to perpetuate violence in the womb and have come up with some pretty awful policy 'solutions.'  
Here are
some
of the worst pieces of legislation put forward by pro-abortion legislators:
"

Women's Health Protection Act,

" which is an abortion industry wish list for power and control over abortion policy and state options that far surpasses the heavy-handed impact of

Roe v. Wade

.

 
S. 1864: Reproductive Rights are Human Rights Act of 2021,

"A bill to amend the Foreign Assistance Act of 1961 to require a section on reproductive rights in the Annual Country Reports on Human Rights Practices." 

 

S. 1021: EACH Act of 2021,

"This bill requires federal health care programs to provide coverage for abortion services and requires federal facilities to provide access to those services. The bill also permits qualified health plans to use funds attributable to premium tax credits and reduced cost sharing assistance to pay for abortion services."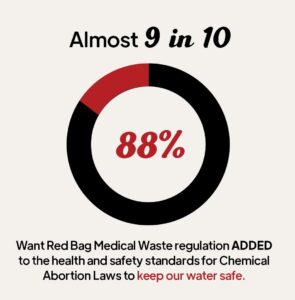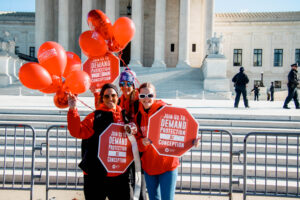 The Biden Administration and its proxies have been putting together an agenda that people don't want. From changing medical definitions at the Department of Health and Human Services, funding Planned Parenthood, pushing Chemical Abortion Pills, committing abortions at the Department of Veterans Affairs, weaponizing the Department of Justice and law enforcement agencies against pro-lifers, and so much more – President Biden and the pro-abortion party have created a culture of death that is #TooExtreme4Me.  
SFLAction released its Post-Roe Blueprint laying out an agenda that promotes LIFE, protects the preborn in law and service, and safeguards women who are often the second victim of the predatory abortion industry.  
READ NEXT: New Poll Shows Millennials & Gen Z Aren't Buying the Injury & Infertility That the Biden Administration is Selling