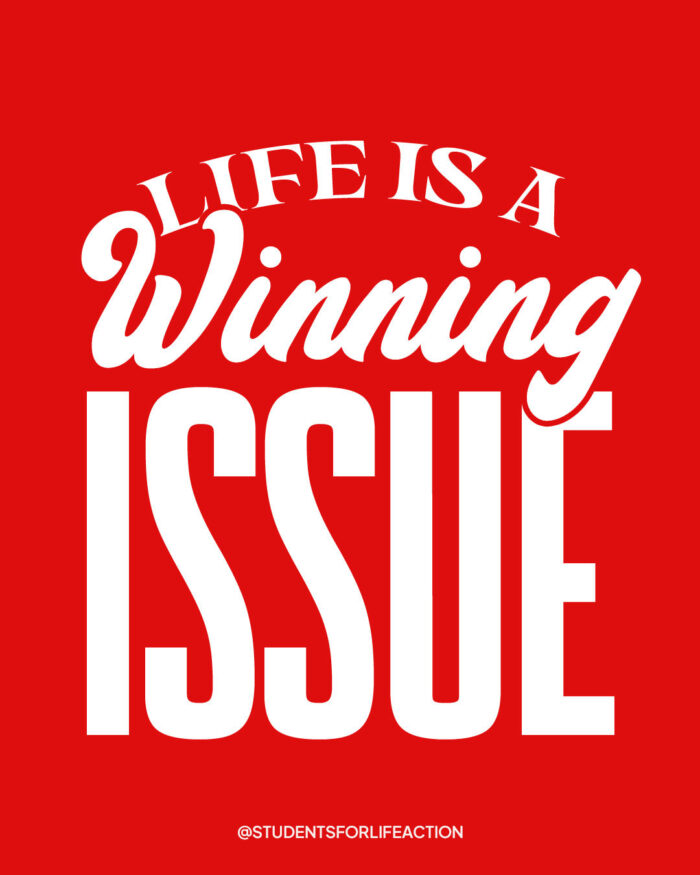 May 4, 2023
Students for Life Action Applauds Montana Governor for Signing Bill Confirming There's No Constitutional Hook for Abortion
"After a year of instability for the preborn with abortion-backed ballot referendums, we are thrilled to see Montana's pro-life fighters finalize this law that will lead to life-saving protections for the preborn and enact with certainty that the right to violently kill babies in the womb doesn't exist in the state Constitution," said Dustin Curtis, SFLAction Vice President of Political Affairs & Operations.
CLICK HERE to read SFLAction's blog
WASHINGTON, D.C. (05-04-2023) – After lobbying and testifying at the State Capitol, Students for Life Action (SFLAction) was thrilled to see SB 154, a measure sponsored by State Senator Keith Regier (R-Kalispell) that would correctly define the "Right to Privacy" in the Montana Constitution to disqualify the right to abortion, signed by Governor Greg Gianforte.
While privacy is a popular argument used by abortion activists, that was struck down the moment the U.S. Supreme Court ruled abortion was not penned in invisible ink in our founding documents. SFLAction's says Montana's decision on SB 154 will help future pro-life laws pass in the state legislature.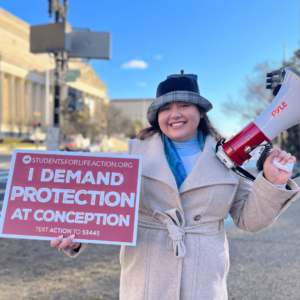 SFLAction Montana State Captain Kaitlyn Ruch, joined by other students from Carroll College Saints for Life, recently testified in front of the State Senate Judiciary Committee to argue the right to privacy over one's body does not mean one has the right to inflict harm on another person.
As previously reported by SFLAction:
"In the 1999 Armstrong decision, the Montana Supreme Court determined that the right for a woman to obtain an abortion was protected under the Montana Constitution's "right of privacy." However, the Armstrong decision was made when the Supreme Court of the United States still acknowledged the right to have an abortion as a part of the "right of privacy" in Roe v. Wade.
"In the Dobbs decision that effectively reversed Roe, the Supreme Court explicitly stated that "the authority to regulate abortion is returned to the people and their elected representatives." This law, SB 154, would bring a challenge to the Armstrong decision, the binding precedent principle of the U.S. Supreme Court that should lead to the overturning of the Armstrong decision."
The misinterpretation of the right to privacy will no longer guard abortion in Montana, but a new future of dignity and respect for life will unfold in the Treasure State. SFLAction is encouraged by Montana's action this week to confirm life is a winning issue.
For interviews email [email protected] 
–30–
Students for Life Action (SFLAction), a 501c4, along with its 501c3 sister organization, Students for Life of America (SFLA), make up the nation's largest pro-life youth organization and a political and policy operation engaging people of all ages. Together they work to end abortion — the human rights issue of our day — and provide political, legal, and community support for women and their children, born and preborn. Headquartered in Fredericksburg, VA, SFLA has more than 1,300 groups on middle, high school, college, university, medical, and law school campuses in all 50 states. SFLA creates strategy, policy, and programming to connect those most targeted for abortion with people ready to help and builds a framework for political engagement on their behalf. SFLA and SFLAction have more conversations with those most targeted by the abortion industry than any other pro-life outreach in the world, reaching more than 2 million people across social media platforms each week and engaging in approximately 100,000 digital conversations per month. Over more than 16 years, President Kristan Hawkins has grown SFLAction/SFLA into an $18 million organization preparing for a Post-Roe America.